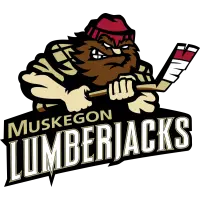 Jacks Tussle with Team USA U17 and Green Bay for Three-Game Weekend
January 12, 2022 - United States Hockey League (USHL) - Muskegon Lumberjacks News Release



MUSKEGON, Mich. - After a hefty sweep over the Madison Capitols last week, the Muskegon Lumberjacks set their sights on a five-game homestand, beginning with a single-game matchup with Team USA U17 on Friday, Jan. 14 at 7 pm EST. Subsequently, the Jacks will host the Green Bay Gamblers for a Saturday-Sunday series, with Saturday's game starting at 7 pm EST and Sunday's matinee commencing at 4 pm EST. All three games will face off at Mercy Health Arena in downtown Muskegon. This will mark the fourth time Muskegon will battle the U17's since the Lumberjacks claimed the last matchup in a 5-to-4 win on New Year's Day. Furthermore, this will be the second two-game series against the Gamblers this season, with each team earning a win back on Dec. 17-18 in Green Bay before the holiday break.
Scouting the Stars and Stripes
Team USA U17 has been dormant for the last two weeks dating back to their New Year's Day defeat at the hands of the Muskegon Lumberjacks by a score of 5-to-4. Prior to that single-game matchup with the Jacks, the 17's placed second in the 2021 Four Nations Tournament held in Piestany, Slovakia. After defeating the host country by a score of 5-to-2 and beating Czechia 4-to-1, the 17's could not figure out Russia as they were expunged by a score of 3-to-0 in the title game. Remarkably, Team USA U17 still only has one singular win against USHL competition, that coming from their 5-to-2 triumph over the Green Bay Gamblers on Nov. 27. Leading the way for Team USA U17 is Gabe Perreault, who leads the team in points with a stat line of eight goals and 19 assists for 27 points. Just one point behind Perrault is Will Smith, who has 13 goals and 13 assists for 26 points. Rounding out the top forward group is Oliver Moore, who has amassed 14 goals and nine assists for 23 points. In goal, the 17's have a three-way goalie rotation with the likes of Trey Augustine, Carsen Musser, and Michael Chambre.
Gambling Against Green Bay
The Green Bay Gamblers enter this weekend a full 10 points behind Muskegon in the Eastern Conference standings with 27, and an overall record of 13-13-0-2. The last time Green Bay took the ice, they split with first-placed Chicago Steel in a 5-to-3 loss on Jan. 7 and a tight 6-to-5 overtime win on Jan. 8. The Gamblers have a pair of NHL draft picks on their roster, those being Jackson Hallum and Brody Lamb. Hallum was selected by the Vegas Golden Knights #91 overall in the third round of the 2020 NHL Entry Draft, while Lamb was selected by the New York Rangers #104 overall in the fourth round of the 2020 NHL Entry Draft. Leading the way for Green Bay upfront is Jackson Hallum, who currently leads the team in goals and points with a stat line of 15 goals and nine assists for 34 points. Another player to watch out for is Cameron Lund, who is second on the team in goals with 10 lamplighters. Ryan Greene is second on the team in points after amassing eight goals and 14 assists for 22 points. On the backend, Green Bay has seen a lot of production from Damien Carfagna, who leads team defenseman in points with four goals and 28 assists for 32 points. In between the pipes, Aaron Randazzo has stolen the show as Green Bay's number one goaltender with an overall record of 8-8-0-1, a 3.28 GAA and a .900 save percentage.
About Last Weekend
The Lumberjacks had quite the weekend last week as they broke out the brooms and swept the Madison Capitols. Currently, the Lumberjacks sit solidly in third place in the Eastern Conference standings with a record of 17-10-1-2 and 37 points. They reside one point behind second-place Dubuque and have six standings points up for grabs this weekend. In their series against Madison, the Lumberjacks blew off the doors in a 10-to-6 triumph, getting goals from 10 different players. Coincidentally, Madison received goals from six different players, adding the combined effort of 16 separate goal scorers in a single game. Saturday's matchup was a bit different with Phil Tresca potting his second hat trick of the season and Quinn Hutson netting a pair of goals in the 7-to-1 win. After the weekend sweep, Muskegon collected four more points in the Eastern Conference standings, remain the fourth-best team in the USHL, and are currently riding a five-game winning streak dating back to Dec. 18.
Captain Jack
Muskegon Lumberjacks captain Jack Williams has been named USHL Forward of the Week for week 15 of the 2021-22 USHL regular season. This was the first weekly award for Williams, who earned seven points over the past weekend. The Northeastern University commit started the weekend with his second career four-point game (1-3-4) in a 10-6 win over the Madison Capitols. Williams assisted on the first two Lumberjacks goals of the game before scoring a goal of his own on the powerplay in the final minute of the opening frame to open a 3-1 Muskegon lead. The Biddeford, Maine native picked up his final point of the game with a powerplay assist just 21 seconds into the second period. The following night, Williams and the Lumberjacks picked up another road victory, this time a 7-1 win spurred on by a three-assist (0-3-3) night from Williams. The fourth-year forward assisted on the second goal of the game for Muskegon, the eventual game-winning tally before picking up another assist less than two minutes later on a shorthanded tally. The final point for Williams on the weekend came in the third period with another powerplay assist. This season, Williams has 29 points (5-24-29) through 29 games, which is tied for 19th in league scoring and tied for third in team scoring. His 24 assists is tied for ninth in the league while standing alone as second in Muskegon helpers. Williams has already set a new career-high with his 24 assists this season and is nine points away from his best scoring season, 38 points in 52 games last season. Williams becomes the fifth Lumberjack to earn a weekly accolade by the USHL this season, adding his name to the list of Platon Zadorozhnyy (goaltender - week 11), Quinn Hutston (forward - week 10), Jake Braccini (forward - week 9), and Jacob Guevin (defenseman - week 6).
Sharing is Caring
For the first time in member club history, the Lumberjacks received goals from 10 different goal scorers in the 10-to-6 win over Madison on Friday, Jan. 7. Muskegon lamplighters came from Phil Tresca, Ben Strinden, Jack Williams, Quinn Hutson, Tyler Hotson, Joey Larson, David Hymovitch, Jake Richard, Jake Braccini, and Noah Ellis. To make things even more interesting, the Capitols responded with six goals from six different scorers, those being Michael Quinn, Matthew McGroarty, Tyler Haskins, Jake Dunlap, Ben Dexheimer, and Luke Mittlestadt.
We're Still Going Streaking!
Five Lumberjacks players are currently on active multi-game point-scoring streaks, those being Quinn Hutson, Jack Williams, Phil Tresca, Ben Strinden and Jake Richard. Hutson is on an active six-game scoring streak dating back to Dec. 17 where he has accumulated six goals and seven assists for 13 points. Williams, recently named USHL Forward of the Week, has been the team's best playmaker by scoring one goal and nine assists for 10 points in his last five games. Phil Tresca, recently scoring his second hat trick of the season, has six goals and two assists in his last four games. Strinden has stayed hot after scoring two goals and five assists for nine points in the last three games. Lastly, Richard continues to produce with goals in the last three games including a pair of assists. Furthermore, the Lumberjacks have won five-in-a-row and are on an active seven-game home winning streak, dating back to Nov. 27.
Upcoming Theme Nights - 13 Loves Pets/Star Wars Night/Youth Hockey Night
On Friday, Jan. 14, it's WZZM 13 on Your Side Loves Pets Night! Pound Buddies will be on the concourse with rescue animals available for adoption. The following night on Saturday, Jan. 15, it's Star Wars Night! In a galaxy not far, far away...the Jacks take on the Green Bay Gamblers! Whether you're on the light side or the dark side, you're invited to watch the action with all your favorite Star Wars characters! Finally, it's Youth Hockey Night on Sunday, Jan. 16! A night to honor local youth hockey organizations. For more information, call the Muskegon Lumberjacks Business office at (231)-799-7000 or email afranczek@muskegonlumberjacks.com.
Over the Airwaves
For live video streams, all Muskegon Lumberjacks games will be broadcast on HockeyTV (Video). Additionally, all home games and select away games will be streamed on Mixlr (Audio) for free.
NHL Central Scouting Rankings
On Wednesday, Jan. 12, National Hockey League (NHL) Central Scouting released their mid-season rankings for the upcoming 2022 NHL Entry Draft. In all, four current and three future Jacks made the list. Current Lumberjacks include defensemen Tyler Dunbar (No. 105), Jacob Guevin (No. 176), Jeremiah Slavin (No.194), and goaltender Platon Zadorozhnyy (No. 24). In addition, three affiliates were named to the watch list, those being George Fegaras (No. 91), Michael Callow (No. 162), and Matthew Morden (No. 223). The 2022 NHL Draft is scheduled from July 7-8, 2022, and will be hosted by the Montreal Canadiens at Bell Centre in Montreal, Quebec.
• Discuss this story on the United States Hockey League message board...


United States Hockey League Stories from January 12, 2022
The opinions expressed in this release are those of the organization issuing it, and do not necessarily reflect the thoughts or opinions of OurSports Central or its staff.