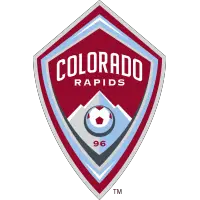 In 2020, the Colorado Rapids Took Steps Toward Future Success
November 25, 2020 - Major League Soccer (MLS) - Colorado Rapids News Release



As far as 2020 goes, the Colorado Rapids can consider it a success. Against unprecedented challenges, Rapids head coach Robin Fraser led his team to a fifth-place finish in the Western Conference and a berth in the Audi 2020 MLS Cup Playoffs.
But their success this year is not rooted in making the playoffs alone. In some ways, 2020 was just one more step forward from the original outlining of The Rapids Way, an op-ed penned by Executive VP and General Manager Pádraig Smith and SVP of Business Operations Wayne Brant, that laid out a plan to make the Rapids a consistent contender for trophies.
Ten years and a day after winning their first MLS Cup, the Colorado Rapids made good on their promise to return to the playoffs. Their early exit left them wanting more, but Fraser sees reasons for optimism about the future.
"This is a young team going through this experience for the first time," Fraser said after the Rapids' first-round loss to Minnesota. "Really proud of the team. The year that we've had and what we've been through, really proud of the group."
In his first full year as head coach, Fraser reversed the misfortunes that plagued the Rapids since their last postseason trip in 2016. The team posted a positive goal differential for the first time in four years. They scored the second-most goals per game in club history. They won at Rio Tinto Stadium for the first time ever - and reclaimed the Rocky Mountain Cup in the process.
The Rapids scored in every game but two on their way to the playoffs - both first games back from month-long layoffs - and scored with diversity. After leading MLS in set-piece goals in 2019, the Rapids scored on nine set pieces - six corners, three indirect free kicks - in 2020. They scored during open play, with headers on crosses, early in matches and at the death. They scored bangers, and even a Goal of the Week. In fact, the only ways the Rapids didn't score were a direct free kick and on a penalty kick; they were never awarded one.
If there were one figure to highlight Fraser's optimism about his team, it may be that 16 of the Colorado's 32 goals this season were scored by players aged 23 or younger, the highest percentage in the league. His leading scorers were 23-year-old forward Jonathan Lewis and 19-year-old midfielder Cole Bassett, which in itself shows the direction this team is headed.
In addition to Lewis, shrewd intraleague deals brought in the likes of Kellyn Acosta, Lalas Abubakar, Keegan Rosenberry and Diego Rubio, as well as international transfers for Designated Player Younes Namli, captain Jack Price and goalkeeper Will Yarbrough. All bring valuable experience and plenty of skill.
Those acquisitions have strengthened the squad over the last several years and are a complement to the players developing from within.
Bassett, a native of Littleton, Colo., is one of seven Homegrown Players currently on the roster. He and Sam Vines, a 21-year-old from Colorado Springs, were stalwarts on Fraser's XI. On top of Bassett's five goals, his five assists were also tied for the team lead, and he was the fourth-youngest player in MLS to start a first-round playoff match. Vines, meanwhile, played every minute of every game in the regular season, the only Rapids player to do so, and added the first goal and three assists of his MLS career.
"I see a lot to build on. This is a young, hungry group and this is their first experience in the playoffs," said Fraser, who won MLS Cup as an assistant coach in 2009 and 2017. "I'm really excited for the growth of this team. I've seen it so many times now in coaching where young teams are growing and forming their identity and figuring out who they are and what makes them a team and what makes them successful. They get into big situations for the first time and they don't always do great. But the teams that become really good teams learn from it and come back even stronger. I feel like this group has all those characteristics."
• Discuss this story on the Major League Soccer message board...


Major League Soccer Stories from November 25, 2020
The opinions expressed in this release are those of the organization issuing it, and do not necessarily reflect the thoughts or opinions of OurSports Central or its staff.