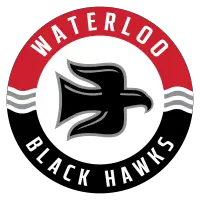 Hawks Upend Buccaneers Friday
April 24, 2021 - United States Hockey League (USHL) - Waterloo Black Hawks News Release



Waterloo Black Hawks goalie Charlie Glockner made 30 saves - none more important than a key stop in the final two minutes - during a 2-1 Friday night win at Young Arena against the Des Moines Buccaneers.
A turnover in the defensive zone left Lucas Mercuri with the puck one-on-one against Glockner as 1:31 remained. Glockner snuffed out Mercuri's attempt from the left hashmark aimed low to the glove side and gave no rebound.
Despite the six-on-five empty net situation which followed for the remainder of regulation, the Hawks limited Des Moines' chances to close out the win. Glockner made nine save apiece in both the second and third periods after a dozen stops in the first. Waterloo outshot the Buccaneers 39-31.
The visitors had the best of it in the early minutes and opened the scoring 9:12 into the game. Sam Renlund was moving past the Hawks net, but at the last moment dropped a pass for Zach Faremouth, who triggered a quick shot that startled Glockner.
Waterloo leveled the count just over five minutes later. Jacob Jeannette was stationed at the edge of the crease screening goalie Remington Keopple, and Keopple never saw the attempt from Garrett Schifsky which beat him inside the short side post.
Ryan O'Hara provided the only goal of the second period while the Hawks were skating shorthanded. Mason Reiners cleared the puck down the ice after an initial faceoff win. Casey Severo then forced a turnover behind the Des Moines net, setting up O'Hara in the left circle, and O'Hara let go of a chance that was in and out of the net in the blink of an eye.
The same teams meet at Young Arena again to conclude the regular season Saturday night at 6:05 p.m.
Des Moines 1 0 0 - 1
Waterloo 1 1 0 - 2
1st Period-1, Des Moines, Faremouth 11 (Renlund, Shoudy), 9:12. 2, Waterloo, Schifsky 2 (Belpedio, O'Hara), 14:19. Penalties-Bevilacqua Dm (roughing), 4:32; Kleven Wat (roughing), 4:32.
2nd Period-3, Waterloo, O'Hara 16 (Severo, Reiners), 13:01 (SH). Penalties-Kiecker-Olson Dm (high sticking), 1:10; Schingoethe Wat (tripping), 12:47.
3rd Period- No Scoring.Penalties-Laferriere Dm (roughing), 12:15; Renlund Dm (checking from behind), 12:15; Ozar Wat (roughing), 12:15.
Shots on Goal-Des Moines 13-9-9-31. Waterloo 16-10-13-39.
Power Play Opportunities-Des Moines 0 / 1; Waterloo 0 / 2.
Goalies-Des Moines, Keopple 11-9-3-0 (39 shots-37 saves). Waterloo, Glockner 11-16-1-0 (31 shots-30 saves).
A-
Referees-Tyler Hascall.
Linesmen-Kyle Bushee, Davids Rozitis.
• Discuss this story on the United States Hockey League message board...


United States Hockey League Stories from April 24, 2021
The opinions expressed in this release are those of the organization issuing it, and do not necessarily reflect the thoughts or opinions of OurSports Central or its staff.
Other Recent Waterloo Black Hawks Stories