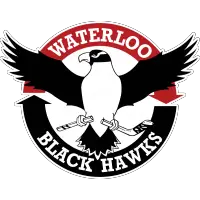 A Flourish for the Finish
April 24, 2021 - United States Hockey League (USHL) - Waterloo Black Hawks News Release



The Waterloo Black Hawks completed the 2020/21 United States Hockey League regular season on a three-game upswing capped by Saturday's 6-3 win at Young Arena against the Des Moines Buccaneers in the season finale for both teams.
The Black Hawks had the night's first 12 shots on goal and took the lead at 4:20 on a goal by Alex Gaffney. Goalie Derek Mullahy stopped David Gucciardi's one-timer, but Gaffney pushed the rebound back toward the goal line and in off the post.
Des Moines' leading scorer, Alex Laferriere, tied the game at 16:54, hitting the top corner from the high slot. However, the 1-1 count only lasted 24 seconds. At the other end of the ice, Ethan Szmagaj found Owen Ozar at the top of the crease for a successful redirection.
Black Hawks defensemen were responsible for all of the scoring in the second. Gucciardi accelerated into the offensive zone on an odd-man look and handcuffed Mullahy with a low shot at 12:31. With Waterloo on a four-on-three power play not quite two-and-a-half minutes later, Max Sasson fed Szmagaj for a one-time blast from the high slot.
The differential stretched to its largest point just 18 seconds into the third. As Sasson rushed into the offensive end, his attempt from the left circle was knocked down but left Gaffney with an open side to score his second goal of the night.
Power play success allowed the Bucs to get back within range, starting with a conversion by Luedtke just 10 seconds into a five minute major at 2:29. Waterloo was unscathed during the remainder of that power play, which ended prematurely on an offsetting call. However, Des Moines also scored on their next advantage at 8:26 when Paul Davey pushed in a rebound from the edge of the blue paint.
Mullahy went to the bench for an extra attacker with two-and-a-half minutes to go, and Waterloo sealed the win with an empty net goal at 18:59. Cooper Wylie fired a shot wide of the post from long distance, but Sasson tracked down the bounce off the end boards to record his fourth point of the contest.
Charlie Glockner earned his third win of the week - all highlighted by at least 30 saves - turning away 31 of 34 Buccaneer chances.
Saturday's game brought Waterloo's 2020/21 season to a close. The Hawks finished with a 22-30-1 record, including a 14-12-1 mark at Young Arena. Sasson wrapped up the campaign as Waterloo's leading scorer at 49 points, while Glockner was in net for 12 wins. The Hawks will add a group of new prospects for 2021/22 during the USHL Draft in late May. Meanwhile, season tickets for next year are available now; find out more at tickets.waterlooblackhawks.com.
Des Moines 1 0 2 - 3
Waterloo 2 2 2 - 6
1st Period-1, Waterloo, Gaffney 14 (Gucciardi, Belpedio), 4:20. 2, Des Moines, Laferriere 26 (Mercuri), 16:54. 3, Waterloo, Ozar 15 (Szmagaj, Sasson), 17:18. Penalties-Mercuri Dm (hooking), 8:31; Reiners Wat (tripping), 12:54.
2nd Period-4, Waterloo, Gucciardi 7 (Batchelder, Szmagaj), 12:31. 5, Waterloo, Szmagaj 8 (Sasson, Gaffney), 14:50 (PP). Penalties-O'Hara Wat (tripping), 0:23; Jeannette Wat (high sticking), 3:31; Laferriere Dm (head contact), 13:36; Luedtke Dm (slashing), 13:45; O'Hara Wat (major-cross checking, game misconduct-cross checking), 13:45.
3rd Period-6, Waterloo, Gaffney 15 (Sasson, Bast), 0:18. 7, Des Moines, Luedtke 4 (Davey, Prokop), 2:29 (PP). 8, Des Moines, Davey 9 (Laferriere, Luedtke), 8:26 (PP). 9, Waterloo, Sasson 20 (Wylie), 18:59 (EN). Penalties-Renlund Dm (major-fighting, 10-minute misconduct), 2:19; Argentina Wat (major-elbowing, game misconduct-elbowing), 2:19; Ness Wat (major-fighting, game misconduct-removing opp. helmet), 2:19; Driscoll Dm (roughing), 5:38; LaStarza Wat (slashing), 7:56; Choupani Dm (slashing), 12:49; Ellis Dm (unsportsmanlike cnd.), 16:00; LaStarza Wat (unsportsmanlike cnd.), 16:00.
Shots on Goal-Des Moines 9-7-18-34. Waterloo 17-12-14-43.
Power Play Opportunities-Des Moines 2 / 6; Waterloo 1 / 5.
Goalies-Des Moines, Mullahy 13-12-1-0 (42 shots-37 saves). Waterloo, Glockner 12-16-1-0 (34 shots-31 saves).
A-
Referees-Caleb Andrade, Tyler Hascall.
Linesmen-Michael Ifkovits, Eric Arrigo.
• Discuss this story on the United States Hockey League message board...


United States Hockey League Stories from April 24, 2021
The opinions expressed in this release are those of the organization issuing it, and do not necessarily reflect the thoughts or opinions of OurSports Central or its staff.
Other Recent Waterloo Black Hawks Stories