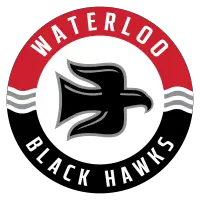 Hawks Trio Stacks up Scoring
October 23, 2021 - United States Hockey League (USHL) - Waterloo Black Hawks News Release



Three Waterloo Black Hawks recorded three points apiece in an 8-4 victory over the Lincoln Stars at Young Arena Saturday.
Carter Batchelder's initial USHL goal was followed by two more for the first Waterloo hat trick of this season. Tyler Kostelecky scored twice on top of an early assist. Michael LaStarza produced a goal and two assists.
Saturday saw as much scoring in the opening period as the Hawks and Stars piled up in a full 60 minutes on Friday. Lincoln's Luke Johnson was responsible for the first goal during a Stars power play just 1:14 into the game, but the Hawks answered with a power play of their own at 5:38. LaStarza tipped Kostelecky's shot, recording his third goal in a four-game span.
Johnson gave the Stars a new lead on Lincoln's next power play at 8:39; he shot from the left circle, and Emmett Croteau got part of the puck, but not quite enough to keep it out.
Two even-strength goals allowed Waterloo to swing to the lead before intermission. At 14:00, Mason McCormick's strong move to the net led to a goalmouth scramble. The puck came back to McCormick near the left dot, and he put it in from there. Then Batchelder scored in transition, wiring a long wrister to the top corner at 16:51.
After being tied at one goal apiece, then 2-2, the teams were even again at three when the Stars' Christian Kocsis capitalized 8:28 into the second.
Waterloo broke the tie and raced away, a minute later. LaStarza returned the favor from the first period, setting up Kostelecky alone in the slot for the go-ahead tally.
Lincoln went to a power play on the ensuing shift, but the Hawks produced their first shorthanded goal of the season at 11:38 when Garrett Schifsky was sprung for a breakaway. That goal chased Kaiden Mbereko from the game, but the Hawks added another goal against his replacement, Jackson Baker, when Batchelder tipped Adam Cardona's shot at 17:03.
Kostelecky extended the margin to four at 6:08 of the third. A Croteau save sent Waterloo up the ice on a counter, and LaStarza fed Kostelecky for the finish.
A Lincoln breakaway provided the final Stars tally by Lucas Wallin at 8:36.
However, Gavin O'Connell was looking for Batchelder on a three-on-two rush at 9:22, and Batchelder completed his three-goal effort by snapping the puck into the net from the left hashmark.
The Waterloo victory gave the teams a weekend split after the Stars had won a 3-2 contest one night earlier.
Saturday's game also wrapped up three-in-a-row at home for the Hawks who go on the road next weekend for a pair of game against the Fargo Force.
Lincoln 2 1 1 - 4
Waterloo 3 3 2 - 8
1st Period-1, Lincoln, Johnson 4 (Thompson, Norris), 1:14 (PP). 2, Waterloo, LaStarza 3 (Kostelecky, O'Connell), 5:38 (PP). 3, Lincoln, Johnson 5 (Laba, Lemay), 8:39 (PP). 4, Waterloo, McCormick 1 (Jeannette), 14:00. 5, Waterloo, Batchelder 1 (Geary, Procious), 16:51. Penalties-Geary Wat (high sticking), 0:53; Kocsis Lin (hooking), 4:25; O'Connell Wat (hooking), 7:55; Laba Lin (slashing), 10:26; Schade Lin (cross checking), 17:12; Laba Lin (kneeing), 18:22.
2nd Period-6, Lincoln, Kocsis 3 (Thompson), 8:28. 7, Waterloo, Kostelecky 3 (LaStarza, Schifsky), 9:22. 8, Waterloo, Schifsky 3 (Shedd), 11:38 (SH). 9, Waterloo, Batchelder 2 (Cardona, Hong), 17:03. Penalties-McCormick Wat (slashing), 3:35; Wylie Wat (head contact), 10:04; Larrigan Lin (bench minor-too many men), 14:52.
3rd Period-10, Waterloo, Kostelecky 4 (LaStarza, Croteau), 6:08. 11, Lincoln, Wahlin 2 (Schade), 8:36. 12, Waterloo, Batchelder 3 (O'Connell, Geary), 9:22. Penalties-Wahlin Lin (unsportsmanlike cnd.), 0:32; Wahlin Lin (cross checking), 10:10; Veremyev Lin (major-fighting, game misconduct-jersey tie-down), 13:11; Ness Wat (major-fighting, 10-minute misconduct), 13:11; Marcellus Lin (roughing), 13:43; Jones Wat (roughing), 13:43.
Shots on Goal-Lincoln 8-11-14-33. Waterloo 11-13-13-37.
Power Play Opportunities-Lincoln 2 / 4; Waterloo 1 / 7.
Goalies-Lincoln, Mbereko 3-3-0-0 (19 shots-14 saves); Baker 0-0-0-0 (18 shots-15 saves). Waterloo, Croteau 1-2-0-0 (33 shots-29 saves).
• Discuss this story on the United States Hockey League message board...


United States Hockey League Stories from October 23, 2021
The opinions expressed in this release are those of the organization issuing it, and do not necessarily reflect the thoughts or opinions of OurSports Central or its staff.
Other Recent Waterloo Black Hawks Stories