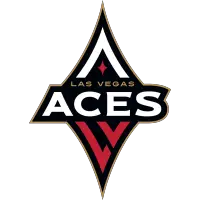 Hamby's Steal, 35-Footer Sends Aces to WNBA Semifinals With, 93-92, Win over Chicago
September 15, 2019 - Women's National Basketball Association (WNBA) - Las Vegas Aces News Release



LAS VEGAS, NV - Dearica Hamby's steal and 35-footer with 4.6 seconds remaining gave the Las Vegas Aces a 93-92 victory in the Second Round of the WNBA Playoffs.
KEY RUNS
First Quarter
Las Vegas led by two, 4-2, when Chicago scored 10 of the next 12 points to go up 12-6. A 6-0 run late in the quarter gave them their biggest lead of the quarter at 12, 29-17.
Second Quarter
Trailing 35 to 21 early in the second, Las Vegas scored 21 of the next 24 points to lead by three, 42-29, with 3:57 to go.
Chicago closed the half scoring nine straight to take a 51-45 lead into the locker room.
Third Quarter
Las Vegas trailed by 10, 62-52 with 6:41 to go in the quarter, and scored 11 straight points to go up 63-62.
Fourth Quarter
The Aces led 90-85 with 3:32 to go, but Chicago scored seven straight to go up, 92-90. Dearica Hamby then stole the ball and launched her 35-footer.
KEY STATS
Las Vegas committed 18 turnovers which Chicago turned into 24 points, while the Sky committed 9 turnovers which the Aces turned into 13 points.
Las Vegas went 23 for 29 from the free throw line while Chicago went 11 for 14
The Sky made 9 of 32 three-pointers, while the Aces went 6 for 13.
Las Vegas out-rebounded Chicago 44 to 36.
GAME NOTES
Las Vegas trailed by as many as 14 in the game. In the regular season, the Aces came back from three double-digit deficits to win- June 16 at Minnesota (down 14); July 13 at Washington (15); and August 31 vs. Los Angeles (13).
This is Las Vegas' first playoff win as a franchise since the San Antonio Silver Stars beat Phoenix in 2011.
A'ja Wilson, Kelsey Plum, Dearica Hamaby, and Jackie Young played in their first-ever postseason game.
A'ja Wilson scored the first playoff points in Aces history with a pair of free throws 56 seconds into the game.
Liz Cambage recorded her second career postseason double-double in two career games (23 points and 17 rebounds). Those 17 rebounds were the second most by a player in franchise history (18 by Sophia Young on August 30, 2007 vs. Phoenix). She added a franchise postseason record 6 blocks, and became the first player since Lisa Leslie in 2001 to record a 20+ point, 15+ rebounds, 5+ block game
Courtney Vandersloot became the first player with back-to-back double-digit assist games since Nikki Teasley in 2003.
The Aces grabbed a franchise postseason record 42 rebounds.
NEXT GAME
Las Vegas heads to #1 seed Washington for Games 1 and 2 of the WNBA Semifinals on Tuesday, September 17 (5:30 pm PT) and Thursday, September 19 (5:30 pm PT). Game 3 would be at Mandalay Bay Events Center on Sunday, September 22 at 2 pm PT.
POSTGAME QUOTES
HOME QUOTES
A'ja Wilson
Q. Have you ever played a kind of game that chaotic and exciting?
"I mean it gave me March Madness vibes, it gave me those college postseason feels. The biggest thing is you can tell everybody came together and really fed off the crowd and fed off of one another and that's the beauty of it all. When Dearica made that shot, that was our x factor. I'm not surprised at all. Dearica pushed for this, she deserves this and that's something I never really seen before and that's crazy."
Liz Cambage
Q. Have you ever played a kind of game that chaotic and exciting?
"I've been in a few situations like that. 2012 Olympics, someone throwing up a half court shot to keep us in the game. I've seen too many of those plays. But it comes down to two teams playing as hard as they can to the last seconds"
Q. You have fallen behind a few times this season, how hard is it to bring yourselves back?
"We tend to do it a lot so... I think the hard thing is getting us to stop doing that because it started to bother us. I see playoffs as a new season for me to snap out of these bad habits."
Bill Laimbeer
Opening Statement
"I'm glad Hamby executed the play I drew up (laughs). It reminded me of ... Those of you who are old enough to understand what I am about to say. ... 'Bird stole the ball! Bird stole the ball!' ... same kind of play. It was like 'oh, no, no, don't do that and then WHAM.... Great shot!'
It's one of those things where it is basketball and it is intense basketball. I told the fans early in the week, come and watch. You will see great athletes play great basketball, and you will have fun. And if you didn't have fun at today's game. Yeah there were ups and downs. We go down. We go up. We turn the ball over. We go down. We go up. We turn the ball over. But overall, I wrote on the board before the game Just win the Game. It doesn't matter how. It doesn't matter who. Just win the Game. I thought we were fortunate. I thought we played hard enough to win. But we didn't play well enough to put the game away. If we had made out layups. If we didn't turn the ball over at crucial times, I think we would have won this game by 10 points.
I give Chicago credit. They played very well. They made big shots. They played very hard. But one team had to go home, and that's unfortunate. But we'll take it, and now it is on to the next round.
Q. Have you ever been a part of game like this?
"The intensity of this game, I've been a part of a lot of games in this league. The players played very hard. I've been in a championship series with the Shock that was as intense or more, because the Finals were on the line.
But the most important thing for me this year was to get to this next round. I knew we were going to make the playoffs. I also knew going into the playoffs we could beat or lose to anybody. And I thought it was very important that we got to the next round not only for our players, but for our fans, our town, and our franchise. This was a great moment for our franchise, we've done everything right over the last two years You have this kind of moment and it just tops it off."
VISITOR QUOTES
Head Coach James Wade
Coach James Wade on tonight's loss...
"You learn from loses. One of my coaches has a saying that there are no such things as loses, there is only lessons, you just have to learn. It's very painful but for somebody like me personally, I really hope this pain never goes away."
Coach James Wade on Liz Cambage and A'ja Wilson...
"They were good, I thought we held them in check, we held them under 50% shooting. They had a few more offensive rebounds than we would like. They're two all-star players for a reason."
Coach James Wade on moving forward...
"I told them I was proud of their effort, I felt like we deserved that game, not to take anything from Las Vegas because they're a great team but I just felt like we deserved it. We have to learn from it and stay together. This was an eventful season all the way till the end. We would've liked being in a situation where we could keep it going because I've felt like we had so much more basketball to play but that wasn't the case."
Coach James Wade reflecting about this season's accomplishments...
"It doesn't mean anything right now; I'll reflect on it at some point. Right now, it stinks a little bit too much to think about the season, I'm just worried about getting us home and letting it sink in that basketball is done for us this season. I'm proud of them, it has to do more with the team than with me, it has more to do with the coaching staff than with me. They bought in to what we wanted to do, and they supported each other till the end."
Kahleah Copper and Diamond DeShields
Diamond on tonight's loss...
"It's just like any other time the season ends. The call may or may not have been valid, you wish you could kind of get some verification on it. It hurts, this is a team that had a lot to give and more to give."
Kahleah Copper on coach Wade's message to the team after tonight's loss...
"He came and picked us up, we were down. He tried to give us something, it's tough, t's real sensitive, he tried to give us something to get us up."
Diamond DeShields on the future of this team...
"We had a big piece missing tonight, Jantel Lavender, we'll have her back next season and obviously the rest of our team. We had a very good group of women, coaches, people who are very motivated to see us succeed and be our best selves. We have nothing but high hopes for the future and we're just going to keep working towards the ultimate goal."
Kahleah Copper on tonight's game plan...
"I think we followed the game plan that our coaches gave us, great game plan. I think we executed, and we just came up short."
• Discuss this story on the Women's National Basketball Association message board...


Women's National Basketball Association Stories from September 15, 2019
The opinions expressed in this release are those of the organization issuing it, and do not necessarily reflect the thoughts or opinions of OurSports Central or its staff.