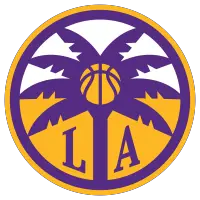 Sparks Top Storm, Advance to Semifinals
September 15, 2019 - Women's National Basketball Association (WNBA) - Los Angeles Sparks News Release



LOS ANGELES - The Los Angeles Sparks rode their sharpshooting to a 92-69 victory in the second round of the 2019 WNBA playoffs, eliminating the defending champions Seattle Storm. Three Sparks players sank at least three 3-pointers in the victory, tied for second-most in a postseason game in WNBA history. Chelsea Gray led Los Angeles with 21 points and eight assists, while Natasha Howard posted a team-high 20 points and 11 rebounds for the Storm.
Candace Parker had a hand in nearly every Sparks basket while on the court in the first quarter, assisting on two 3-pointers and adding her own putback and coast-to-coast layup. Seattle took an 18- 11 lead on a Howard 3-pointer after Parker checked out with just over three minutes remaining. The lead would not last long, however, as the Sparks went on a quick 9-0 run, highlighted by two steals and transition baskets on consecutive Seattle possessions.
Maria Vadeeva emphatically set the tone for the second quarter with a block on Crystal Langhorne during the first possession of play. The Sparks' defensive pressure, spearheaded by Alana Beard, held Seattle scoreless for the first three and a half minutes of the quarter as Los Angeles reeled off another 9-0 run. The Storm cut the deficit to four with just under a minute left in the quarter, but Gray responded with an electric 3-pointer to give the Sparks a 43-36 lead at halftime.
Tierra Ruffin-Pratt locked down Jordin Canada with full-court pressure to start the second half, including a block at the basket that ignited the STAPLES Center crowd. Howard, Jewell Loyd and Mercedes Russell picked up the offensive load for Canada, and the Storm cut the deficit to one on a Howard 3-pointer at the 3:11 mark of the third quarter. Seattle would get no closer, however, as the Sparks closed the quarter on a 10-2 run, capped by a Riquna Williams buzzer-beating 3-pointer.
Sydney Wiese and Nneka Ogwumike combined for a quick 10 points to extend the Sparks' offensive explosion into the fourth quarter. Wiese drained back-to-back 3-pointers, followed by two consecutive jumpers from Ogwumike, to build a commanding 21-point lead that Los Angeles would not relinquish.
Up next: The Sparks will travel to Uncasville, Conn. on Tuesday, Sept. 17 to take on the second- seeded Connecticut Sun in Game 1 of the 2019 WNBA Semifinals at 6:30 p.m. ET on ESPN2.
Sparks Notes
- Candace Parker recorded her 17th playoff double-double with 11 points and 10 rebounds. She ranks fourth all- time in that category.
- Sydney Wiese notched a playoff career-high nine points on three 3- pointers.
- Parker's stat line moved her to third in blocks (77), fourth in steals (72), sixth in rebounds (412) and 14th in assists (157) in WNBA playoffs history.
- Three Sparks players made at least three 3-pointers, tied for second-most in WNBA playoffs history.
Storm Notes
- Jordin Canada and Natasha Howard scored Seattle's first 18 points.
- Howard posted a stat line of 20 points, 11 rebounds, four steals and one block. She is just the second player in playoffs history to achieve those numbers, joining Tamika Catchings.
- Today's game marked Dan Hughes' 50th career playoff game. He is the fourth coach to reach that number.
- Howard connected on 3-6 attempts from beyond the arc. Her only career game with more 3-pointers made (regular or playoffs) was on Aug. 14, 2019, when she made four 3-pointers in a loss at Washington.
Quotes
Coach Derek Fisher, Nneka Ogwumike and Chelsea Gray spoke for the Los Angeles Sparks.
On the new layout of the WNBA playoffs:
NO: "This is my eighth year, and my fourth year playing in this new format. The old format had its caveats because the West Coast is very strong, so a lot of times it was disappointing to see only one great team come out of the West. We never made it past the conference finals, but in this new format, this is now our fourth year and our third type of position. To be honest, I think that fighting for third and fourth isn't rewarded in the way that it should be because you still have to play an elimination game. But ultimately I think we did a great job of getting the reps that we needed to prepare for this game and coming out and being serious about it. I think our team didn't really think of it as an elimination game. And I think that it was good in that way because the pressure that might have coupled with knowing that this could be our last game is not the type of energy that you want. So I think that we came out just understanding that we had to come out and play hard and perform."
CG: "I would have to agree with Nneka. I think there are certain points where it was like maybe last year where a team played so well throughout the whole regular season and then you have one game where you could have an off game, and then you're out. So all that hard work you have done in the regular season is kind of wasted at that point. So it will be something interesting going forward."
On playing with "old school" Alana Beard today:
CG: "It was great. She's had a hard year in-and-out battling with some little lingering injuries sometimes. So it's good to see her get going because we have faith in her whenever she steps on the court. Her voice, her message, and her presence is always felt, so it's nice to have her out there on the court and be an impact."
NO: "Any chance I can play with her, I cherish. She's been on my team the whole time I've been on this team. So, any chance I can play with her I am just really grateful for that moment. You guys know what she can do. So any time that I'm able to be out there with her, I just really take advantage of it."
On the whole team's contribution to success:
NO: "I think the tail of our team this season, whether it was because we were down numbers, certain people had to stand up, or because there's just people out there that are taking advantage of their time. We are a team with moments, we are a team of opportunities, we are a team that grinds, and I think that that was really reflected today."
CG: "I would have to agree. I think during the regular season, we were in Atlanta and had seven or eight people that were able to go into the game. So it is rewarding to have a full roster and to be able to execute. Down the stretch, you don't know who is coming in, but when your number is called, you just have to be ready. [The game today] was reflective of that. I'm looking at efficiency and [Sydney Wiese] is at 26, Chiney is at 29, Alana 30. You know, those are things that we are going to have to have going down the stretch. It's going to take everybody."
On the team's conversation at halftime:
NO: "Before the coaches came in, we discussed a lot about how what we were doing was good. There were a few little things here and there that we needed to make sure we could take advantage of. I think we have seen the last few games, even outside of the playoffs, how aggressive Jordin Canada has been playing. She got to us in the first half, and we wanted to make sure that we could clog up that paint in transition a little bit more, and then offensively we had to move the ball, and move our bodies. That's really it. That's the name of the game for anybody we play against, because if the ball is still, then it does not suit us because of the types of players that we have."
On preparation for the upcoming road game:
DF:
"Well, I mean the first part is resting and recovering from getting prepared for today. We are fortunate enough to now get into Connecticut tonight, as opposed to tomorrow, so hopefully that will help us as well. But we just have to quickly turn the page to a new opponent, in terms of how we want to prepare the things that we want to do offensively and defensively, but we have tried to stress to our team all season long that as opponents change, we don't necessarily have to change who we are. We just need to be stronger and better in some of the things that we are already capable of doing, and I thought that that was indicative today of the way that the players were able to continue to play and trust, like Nneka was saying during halftime, that some of the things we are doing are working out pretty good, if we can clean up a couple areas, that will give us a chance. [We] came out in the second half and continued to stick with that defense and make it hard for Seattle to get points, so that's what we want to carry forward against Connecticut. We know they are good at home, we know the crowd is going to be into it, but, we are going to have to lean on our defense, and also as Nneka mentioned in terms of offensively moving the basketball so it doesn't stick, and the ball's moving and the players are moving.
On how it feels to have the team together and what they need to do better offensively again
Connecticut:
CG: "It feels amazing to look down the bench and we have all 12 [players] down there ready to get in the game and ready to contribute. I think we're going to have to continue to do the little things on both sides of the ball defensively like Nneka said. Playing that transition defense and make people play against our half court. Then offensively, spacing. Running ourselves in execution, spacing, pace, and moving our bodies. I think we'll be in great shape if we just do the things that we talked about."
DF: "It's always been about the whole group, we stressed that from the beginning. A lot of our players, they reward each other and themselves. It's not really about what they're doing necessarily or what we're doing for them. Everybody shows up early to try to get work in, so that when they get in the game, they're ready to go. That's something we're going to need in this next series as well."
On the fan going after Nneka Ogwumike after the game:
NO: "I don't know who that was. I have no idea who that was. I think he was just very enthusiastic fan that got caught up in the moment. We have security in place to manage those situations and diffuse those situations."
On the energy and effort the team played with today:
NO: "That's just who we got on the team, I can't really explain how that works. It's just really who we have on the team. I think us understanding that no moment is lost, it's not over until the clock is up. I think we continue to have those types of moments as you've seen this season. Obviously, Chelsea has been the president of a lot of those moments. That's just what we got, plain and simple."
CG: "I think it's a momentum killer when you end the quarter [with a buzzer-beater] and Riquna having that at the end, it sucks the life out of the opponent. I think those moments, we got to build on going into the next quarter and it creates momentum down the stretch. Even if you finish the half and you have that break, you're still thinking about that last play and how you want to build on that and that's what we stressed at halftime, too. We had a good play, things like that, we want to be able to build on that the next time we come out."
On the charter flight to Connecticut and what it means moving forward:
NO: "It means a lot. I think it means we're moving in the right direction and I hope that it doesn't stop there. I think once we see consistency and priority with player health and safety, you can't go wrong with that. I don't know if this is the first charter flight that's been sanctioned in the WNBA but if it is then we're also making history. It'll be good to see how we move forward from here. It set the bar. You're going to be hearing from players now. But I'm very grateful. Kudos to Cathy to be able to have something that has [been] implemented so quickly. She hasn't even been around for two months, I don't think, so this is great."
Coach Dan Hughes, Jordin Canada and Natasha Howard spoke for the Seattle Storm.
Seattle opening statement:
DH: "Congrats to Los Angeles. They're playing extremely good basketball right now, especially here. And Derek Fisher has done a great job with them. I think they're playing some of their best basketball right now. But I'm really proud of my group. In a difficult year, pretty inspiring what they did. Some of the things that came out to play in a year where we had to reach down a little bit."
On Seattle playing without key players:
DH: "I think you've got to look at the players. The reality of it was the culture this group of players was able to stay in. They were able to grow into different roles. Here's two examples right here. You kind of really get locked in on what this team this year did. And it's pretty inspiring. I just gotta tell you. It really is, if you've been along our road. And the other thing is the group, they were so collectively good at [it]. Every time they hit a bump, they just kind of came back. You know and you want every year to end with a win, but you also want the year to push the franchise forward. In one [year] where we could've taken a step back, we actually moved forward."
On what the Sparks did on defense to frustrate the Storm:
NH: "In the second half, the Sparks played some big defense. They played more aggressive. And we got on our heels for a little bit. But we fought back too at the end of the day as well. But the Sparks just came out in the second half with more energy and just that fight. So I give credit to the Sparks with what they did tonight."
JC: "Yeah, I agree with [Howard] but I think also they load the paint. You know, we're a type of team when we're able to get into the paint, there's great things that happen. And then they forced us to take a lot of outside shots and unfortunately we weren't able to make those shots in the second half. You know they were able to go on runs. Also, turnovers, that's when they got to score in transition in the second half. And like [Howard] said they just came out aggressively and they wanted it more in the second half."
DH: "Well, they're a long team. There's situations where we try to play and create separation like that, but truthfully they're a deep team. They're long, so we were shooting over situations of length. But they're also a deep team. When you look at the input of Wiese, Chiney and Beard, that's a plus 30, 29 and 26 in the score, so they were pretty impactful."
On what Hughes learned from his team this season:
DH: "Well, I think it's a team that's still growing. I saw Natasha, as good as she was last year, grow. I saw Mercedes and I saw Jordin, and a lot of others, grow. And the one that people didn't see, is when you lose key leaders like Sue Bird and Breanna Stewert, I saw leadership develop within this team too. And that's sometimes the one, it's really hard to replace. But I saw this team. And that's our job as coaches to develop leaders. And I thought this team was pretty receptive to some new roles where we ask them to lead within the team."
On Howard's 12 points and two fouls in the first quarter throwing off rhythm:
DH: "It's impactful because Natasha is that important to this team and we can play her in a normal rotation coming out of it. To be honest, we're going to have to watch the tape but I thought she was pretty disciplined on a lot of those plays and that's what I'm looking for as a coach. You put yourself into situations and then being fundamentally sound as you do it. I saw signs she was working at that. But again, give LA credit they put a lot of pressure on you and they kind of keep coming with the post players."
On what the team learned about themselves throughout the season:
NH: "I think I grew as a player. I think I grew as a player this whole season playing different roles I never played before. I think like collectively as a team we did a good job overall. Me and Jordin had to play different roles. It was kind of tough for a minute but we stuck with it and we had our teammates behind us the whole time. We never gave up on each other and they never gave up on us. I'm just happy [with] the way we played this whole season, every single person, and also the Seattle organization. They've been behind us since day one."
JC: "For me, I agree with Natasha. I grew a lot. And I think confidence makes all the difference. I think last year, it was kind of hard for me coming into a different role than I was at UCLA and trying to fit into a role I wasn't used to. And I think this year, I've had a chance to step up and show that I can play with the best of them. And my teammates have encouraged me. My teammates have encouraged me to just play with a lot of confidence. And never doubt your talents, never doubt your skills. And I think there's another level to me that I've noticed from last year to this year. So just confidence has made all the difference."
On what changed midway through the third quarter:
DH: "I thought we ran out of gas a little bit. I think it's a little bit of a testimony to their depth. I thought we played three pretty good quarters. I thought we really battled. A lot of things we were hoping to achieve we were achieving... but they keep constant pressure on you and we lost a little of the attack nature that had really served us well in the three quarters."
On what Seattle would do if they were facing the Sparks in the semifinals:
NH: "Keep the ball out of Chelsea's hands. Pick up full court if Parker brings the ball up the court and let Nneka and all the other players around them make plays."
JC: "Keep it out of Chelsea's hands and make someone else run their offense. Also, Candace, try to crowd her as much as possible, same with Nneka. They are a great rebounding team as well, so try and box them out. Also just being aggressive and playing with pace. They are a great transition team. So try and cut down their points in transition and making them play at half court. And running, playing with pace."
DH: "They are a challenge because you need to rebound well against this team. You need to shoot well against this team. What would be really interesting is that they have been dominant here. They are going into a series where that team has the opportunity to play three home games, but it's a chore [because] they're a good team. They're legit, and it's going to be a great series."
• Discuss this story on the Women's National Basketball Association message board...


Women's National Basketball Association Stories from September 15, 2019
The opinions expressed in this release are those of the organization issuing it, and do not necessarily reflect the thoughts or opinions of OurSports Central or its staff.
Other Recent Los Angeles Sparks Stories