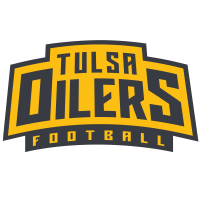 Game Preview: Tulsa Hosts Massachusetts
May 26, 2023 - Indoor Football League (IFL) - Tulsa Oilers News Release



Tulsa, Okla. - Tulsa Oilers Football, proud member of the IFL, enters Week Eleven of the season, preparing to face the Massachusetts Pirates for the first time ever.
LAST TIME OUT The Oilers headed west for the second time this season, facing the Knight Hawks, trying their luck in Vegas...well Henderson, Nevada that is. Tulsa trailed early but started their scoring thanks to a 2-yard rushing score to the right side by Tre Harvey to cut the game down to a score of 13-7 Vegas with 6:34 left in the first quarter. Despite a tough start, the Oilers ended the first quarter scoring, by connecting on a 19-yard pass in the end zone from Vincent Espinoza to Damion May to make it 20-13 Knight Hawks with just 0:35 left in the first. Tulsa would see another May touchdown thanks to a connection of 16 yards in the end zone after the ball was tipped initially but ultimately landed in the hands of the former Quad City Steamwheeler for a score to make it 33-20 Knight Hawks with 3:15 left in the second. Oilers' kicker Jeremy Reynolds would pick up a deuce off the resulting kickoff to make it a 33-22 game. Reynolds has two deuces on the season, and the half ended at the said score. After a field goal from Reynolds, Tulsa picked up a 22-yard touchdown reception from Alexis Rosario with just 0:43 left in the game to make it 40-32 but Vegas would finish the game with another rushing touchdown by Neal to end the game with a final score of 46-32 in favor of the Knight Hawks.
FOCUS AHEAD It is Military Night. The grand lobby will display booths, represented by entities such as the U.S. Army, U. S. Marines, Civil Air Patrol, and Soldier's Wish. The Tulsa Oilers will wear military-themed specialty jerseys and host the first Jersey Auction in franchise history, which will begin upon the game's conclusion in the River Spirit Lounge behind section 107. Tulsa sees the Massachusetts Pirates land on the shores of Green Country for the first time this season. Tulsa is still trying to solve its first-quarter difficulties. "Despite starting slow, we made some key adjustments to improve our game and we look forward to implementing those into our strategy this week," said DL Gibson Ziah in regard to some mental takeaways from last week's game. "As long as we play hard from the start we will be fine, it is important to stay disciplined." Tulsa made multiple transactions prior to Week Eleven's matchup against the Pirates, signing WR/QB Devond Blair Jr., DL Trevonte Carter, and OL/DL Dante Bivens. In order to make room for new signings the Oilers have made the following additional moves. Tulsa has placed RB Joshua Robinson on RTR, released DB Tre'Sean Artis, and finally, placed lineman Adrien Hernandez on Short-Term Injury Reserve. The Oilers implemented all new personnel in practice as soon as they were able to in order to allow for systems learning and reps to be taken care of as much as possible prior to this game.
HOW TO "PILLAGE" THE PIRATESMassachusetts enters the game in sole possession of third place in the Eastern Conference. With a win over the Pirates, the Oilers could create some chaos at the fourth-place spot in the East. Mass. QB, Anthony Russo, is coming off of an Offensive Player of the Week award from Week Ten. Russo was 17 of 22 passing for 228 yards and seven touchdowns on the evening while adding a rushing touchdown. Containing Russo's ability to gain momentum like that is an important element to success against a Pirates team that is finding its rhythm. Tulsa has made it clear that they can respond when down this season, but with a Mass. team in town that averages giving up 50.6 points per game, the Oilers have a real chance to find consistent scoring especially early so they do not find themselves in trouble and in another comeback effort scenario.
Tulsa Oilers Football Season and Group Tickets are on sale now! Call the front office at 918-632-7825 or visit www.tulsaoilersfootball.com for more information.
• Discuss this story on the Indoor Football League message board...


Indoor Football League Stories from May 26, 2023
The opinions expressed in this release are those of the organization issuing it, and do not necessarily reflect the thoughts or opinions of OurSports Central or its staff.