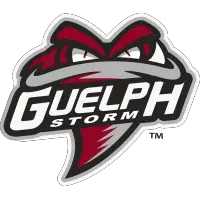 Game Preview: Guelph Storm at Kitchener Rangers
January 16, 2022 - Ontario Hockey League (OHL) - Guelph Storm News Release



The Storm are finally back in action after a long winter break as they head to Kitchener to take on the Rangers. The puck drops at 6:00pm.
After many tries the Storm finally get back into action tonight against their Highway 7 rivals as they head to the Aud for tonight's game. The last time the Storm played was December 18th when they beat the London Knights 4-1. The newest additions to the team, Brayden Guy and Ashton Reesor will make their debut tonight making tonight's game a must watch. The Storm through 27 games is 17-8-1-1 and sit in 3rd place in the conference standings. Tonight, should be a great game as the team will be excited to get back into action.
The Rangers have been able to play 4 games since the second half of the season started up where they've gone 1-2-0-1. In their last 5 games they are 1-4 and will be looking to get back on track tonight with a win. With the record of 13-14-1-1 the Rangers sit in 7th place in the conference standings. Coming off 3 losses in a row the Rangers will be looking to break the streak and get back on track tonight with a win.
HEAD TO HEAD
2021-22 Regular Season GUE 2-2-1-0 KIT 3-2-0-0
2019-20 Regular Season GUE 2-6-0-0 KIT 6-2-0-0
Last Five Years GUE 13-20-4-0 KIT 24-12-1-0
Last Five Years At Guelph Storm GUE 6-10-2-0 KIT 12-5-1-0
Last Five Years At Kitchener Rangers GUE 7-10-2-0 KIT 12-7-0-0
TOP SCORERS
LAST 5 GAMES
MATCH UP
Guelph StormKitchener Rangers
Season Record 17-8-1-1 13-14-1-1
Last 10 Games 8-2-0-0 4-4-1-1
Streak 3-0-0-0 0-2-0-1
Last Game 0-0 T vs Owen Sound (2022-01-10) Postponed 0-0 T @ Erie (2022-01-15) Postponed
Home Record 9-3-0-1 8-9-1-1
Away Record 8-5-1-0 5-5-0-0
Goals For 104 95
Goals Against 88 104
Power Plays 24/108 (22.22%) 19/105 (18.1%)
Power Plays - Home 11/51 (21.57%) 15/74 (20.27%)
Power Plays - Away 13/57 (22.81%) 4/31 (12.9%)
Penalty Killing 18/90 (80%) 24/124 (80.65%)
Penalty Killing - Home 7/43 (83.72%) 16/79 (79.75%)
Penalty Killing - Away 11/47 (76.6%) 8/45 (82.22%)
Leading Rookie Poitras (9-12-21) Rehkopf (7-5-12)
Most Penalty Minutes Cam Allen Mike Petizian
Team PIM/GM 9.1/27 12.1/29
Players to Watch:
Guelph Storm - Brayden Guy
In his 4th OHL season Brayden Guy has played a key role with the Sting putting up 11 points in 21 games. As he makes his Storm debut tonight his goal totals sit at 6 and assists at 5. Guy will want to make an instant impact with his new team so watch out for him tonight as the Storm take on the Rangers.
Kitchener Rangers - Francesco Pinelli
Pinelli drafted by the LA Kings in the 2nd round of the 2021 draft, has proven he's the Rangers top guy. His 31 points in 27 games leads the team in points and his 12 goals is also good enough for the team lead. He is someone to look out for tonight as the Storm go visit the Rangers.
Upcoming Games:
The Storm are back at home Tuesday, January 18th when the Flint Firebirds come to town for a 7:00pm puck drop.
• Discuss this story on the Ontario Hockey League message board...


Ontario Hockey League Stories from January 16, 2022
The opinions expressed in this release are those of the organization issuing it, and do not necessarily reflect the thoughts or opinions of OurSports Central or its staff.