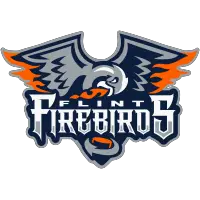 Big Two Points on the Line as the Firebirds Square off with the Spitfires
January 16, 2022 - Ontario Hockey League (OHL) - Flint Firebirds News Release



Windsor, Ont. - The Firebirds are set to play their seventh consecutive away game Sunday afternoon versus the Spitfires. Puck drop is set for 5:05 p.m. (ET) at the WFCU Centre in Windsor.
The Firebirds enter Sunday's contest tied for second place with the Spitfires in the West Division with a record of 17-12-0-2. The Spits come into today's game with a 16-10-2-2 record. Both teams have 36 points in the standings and are chasing the Soo Greyhounds who are four points ahead but have played two more games. On the road this year, the Firebirds have a record of 10-4-0-1, which is the second-best win percentage in the Western Conference. Windsor's home record is 7-6-1-1. The Birds have picked up 11 points in their past ten games with a 5-4-0-1 record. The Spitfires earned sixteen points in their last ten, going 8-2-0-0 in that span.
The last time these teams met was November 21 in Windsor. The Firebirds took an early lead but saw the Spitfires battle back to force an eventual shootout and claim back-to-back victories over Flint in the same weekend. Matt Tovell got his second career start in net after posting a shutout in Flint Saturday night but was replaced by Kyle Downey after allowing six goals. Downey made all nine saves asked of him while his team rallied back and reclaimed the game. Brennan Othmann (New York Rangers) and Will Cuylle (New York Rangers) stole the show, each recording a hat trick. Tag Bertuzzi for Flint and Kyle McDonald for Windsor scored twice each in the affair, and Amadeus Lombardi and Wyatt Johnston (Dallas Stars) also lit the lamp.
Sunday's tilt is game four of eight between these clubs this season, and game three of four to be played in Windsor. In total, after three meetings between these clubs, Windsor has outscored Flint 20-8. All-time, the Firebirds hold a record of 12-19-1-1 versus Windsor and are 4-11-1-1 at the WFCU Centre. Last season the 'Birds won three of six games in the series.
Leading the way for the Spits in the season series in scoring are Mathew Maggio and Will Cuylle with four goals each. Wyatt Johnston has the most points versus the Birds with a single tally but seven assists. Brennan Othmann leads the stats for Flint in games against Windsor with four goals and an assist.
On special teams, Flint ranks 17th on the power play, converting at a 17.6% rate. The Spitfires rank fourth, scoring at a 25.9% clip. The Birds are in the number one spot on the PK, holding their opposition scoreless 86.2% of the time. Windsor's PK ranks 16th with a 75.2%% success rate.
Players to Watch:
Flint Firebirds (17-12-0-2, 2nd West Division):
Brennan Othmann (New York Rangers) tops the scoresheet for Flint, now with 42 points (23 G, 19 A) in 29 games. He's tied for third in goals scored in the OHL. Othmann is also tied for the second-most shorthanded tallies in the league, with three. Riley Piercey holds the second spot in scoring, and now has eleven goals and 17 helpers in 26 contests. Amadeus Lombardi ranks third for the Firebirds with 13 goals and 14 assists through 30 games played. Zack Terry has been hot of late and is now riding a four-game point streak (3 G, 2 A) into Sunday's tilt.
Flint's top defender Tyler Deline ranks inside the top-ten rearguards in the OHL in several categories, including assists (7th), points (T-10th), and power-play assists (3rd). Deline's scored three times and chipped in 20 assists for his club this season, with 13 of those assists coming on the power play.
Flint's top rookie on the scoresheet is Coulson Pitre with 12 goals and 12 assists through 25 games played. Pitre leads all eligible OHL rookies at 0.96 points per game, and he's tied for second for goals scored by a first-year player.
In net, Luke Cavallin has appeared in 23 games thus far, which is tied for fifth-most by any netminder in the OHL. He has 13 wins, which are the fourth-most in the league. Cavallin is also one of only six goaltenders in the league with two shutouts this season. He carries a goals-against average (GAA) of 3.25 and his save percentage (SV%) is .904. Rookie netminder Ian Michelone has now played in eight games and has four victories. He carries a GAA of 4.03 and a SV% of .889. To date, Michelone is the only active OHL rookie goaltender with a shutout this season.
NHL: The Firebirds have four players on their roster with NHL ties consisting of Ethan Keppen (Vancouver Canucks), Braeden Kressler (Toronto Maple Leafs), Dmitry Kuzmin (Winnipeg Jets), and Brennan Othmann (New York Rangers). Also, Gavin Hayes and Simon Slavicek were recently named to the 2022 NHL Central Scouting Midterm Draft Rankings.
Despite Flint playing in just five OHL seasons thus far, Alex Nedeljkovic (Carolina Hurricanes / Detroit Red Wings), Kole Sherwood (Columbus Blue Jackets), and Ty Dellandrea (Dallas Stars) are three former Firebirds to play in the NHL. Brennan Othmann (New York Rangers) and Firebirds' alumni Ethan Keppen (Vancouver Canucks), Vili Saarijarvi (Detroit Red Wings) and Jalen Smereck (Arizona Coyotes) have all played in NHL pre-season contests. In total, the team has produced 21 signed or drafted players into the NHL.
Windsor Spitfires (16-10-2-2, 3rd West Division):
Wyatt Johnston (Dallas Stars) leads the Spits with 57 total points (20 G, 37 A) through 30 games. He's on top of the stats in both assists and points for the entire OHL. Will Cuylle (New York Rangers) ranks second for Windsor in scoring with 22 tallies and 11 helpers for 33 points in 25 contests. Cuylle ranks fifth in the league in goals and is tied for second with eight power-play markers. Matthew Maggio sits third with 32 points (13 G, 19 A) in 29 g.
Defenseman Louka Henault leads the rearguards with five goals and 25 assists through 27 contests. He sits tied the most assists by any defenseman in the league with teammate Andrew Perrot, and Henault is tied for the most points among rearguards. Perrot has the fourth-most points among OHL blue-liners. The pair also rank inside the top ten in points-per-game, with Henault ranking fourth at 1.11 and Perrot ranking sixth at 1.04.
Ethan Miedema and Livonia, Mich. native Ryan Abraham are tied atop the stats for the freshman class for Windsor with 18 total points each. Miedema has eight goals and ten assists and Abraham has five goals with 13 helpers.
Windsor carries four goaltenders on their current roster. Detroit, Mich. native Xavier Medina has appeared in 16 contests for the Spitfires, earning nine victories. The second-year goaltender carries a 3.03 goals-against average (GAA), which ranks inside the top-10 in the OHL. His save percentage (SV%) is .893. Rookie netminder Kyle Downey has four wins in 11 appearances. His GAA sits at 4.19 and he has a .857 SV%. Matt Tovell has played in seven games, earning three victories with a 4.64 GAA and a .828 SV%. Mathias Onuska joined the Spits mid-season and has a 4.01 GAA and a SV% of .885 in four appearances.
NHL: Windsor's roster features four players with NHL ties, consisting of Will Cuylle (New York Rangers), Wyatt Johnston (Dallas Stars), Pasquale Zito (Detroit Red Wings), and Daniil Sobolev (Montreal Canadiens). Additionally, Livonia, Michigan native Ryan Abraham was listed on the 2022 NHL Central Scouting Midterm Rankings.
Notable Windsor alumni to play in the NHL include Ed Jovanovski, Matt Cooke, Cory Stillman, Jason Spezza, Steve Ott, Jason York, Josh Bailey, Tim Gleason, Mike Rupp, Cam Fowler, Taylor Hall, Adam Henrique, Kyle Wellwood, Eric Wellwood, Todd Warriner, Steve Downie, Jamie Allison, and Ryan Ellis.
Broadcast Coverage: The game will also be televised live across the province of Ontario on the OHL Action Pak on channel 463 (4463 HD) for both Rogers TV and Cogeco TV cable subscribers. OHL fans with cable television in Ontario can add the OHL Action Pak to their television plan to catch the Firebirds in action, home or away all season long.
Also, all Flint Firebirds' home and away games throughout the 2021-22 regular season can be watched anywhere in the world online on https://watch.chl.ca/ohl. CHL TV is the league's new and improved video streaming platform that delivers high-quality live and on-demand coverage of all regular season and playoff games annually. The cost is $6.99 for 24-hour access, $24.99 for monthly access, $109.99 for all-access to the 2021-22 Firebirds and OHL season, or $159.99 for all-access to the entire 2021-22 CHL season.
Next Up: The Firebirds' road trip continues as they continue to navigate around the Ontario government's regulations. They head to the Sleeman Centre Tuesday, January 18th to battle the Guelph Storm at 7:00 p.m. (ET).
• Discuss this story on the Ontario Hockey League message board...


Ontario Hockey League Stories from January 16, 2022
The opinions expressed in this release are those of the organization issuing it, and do not necessarily reflect the thoughts or opinions of OurSports Central or its staff.