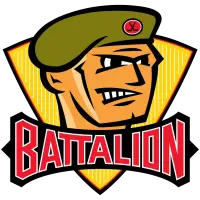 Barrie Beats Battalion
January 16, 2022 - Ontario Hockey League (OHL) - North Bay Battalion News Release



NORTH BAY, Ont. - Anthony Tabak scored two goals and added two assists to pace the Barrie Colts to an 8-2 rout of the North Bay Battalion in an Ontario Hockey League game Sunday.
Brandt Clarke had one goal and three assists and Ethan Cardwell one goal and two assists for Barrie, which got its other goals from Ben Pickell, Beau Jelsma, Ryan Del Monte and Nathan Allensen. Declan McDonnell contributed three assists and Evan Vierling and Cooper Matthews two apiece.
Goaltender Mack Guzda made 23 saves, including one on a penalty shot, as Barrie, which scored five power-play goals, improved its won-lost-extended record to 16-8-3 for 35 points, third in the Central Division, five points behind the second-place Battalion with seven games in hand. The Colts are 8-1-1 in their last 10 games.
Matvey Petrov and Brandon Coe scored for North Bay, while goaltender Joe Vrbetic faced 32 shots in a Memorial Gardens without spectators under provincial restrictions.
The Battalion, 18-12-4, played for the first time since a 3-2 overtime victory Jan. 8 at Barrie in which Coe scored the winner. Two games since then were postponed because of covid protocols affecting the Troops.
"I think just overall we need to get to be a bit of a greasier team in terms of blocking shots and winning those one-on-one battles, and it gets magnified when you're killing," said coach Ryan Oulahen.
Pickell opened the scoring with his first OHL goal at 3:09 of the first period, one-timing a cross-ice pass from Clarke, before Petrov tied it at 11:21. Tnias Mathurin reached high for the puck off a pass from Mitchell Russell and put the disc to the goalmouth, where Petrov chopped it past Guzda.
Jelsma and Cardwell struck 1:09 apart late in the period, with Jelsma drilling the puck home from the right circle on the power play at 18:16, assisted by McDonnell and Matthews. Cardwell followed with a quick conversion of a pass by McDonnell from behind the net.
Owen Outwater was awarded a penalty shot after he was impeded by Beau Akey on a drive to the net at 12:47, but Guzda gloved the attempt.
Tabak scored with the man advantage at 9:49 of the middle period, redirecting a blue line shot from Clarke at the crease, and Coe replied with his 22nd goal of the season at 19:07, tying Petrov for the team lead. Coe converted a Russell pass off a two-on-one rush against Akey, cutting the Troops' deficit to 4-2 through 40 minutes.
After Kyle McDonald was issued a major and game misconduct for checking from behind early in the third frame, Tabak and Del Monte capitalized on the lengthy power play with goals at 2:05 and 5:41 respectively.
Clarke stopped on a rush and wired the puck past Vrbetic from the top of the circles at 13:58, and fellow defenceman Allensen scored with the man advantage at 17:01, connecting from the shallow right point.
The Battalion plays host to the Sudbury Wolves at 7 p.m. Thursday.
BATTALION BULLETS: It was the teams' sixth of 10 games, with the Battalion having posted a record of 2-3-1. A date Saturday night at Barrie was postponed and rescheduled to next Saturday ... The Battalion reached the halfway point of its 68-game schedule ... North Bay went 0-for-1 on the power play. Barrie was 5-for-6 ... Battalion captain Liam Arnsby, assessed a kneeing penalty in the second period, didn't return for the third ... Dalyn Wakely and Barrie's Hunter Haight drew fighting majors midway in the final period ... Coe has five-game goals and points streaks during which he has seven goals and two assists for nine points ... Petrov has a six-game points streak in which he has three goals and eight assists for 11 points. In six games against Barrie, he has seven goals and one assist for eight points ... Russell has a seven-game points streak in which he has six goals and seven assists for 13 points ... The Battalion scratched Cam Gauvreau and Kyle Jackson, who continues his recovery from a knee injury suffered Dec. 3 in a 5-2 road win over the Hamilton Bulldogs ... Among the missing for Barrie were Kevin Niedenz, Tai York and Vladimir Dvurechenskii ... Vierling completed a two-game suspension and returned to action Saturday in a 3-1 loss to the Mississauga Steelheads that was substituted for the Battalion visit. He has a four-game points streak in which he has one goal and four assists for five points.
• Discuss this story on the Ontario Hockey League message board...


Ontario Hockey League Stories from January 16, 2022
The opinions expressed in this release are those of the organization issuing it, and do not necessarily reflect the thoughts or opinions of OurSports Central or its staff.
Other Recent North Bay Battalion Stories