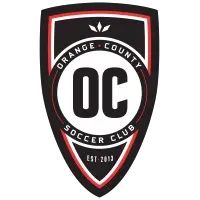 From Historic Goal to Life Goal: Orozco Back Playing at Home
September 18, 2019 - United Soccer League Championship (USL) - Orange County SC News Release



For two months, Michael Orozco has played and practiced with the 14-year-old phenom from Laguna Beach, Francis Jacobs, the youngest player ever to sign a professional soccer contract in the United States.
At 33, one of the older veterans on Orange County Soccer Club, Orozco relishes the opportunity to help the young midfielder find his footing as he ascends the ladder of soccer greatness. And Orozco can't help but be thankful that a team like Orange County, in a league like the United Soccer League, gives Jacobs a chance to learn those lessons while staying close to home.
It is something Orozco could not say for himself. The native of Orange, Orozco moved to Mexico as a 17-year-old in order to get the training and experience he needed to realize his full potential as a defender. It led Orozco to the 2008 Olympics and a spot on the roster for the U.S. Men's National Team, where he earned 29 caps and arguably one of the most famous goals in U.S. Soccer history.
Orozco paid a high price for his journey, separated from his family and friends for 15 years. But it has all come full-circle now. Orozco is back in his hometown, signing to play for his hometown team back in June. His three daughters are reunited with their grandparents, and life for the Orozcos could not be much better.
"It was a rough, hard road, but the hard work paid off," Orozco said. "Just being in Orange County, it's been a big change, because we were so used to a different culture, a different lifestyle and we're still adjusting. We felt like outsiders when we first got here four months ago. But now it's turning back again. This is our hometown. This is where we belong."
Orozco is active in the local youth soccer community in Orange County, notably the Worldwide Elite Development Academy. He is also playing a significant role in his OCSC teammate Jacobs' development.
"There's a kid, a 14-year-old, named Francis, who can start developing here, and by the time he's 18, hopefully he's at the top of his soccer, and then he can go elsewhere," Orozco said. "But within those years, we can teach him and lead him to the right direction. For me, I had to go somewhere else. I missed about 15-16 years of their lives, leaving everybody behind."
For those past 15 years, Orozco, the son of Mexican parents, made a name for himself in Liga MX, a player so talented that he was wooed by both the U.S. and Mexico to play for their national teams. Orozco, who represented the United States at the 2008 Olympics, chose the U.S. National team, and that's what led him to the great Estadio Azteca for a match between the U.S. and Mexico on Aug. 15, 2012.
If the most famous goal ever scored in that stadium was by Argentina's Maradona - "The Hand of God" - in the 1986 World Cup, then perhaps it was fitting that Orozco, born in 1986, would score what might be called "The Foot of God" - the lone goal in the first-ever U.S. victory over Mexico, ending 75 years of frustration.
For Orozco, the man who scored this historic goal, it was the accomplishment of his career, yet a moment tinged with bittersweet - the crystallization of the highs and lows for a player forced to leave his home country at a young age in order to fully realize his playing potential, only to have his second home frown on his historic moment.
"I think it all started with people in Mexico talking about what national team was I going to go for," Orozco said. "There was no doubt I was going to play for the U.S. I spoke to my parents and they supported me on whatever I was going to do. I grew up playing with the U.S. National Team. I had a chance to represent the U.S. in the 2008 Olympics and things kicked off with the national team.
"And being part of that game, scoring, I felt like I had to go in there and prove myself. It didn't matter if it was five or 90 minutes, I had to make a difference for myself, showcase myself. My family was going to be there, sold-out stadium against Mexico. A lot of things played into it." As it happened, Orozco did not enter the scoreless tie until the 77th minute. But three minutes later, having scored just five goals across six previous professional seasons in Liga MX and MLS, Orozco found himself with the ball on his foot in front of the Mexican goal and potted it for the only score of the game.
It was the first time U.S. had ever beaten Mexico in 25 tries, a record of 0-23-1 before that game.
In Mexico, there were grumblings that Orozco, having played so long in country, celebrated the goal that sent Mexico to a crushing, historic defeat.
"Scoring in front of 108,000 people and celebrating - people ask, why did you celebrate when you have Mexican roots?" Orozco said. "Well, I play for the U.S. National team. That's the country I chose, that's the country where I was born. So, I'm going to give them everything and celebrate. A lot of people took it in a bad way, a lot of people supported it. But there's always talk about it, every day.
"Families that I meet, they talk about this historical goal. Now that I'm in the U.S., they talk about it a lot more, what it means to everyone. To me, it was a goal in Mexico and in front of family. It has a special feeling. It was a historical goal and I'm very honored to be placed within the history of U.S. Soccer.
"I don't think I appreciate it as much, because I'm still active. But one day, when I'm on the other side of the sport, it's going to hit me a lot more and I'm going to take it and it will be a very memorable moment for me, like Maradona scoring that goal."
Whatever hard feelings existed soon subsided and Orozco continued his success as a professional player in Mexico over the next six years. But at age 33, Orozco was beginning to think about life after soccer, and where he would spend it. As it turned out, Orange County came calling, offering Orozco and his family the best of both worlds.
"The last couple of years, we had the thought of making a transition, because we're not getting any younger," Orozco said. "We were going to think about retirement, what we'd do after [soccer]. We felt like our life was going to be in Mexico, because of what soccer has given us there. You're well respected and you earn that because of the progress you make in the game. And my family felt so comfortable in Mexico, we didn't think about coming back to the U.S.
"But within the last year, with my daughters wanting to see their grandparents and get pampered by them ... our plans, as a family, was to go back home, and the opportunity to be in Orange County with [general manager] Oliver [Wyss] and coach [Braeden Cloutier], just being home to continue my professional career, was great. I signed and committed to it and want to get the best results from it.
"Just being back home, trying to give back to the community that actually saw me play soccer as a youth out here in Irvine, Santa Ana and Anaheim, it motivates me to come back in and try to win a championship. Could I have gone to another team? Yes. But at this point in my career, my family is everything to me."
• Discuss this story on the United Soccer League Championship message board...


United Soccer League Championship Stories from September 18, 2019
The opinions expressed in this release are those of the organization issuing it, and do not necessarily reflect the thoughts or opinions of OurSports Central or its staff.