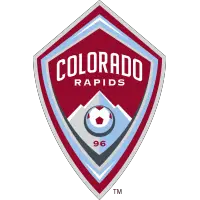 Breaking New Ground: Abe Rodriguez Makes Club History as Youngest Rapids Goalkeeper with Debut against Portland
June 27, 2022 - Major League Soccer (MLS) - Colorado Rapids News Release



The story of how midfielder Eddie Gaven became the youngest player to feature as a goalkeeper aged 16 years, 253 days is an odd one, for sure.
There was an MLS ruling which allowed a fourth substitution to replace a goalkeeper only. The date was July 5, 2003, and the Metrostars were level at 2-2 with D.C. United at RFK Stadium.
Down to 10 men due to a red card, having used their three regular substitutions, and with overtime beckoning, the Metrostars appeared set to drop to nine men when defender Mark Lisl went down injured.
Bob Bradley, head coach of the Metrostars, brought Gaven into the game while switching goalkeeper Tim Howard with Lisl, allowing Gaven - a midfielder remember - to step in between the posts.
Within seconds of that dubious but legal switch being made, Howard re-took his place in goal. Gaven went on to score the golden goal winner, as an outfield player, in a 3-2 overtime victory over D.C. United.
The youngest 'legitimate' goalkeeper is Chicago Fire's now 18-year-old, Gabriel Slonina, who made his debut on August 4, 2021, aged 17 years and 81 days in a goalless draw with New York City.
In that debut, he also became the youngest goalkeeper to start a game, complete a game, and record a shutout. In his fifth game, versus NYCFC on September 29, he became the youngest goalkeeper to record a win, when aged 17 years, 137 days.
As of Saturday, the Colorado Rapids have their own teenage goalkeeper with MLS experience. Thornton-born Abraham Rodriguez replaced the injured William Yarbrough on the stroke of halftime, and his first action was to face a spot kick.
Ultimately, the Rapids would lose the contest inside Providence Park by three goals to nil. Rodriguez could not do much with any of the goals, but the homegrown signing made one instinctive save with an outstretched right leg, highlighting his speed of thought and agility.
Rodriguez signed with his hometown team on February 20, 2020. A Rapids Academy graduate, he had spent the 2019 season on loan with the Colorado Springs Switchbacks. On his debut, aged just 16 years, 254 days, he made 11 saves - including a penalty - at Phoenix Rising.
That was the first of two penalty saves he made that year, from 14 appearances. For his debut performance he was named USL Championship Player of the Week. At the end of 2019, Rodriguez was included in the USL 20 Under 20 list, at number 14.
He made a further six appearances for the Switchbacks in 2021 and leading into Saturday had played eight times this season for Rapids 2 in MLS NEXT Pro.
Club legend Marcelo Balboa had him under his watchful gaze coming through the U14s and has mentioned how good Rodriguez is as a shot stopper, as well as being clean with his feet and a player with great distribution.
With those attributes, and standing at five-foot-nine, there will of course be comparisons to one of the greatest to pull on the gloves in MLS, the recently retired Nick Rimando. Rimando was the guy in goal when Gaven scored during that strange game 19 years ago. He chalked up a total of 514 regular season appearances during 20 seasons in the league, keeping a record 154 clean sheets.
Rodriguez has some way to go to reach those lofty numbers - and though his debut came about through difficult circumstances - he is officially the youngest goalkeeper in Rapids history. When he stepped onto the field this past weekend, he was aged 19 years, 341 days.
The club record was previously held by Adin Brown. He was 21 years, 296 days when the Rapids lost 2-1 at LA Galaxy on March 18, 2000. Brown is no longer the holder of that record, but he does possess the record as the youngest goalkeeper to start and complete a game for the Rapids (21 years, 296 days), record a shutout (22 years, 14 days), and record a win (21 years, 342 days).
For Rodriguez, there's still time.
• Discuss this story on the Major League Soccer message board...


Major League Soccer Stories from June 27, 2022
The opinions expressed in this release are those of the organization issuing it, and do not necessarily reflect the thoughts or opinions of OurSports Central or its staff.