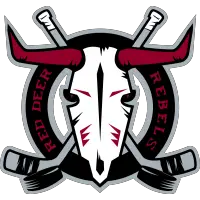 Barteaux Making the Most of the Off-Season
May 24, 2019 - Western Hockey League (WHL) - Red Deer Rebels News Release



The off-season is a time for junior hockey players to relax, enjoy being at home, but also to improve. Rebels defenceman Dawson Barteaux is using his off-season time as well as he can.
Barteaux explains what has been keeping him busy since he's gone back to his hometown of Foxwarren, Manitoba. "Just training every day and trying to skate as much as you can. I also work a part time job during the week at the Foxwarren Regional Museum as a curator and I'm an avid fisherman too," says Barteaux.
The museum job is not a high pace gig. "Yeah, I do the cleaning and dust everything. I have to be there when people come in, which is rare. But I have to be there. I also set up new displays and stuff like that."
While the players are in Red Deer during the season, they keep busy in the community, as teachers' assistants at Annie L. Gaetz Elementary School, Subway floor hockey at various elementary schools, and visits to Ronald McDonald House. But Dawson Barteaux continues to give back.
"I started a foundation called, 'Facing Off Against Men's Cancers'. We are going to have a road hockey tournament in my hometown (Foxwarren, MB). It will be to raise money to battle all the men's cancers, I know a lot of people have been affected by it and I've been affected by it, so I wanted to do something to help out in any way that I can," explains Barteaux. "The road hockey tournament will be 4 on 4. Teams will bring 6 players, and I will give them a player as well, you can kind of call them celebrities, they are playing hockey at some elite level. We will have a first prize of $1000 for whoever wins the competitive division. Hopefully we get a good turnout because it will be a good time."
When things ended for the Rebels in 2018-19, some of the players were not done for the season. Brandon Hagel and Reese Johnson, who both signed contracts with the Chicago Black Hawks, went to Rockford of the American Hockey League. Dawson Barteaux extended his hockey as well, he went to the Texas Stars of the American Hockey League, the top affiliate team of the Dallas Stars. Barteaux was a Stars selection in 2018.
"It was surreal for sure. It's something everyone dreams of, getting a chance at the NHL, and that's a stepping stone. Getting the call and the Stars asking me to go there for a week was a huge honour. I learned a lot. I was able to watch and learn how to be a pro. Eventually, I hope to get a spot on that team," says Barteaux. "You're playing against men; I mean some even have kids. It's not just a sport anymore, that's their job. It gets real when you're battling for a spot. It was a really cool experience, but it's going to be a big jump when the time comes, and I'm really looking forward to it."
Whenever Barteaux gets a chance, he likes to get out fishing. During the hockey season, Barteaux along with Reese Johnson and Carson Sass, would find some time to squeeze in some fishing at the Red Deer River and Sylvan Lake.
"Well I'm gonna tell you one thing, we definitely catch a lot more fish out here than when I'm in Red Deer. It's pretty good fishing here and I get out as much as I can. There are a couple of lakes around me that I get to and I go to the rivers around here and spend time with my buddies. So, it's good," beams Barteaux.
Summer usually flies by pretty quick for the junior player. Training, getting in some ice times, plus a job and time with friends, makes things move by in a hurry. That's ok with Barteaux, he knows hockey season will be here soon enough.
"I'm excited, it's been 3 years in Red Deer, it's become a second home to me. I'm always excited to get back there. The group of guys that we have is something special for sure, we are really close. Anytime I can get to Red Deer, I look forward to it," says Barteaux.
Dawson Barteaux's summer fund raiser: Facingoffagainstmenscancers.ca
• Discuss this story on the Western Hockey League message board...


Western Hockey League Stories from May 24, 2019
The opinions expressed in this release are those of the organization issuing it, and do not necessarily reflect the thoughts or opinions of OurSports Central or its staff.
Other Recent Red Deer Rebels Stories