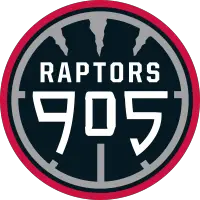 Back to Business for Two-Way Player Paul Watson Jr.
January 18, 2020 - NBA G League (G League) - Raptors 905 News Release



Prior to Wednesday's road game against the Capital City Go-Go, Raptors 905 welcomed back a familiar face to their roster. With carefully chosen music playing in the background, the 905 locker room welcomed back Paul Watson Jr. who was returning to the Raptors on a two-way contract following a 10-day stint with the Atlanta Hawks.
"It was definitely a really cool moment," Watson Jr. said. "I'm grateful to have that group of guys around me. Just being able to see my guys again and that they were happy for me."
Welcome back, @_PWJiii! #WeTheNorth x #RoadToTheSix pic.twitter.com/m1vgWAjJTq
- Raptors 905 (@Raptors905) January 15, 2020
It was also a full-circle moment for Watson, who had received a similar send-off when he had left the locker room after a road game in Grand Rapids to spend the past 10 days with the Hawks organization.
"We had some fun with it," Raptors 905 head coach Jama Mahlalela said. "In Grand Rapids, when [Paul] got the 10-day, we played the Ludacris song "Welcome to Atlanta" and then last night when we figured out he was coming back it was like, 'Okay, what are we going to do to sort of welcome him back?'"
"What's nice is the rest of the team is excited about it, too," Mahlalela continued. "They're motivated. One of our own got a two-way. He was in the G League ranks with us and now he's a two-way player. It means for everyone else on our team that they're in the right place. They're as close as they can be to their dreams as well. For us it's win-win-win-win-win. It's a big moment for him."
Prior to earning this two-way with the Raptors organization, Watson first appeared on Toronto's radar as a member of the Raptors' 2017 Las Vegas Summer League roster. After spending a season playing in Germany, Watson spent last season with the Westchester Knicks G League squad. He returned to the Raptors as a member of Raptors 905 to begin the 2019-20 season. In 13 games with 905 prior to his 10-day call up with the Hawks, the 25-year-old averaged 18.4 points and 7.4 rebounds while shooting 47 percent from beyond the arc. In his first game back on Wednesday, Watson scored 28 points in a close three-point loss for the 905.
When Watson's agent called him with the news that he'd be signing a two-way contract with the Raptors organization, Watson calls the moment "difficult to describe."
I couldn't, I can't really put the feeling into words," Watson said. "It was like a lot of emotion and just kind of feeling like all my hard work I've put in this summer is really coming into reality now.
"I feel it's a system that my game can definitely thrive in," Watson said of returning to a system he is familiar with. "A great organization all-around, top to bottom. They have a great track record of developing guys and getting the most potential possible out of them. I'm very blessed and fortunate to be in the situation that I'm in."
After watching fellow 905 alumni like Pascal Siakam, Fred VanVleet, Chris Boucher and now teammate Oshae Brissett turning their G League opportunities into a stepping stone to the NBA, Watson wants to take advantage as well. He knows the 905 coaching staff will be there to support him along the way.
"I've learned a lot being with this coaching staff," he said. "A hard-working group of guys, they put countless hours in to help get us better. Whether it's breaking down film, watching film, player development, even just, sometimes it's bigger than basketball, just life, being able to talk to somebody, helping us grow as men and sharing their experiences with us. Things like that to help us better our lives. A great staff, a great, great team and teammates. It's a really big support system here. Everybody is in it for one another. It's a good situation."
The appreciation Watson has for the 905 staff is certainly reciprocated.
"Paul has been a pretty special player," Mahlalela said. "For him, it's his dream coming true. He's dreamed about playing in the NBA his entire life, he's worked at it, he's grinded in the G League for three years and finally there's this moment where it actually comes to fruition."
Mahlalela was one of the first people to hear from Watson that he'd signed a 10-day contract with the Hawks. Though he's thrilled to have Watson back as a two-way player with the Raptors organization, he was equally thrilled for his player when he revealed he'd be going to Atlanta.
"We're in Grand Rapids and his agent calls him right after the game," Mahlalela said. "I'm walking out of the coach's locker room he's walking out of the player's locker room and you can just see on his face, something happened. I'm not sure if it's good or bad, you can't quite read his face and he says, 'Coach I'm leaving tomorrow.' He said it in that way and my first instinct was did something happen in his family, has there been a loss, you're not sure. You see little tears welling and he says, 'I'm going to Atlanta.' And he kind of smiles and the tears come and it's just this amazing moment for this young man who has worked so hard his entire life to get to his dream. I'm incredibly proud and really happy and just thrilled for him. He's had a really good experience. I think he learned a lot and grew a lot in the 10 days that he was there and now to have him back, to welcome him back into our fold, as an improved player, someone who has now tasted the NBA in a real way, now it's not a dream anymore, now it's a reality for him."
After 10 days in Atlanta, Watson is back with Raptors 905 and though he's still trying to wrap his head around the whirlwind of his past two weeks, he's happy to be here.
"It's been really crazy," Watson said. "Going into Atlanta and adapting to a new culture and trying to learn everything on the spot and suddenly it's a whole 180, and a change. Obviously, it's something I'm familiar with being in the G League, but it's definitely been really crazy for me."
Watson said the success the Raptors organization has had developing players with 905 sticks out to other players. It isn't overlooked.
"Player development is a huge thing with this organization," he said. "It's something they take pride in. We go in each and every day, and our goal is, it sounds cliche, but it's to get 1 percent better each day and I feel that's something they do a great job of accomplishing with guys."
For Mahlalela, getting to have a helping hand in that development is the best part of coaching in the G League.
"In my coaching time with the 905, I think Chris [Boucher] was the example last year as someone who went up and back a bit last year but then this year it really went to fruition to getting meaningful minutes and contributing to wins and losses for the Raps and you're incredibly prideful in that and incredibly excited for him individually. This year it's been Oshae [Brissett]." Mahlalela said. "Every year it's like, who's next in this chain of improving and excelling. Paul is now that next piece in that puzzle to see what he can do as an NBA player."
If the 10-day contract with the Hawks was the first step and the two-way contract was the second, both Watson and Mahlalela know this is just the beginning of the journey for Watson's ultimate NBA goal.
"Now it's about the work he can do in his two-way role to cement himself as a full-time NBA player," Mahlalela said. "That's his next challenge. We're excited to go on that journey with him and help him as much as we can to help him grow as a player and have him contribute to our team in the process. It's a pretty good situation all in all."
Speaking from the airport before the team boarded a flight, Watson provided a quick scouting report for fans who might not yet be familiar with his game.
"I would just say I'm a player that just goes out there and plays as hard as I possibly can," he said. "[I] play hard on defence, take pride in defence. Knock down open shots, and I just want to sacrifice and do anything the team needs."
For Mahlalela, there isn't a greater accomplishment than helping guide a player to their ultimate goal. Looking around the visitor's locker room in Washington as his players welcomed Watson back to the team, this time as a two-way player only served as a reminder of what Raptors 905 stands for.
"All of these players are so close to their dreams and it's always a reminder that when you're in the G League the person sitting beside you, or you yourself, could be in the NBA the next day," Mahlalela said. "For people who have had this as a dream their entire life, you're in the right place. You just have to continue to work hard. You're seeing it, in the 905 and Raptor world, you're seeing it happen and that's great. That's the excitement of why we do this and why this league exists and why the 905 exists. Paul is a perfect example of why we do what we do."
• Discuss this story on the NBA G League message board...


NBA G League Stories from January 18, 2020
The opinions expressed in this release are those of the organization issuing it, and do not necessarily reflect the thoughts or opinions of OurSports Central or its staff.