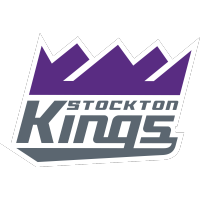 Oklahoma City Blue Cruise Past Stockton Kings 149-117
January 18, 2020 - NBA G League (G League) - Stockton Kings News Release



Stockton, Calif. - The Stockton Kings (15-10), the NBA G League affiliate of the Sacramento Kings, fell to the Oklahoma City Blue (10-16), the NBA G League affiliate of the Oklahoma City Thunder, by a score of 149-117. Stockton Kings two-way guard Kyle Guy had a game-high 37 points. Oklahoma City guard Sedrick Barefield scored 29 points in tonight's victory for the Blue.
In the first quarter, Stockton shot 5-of-9 from three-point range. Oklahoma guard Devon Hall scored 10 of his 22 points in the first quarter. In the second quarter, Oklahoma outscored Stockton 45-21, shooting .667 percent from the field and .714 percent from three-point range. Blue guard Myke Henry and Barefield both scored 10 points apiece. Oklahoma Blue went on a 10-0 run in the final minutes of the second quarter to give them a 29-point lead and finish the first half ahead 84-55.
In the first half, Henry and Barefield scored 16 points each for Oklahoma. Kyle Guy added 14 points for Stockton, shooting 6-of-13 from the field.
Stockton started the second half strong, scoring the first nine points of the third quarter to cut Oklahoma's lead to 20 points. Oklahoma shot .737 percent from the field, finishing the quarter 117-79. Guy scored 18 of his 37 points in the fourth quarter. Oklahoma saw their biggest lead of 42 points in the fourth quarter ahead 133-91 with six minutes remaining in regulation. Oklahoma kept the strong lead, and the Blue came out on top with a final score of 149-117.
Stockton was led by Guy, who scored 37 points shooting 15-of-29 from the field and 7-of-13 from beyond the arch. Guard Isaiah Canaan added 16 points, shooting 4-of-8 from three-point range. Two-way forward DaQuan Jefferies contributed 12 points and grabbed nine rebounds and four assists.
Oklahoma City saw four players score 20+ points tonight. Barefield led them in scoring with 29 points shooting 11-of-15 from the field. Hall followed with 22 points shooting 8-of-11 from the field and 6-of-8 from beyond the arch.
The Stockton Kings will head on the road to face the Agua Caliente Clippers on Sunday, January 19, at 3 p.m., and the Salt Lake City Stars on Friday, January 24, at 6 p.m. They return to Stockton Arena on Sunday, January 26, for a Kids Slam Dunk Sunday. All kids five and under can purchase a ticket for just $5.
Tickets can be purchased at StocktonKings.com/Tickets.
• Discuss this story on the NBA G League message board...


NBA G League Stories from January 18, 2020
The opinions expressed in this release are those of the organization issuing it, and do not necessarily reflect the thoughts or opinions of OurSports Central or its staff.