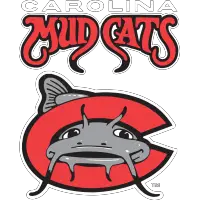 April 25 - Carolina Mudcats Game Information
April 25, 2018 - Carolina League (CarL) - Carolina Mudcats News Release



MYRTLE BEACH PELICANS (CHICAGO CUBS) at CAROLINA MUDCATS (MILWAUKEE BREWERS)
Wednesday, April 25, 2018 | 11:00 AM | Game 19, Home Game 12 | at Five County Stadium | Zebulon, NC
RADIO: N/A
STREAMING AUDIO: www.carolinamudcats.com, TuneIn Radio
STREAMING VIDEO: MiLB.tv
Overall Record: CAR: 9-9; MB: 6-12
Streaks: CAR: L1; MB: W3
Last 10 Games: CAR: 4-6, MB: 5-5
Home Record: CAR: 6-5; MB: 4-7
Road Record: CAR: 3-4; MB: 2-5
Division Record: CAR: 5-7; MB: 5-9
Current Series: First game (of 3)
Season Series: First game (of 21)
CAR v. OPP: 0-0 @CAR (10), 0-0 @OPP (11)
UPCOMING PROBABLE STARTERS:
WED, 4/24, 11:00 AM: Myrtle Beach RHP Keegan Thompson (0-2, 5.65) at Carolina LHP Nathan Kirby (0-1, 6.43)
THU, 4/25, GM:1, 5:00 PM: Myrtle Beach LHP Jose Paulino (0-2, 9.69) at Carolina LHP Cam Roegner (1-0, 1.15)
THU, 4/25, GM:2, TBD: Myrtle Beach RHP Tyson Miller (1-2, 4.09) at Carolina RHP Conor Harber (0-0, 1.93)
FRI, 4/27, 7:00 PM: Carolina RHP Braden Webb (1-2, 8.68) at Down East RHP Michael Matuella (0-2, 6.39)
ICYMI: The Mudcats rallied for a game tying run in the seventh, but Astros third baseman Abraham Toro broke a 1-1 tie in the eighth with a two-run home run while leading Buies Creek to a 3-1 victory over Carolina in the final of a four game series on Sunday afternoon at Five County Stadium.
ABOUT THE LAST ONE: Rob Henry replaced Carlos Belonis late in Sunday's finale against Buies Creek and went 0-for-0 with a walk and a stolen base after coming in off the bench. Henry does not have a hit this season, but has totaled one RBI, three walks and one stolen base. He is one of only three Mudcats players with a stolen base this season and he currently owns a .444 OBP.
VS. PELICANS: The Mudcats and Pelicans meet for the first time this season as they play game one of a three game series today at Five County Stadium... Carolina went 13-8 versus Myrtle Beach last season, with nearly half of those wins coming over the final seven games between the two teams. The Mudcats went 6-1 to close out the 2017 season against Myrtle Beach, including a four game sweep at home last September.
MUDCATS STARTER: Left-hander Nathan Kirby gets today's series opening start against the Pelicans for Carolina. Kirby last pitched on April 18 in Wilmington where he worked through 3.0 scoreless innings with two hits, two walks and two strikeouts. Kirby reached 41 pitches (20 strikes) for the third straight time, while working through a season high 3.0 innings pitched. Kirby enters tonight's start at 0-1 with a 6.43 ERA with seven strikeouts, five walks and five earned runs allowed over 7.0 innings and three starts... The Brewers selected Kirby with the 40th overall pick of the 2015 draft out of the University of Virginia. He began his first full season with Low-A Wisconsin, but landed on the DL in August, before undergoing Tommy John surgery in September of 2015. Kirby then missed both the 2016 and 2017 seasons following surgical procedures underwent in September 2015 and again in 2016.
OPP STARTER: Right-hander Keegan Thompson heads to the bump for the Pelicans in today's series opener at Five County Stadium. Thompson is currently 0-2 with a 5.65 ERA and 11 strikeouts against just one walk over 14.1 innings and three starts this season for the Pelicans. Opponents are batting .304 against Thompson while totaling 10 runs (nine earned) on 17 hits over his three starts. Thompson was selected by the Cubs in the third round of the 2017 Draft out of Auburn. He spent his first year as a professional in short-season Eugene where he went 1-2 while pitching to a 2.37 ERA (19.0 IP, 4 BB, 23 SO) in seven games and one start with the Emeralds.
P.O.W.: Ryan Aguilar was named the Carolina League Player of the Week for the week ending on April 22. Aguilar led the Carolina League in average, on-base percentage and OPS over the last week of games. In all, the 23-year-old went 8-for-15 with a double, a triple, four RBI and five walks while hitting .533/.667/.733 and totaling a stellar 1.400 OPS over five games during the last week of play.
WHERE THEY RANK: Luke Barker (0.61), Trey Supak (0.90) and Cam Roegner (1.15) rank 2nd, 3rd and 4th respectively in lowest earned run average in the Carolina League this season... Barker is also 2nd in WHIP (0.61), tied for 2nd in the CL in games (6), tied for 2nd in holds (2), 3rd in lowest BB/9ip ratio (0.61) and 4th in fewest baserunners/9ip ratio (5.52)... Conor Harber is 4th in the CL in highest SO/9ip ratio (14.40)... Tucker Neuhaus (26) and Luis Aviles Jr. (24) are 2nd and 3rd in most strikeouts.
ALL THE Ks: The Mudcats have combined total a Carolina League high 183 strikeouts this season. The Mudcats also lead the CL in highest K% (27.7%) and are tied for 11th in MiLB as a team for most strikeouts this season. The Rancho Cucamonga Quakes (California League) lead MiLB in most strikeouts with 213 through 19 games.
BY FRAME: The Mudcats have totaled 66 runs so far this season. Of those 66 total runs, 27 have been scored over the first three innings, 25 have been scored between the fourth and sixth innings and 14 have been scored over the final three innings of a game this season. The Mudcats have not scored a run in the ninth inning and have been outscored 11-0 in the ninth overall this season. They have also been outscored 35-14 between the seventh and ninth innings this season.
THE MUDCATS HAVE...
... Stranded the 2nd most base runners in the CL (142).
... Walked a CL high 94 batters this season (5.5 BB/9).
... Have averaged and 2nd fewest runs/game in the CL (3.7).
... Had 3 players steal a base this year (Aviles, Carroll, Henry).
... Not made the playoffs since the 2008 season.
... Not made the playoffs during their Carolina League era.
... Been in Zebulon, NC since 1991 (28th season).
... Been in the Carolina League since 2012 (7th season).
ALUMNI REPORT: Troy Stokes Jr. (2017) went 1-for-5 with a three-run double as Double-A Biloxi defeated Montgomery 9-5. Kodi Medeiros (2017) earned the win in that same game while pitching in relief and turning in 4.0 innings with two runs allowed one three hits. He also struck out five and has totaled 18 strikeouts over 19.0 innings while also pitching to a 1.42 ERA so far this season in Double-A.
• Discuss this story on the Carolina League message board...


Carolina League Stories from April 25, 2018
The opinions expressed in this release are those of the organization issuing it, and do not necessarily reflect the thoughts or opinions of OurSports Central or its staff.