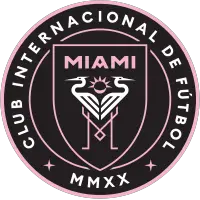 Acosta and Mabika Signings Highlight Development Pathway
January 13, 2022 - Major League Soccer (MLS) - Inter Miami CF News Release



Inter Miami recently announced the signings of two Fort Lauderdale CF standouts, George Acosta and Aimé Mabika. The duo starred for the club's lower division side Fort Lauderdale CF in 2021 and will now make the jump to the First Team, advancing through Inter Miami's development pathway as has been envisioned by the club's management.
"What we tell the whole staff is, we want to make sure that when a player transitions into the First Team, that they're ready. They're going to give their best effort and be as close as possible to be ready for MLS as they can be when they're not in that environment every day. That's our goal, to prepare the players physically, tactically, technically, and mentally," said Fort Lauderdale CF head coach Darren Powell. "We want to make that step up as small as possible, we want to make the transition as seamless as possible from one team to the next."
"First and foremost, it's set by Chris Henderson, Phil Neville and the ownership group. We're in year three with the Academy, Fort Lauderdale and the First Team, and what we're finding is lots of collaboration. The First Team is there to win as many games as possible, we're there to service the First Team and give them a bigger pool of players available, especially with MLS NEXT Pro coming."
Mabika, a 2021 MLS SuperDraft first-round pick by Inter Miami, joined the club following a standout collegiate career at the University of Kentucky. Upon his arrival in South Florida, the club set him on a development path with Fort Lauderdale in 2021.
"The Fort Lauderdale CF family prepared me for this very moment, I just have to keep going now," said Mabika.
"I have to give a lot of thanks to the club. They were very intentional with my pathway, obviously they drafted me from the University of Kentucky playing college soccer, and making it to MLS is a tough jump so thankfully we have Fort Lauderdale where I was able to play games. I was also able to train with the First Team quite a bit and even able to play some games with the First Team late in the year. It happened at the perfect time for me, getting here in February and then playing games in October, it was a perfect pathway they gave me. Training with the First Team I was able to get comfortable with the pace and physicality, and I was able to improve my tactical awareness working with Darren Powell and Martin Paterson, and the First Team coaches as well."
Acosta, meanwhile, was given a different path with the club. The Miami native was signed ahead of the team's inaugural MLS season, becoming the first Miami native to join the First Team, but suffered an injury that ended his 2020 season. In 2021, he joined Fort Lauderdale, recovering from his injury and offering him a path back to the First Team.
"I was ready for the inaugural season, but obviously I suffered a major injury and it was a bit of a setback...2021 was a great year to get back into the professional environment. It was good to be next to the First Team, it helped me be ready for this next step," said Acosta.
The collaboration between the First Team and Fort Lauderdale CF was crucial to the development of Acosta and Mabika. The pair, along with Powell, expressed the importance of constant communication between the teams.
"We talk with the First Team staff on a regular basis everyday, we talk about what the training sessions are going to look like for our teams, and what the player personnel's going to look like for our teams," said Powell.
"I know Phil and the staff always came to the games. It really felt like they cared about us and wanted us to grow and be pushed into the First Team. They would even enter the locker room at halftime or after the games and give us talks, speak to us at practice about what they want us to do and how they want us to be, so that we could be part of the First Team with them," added Acosta.
"Right away in my first game with Fort Lauderdale, you look up in the stands before the game and after the game and you see all the First Team coaches there and they're not just there to enjoy the game. They're watching you, and then in training the next week with the First Team, they're working on the things you could've improved on in the game. The coaches on both teams are always talking and helping us improve each and every practice and each and every game. So, I was playing on two different teams but it never felt like I was on two different teams, it always felt like one team," said Mabika.
Now, both players are looking ahead to the 2022 MLS season as members of Inter Miami, but their development will continue to be a priority for both them and the club.
"Keep working, it never stops. Keep working extremely hard. You'll have tough times and some setbacks, but just keep your head down and keep working hard, good things will happen," said Powell
"Now that I'm on the First Team, the expectations rise even more. I can already tell they're still following that pathway for me, continuing to develop me as a player and a person. For me as a young player, I just have to keep harping on consistency. I have to do well, putting together three good weeks of training, and if I'm playing, three, four, five, six games in a row. I think that will be very important for me," concluded Mabika.
• Discuss this story on the Major League Soccer message board...


Major League Soccer Stories from January 13, 2022
The opinions expressed in this release are those of the organization issuing it, and do not necessarily reflect the thoughts or opinions of OurSports Central or its staff.
Other Recent Inter Miami CF Stories