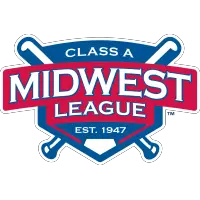 2008 Post Season All-Star Roster Unveiled
August 26, 2008 - Midwest League (MWL) News Release



Beloit, WI (8/26/08) --- George H. Spelius, President of the Midwest League of Professional Baseball Clubs, has announced its 2008 Post Season All-Star Roster. The team was selected by the Field Managers of all fourteen Midwest League member clubs.
POSITION PLAYER B/T HT/WT BIRTHDATE CLUB/AFFILIATE
First Base Mitch Moreland L/L 6'2/230 09/06/85 Clinton/Texas
Second Base Larry Cobb R/R 5'9/179 07/10/85 Kane County/Oakland
Third Base Brandon Waring R/R 6'4/195 01/02/86 Dayton/Cincinnati
Shortstop Zack Cozart R/R 6'1/185 08/12/85 Dayton/Cincinnati
Outfield Ben Revere L/R 5'9/156 05/03/88 Beloit/Minnesota
Evan Frey L/L 5'11/171 06/07/86 South Bend/Arizona
Andrew Lambo L/L 6'3/200 08/11/88 Great Lakes/Los Angeles
Catcher Sean Coughlin L/R 6'1/206 05/14/85 South Bend/Arizona
Designated Ian Gac R/R 6'3/245 09/10/85 Clinton/Texas
Hitter
RH Pitcher Alfredo Figaro R/R 6'0/173 07/07/84 West Michigan/Detroit
LH Pitcher Jon Kibler L/L 6'4/215 08/10/86 West Michigan/Detroit
RH Reliever Jackson Quezada R/R 6'4/213 08/09/86 Fort Wayne/San Diego
LH Reliever Edgar Estanga L/L 5'10/185 10/18/85 Lansing/Toronto
MOST VALUABLE PLAYER: Ben Revere - Beloit/Minnesota Twins
PROSPECT OF THE YEAR: Ben Revere - Beloit/Minnesota Twins
MANAGER OF THE YEAR: Mark Haley - South Bend/Arizona Diamondbacks
• Discuss this story on the Midwest League message board...


Midwest League Stories from August 26, 2008
The opinions expressed in this release are those of the organization issuing it, and do not necessarily reflect the thoughts or opinions of OurSports Central or its staff.