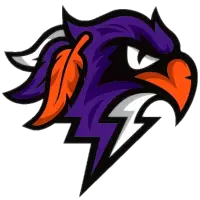 Thunderbirds Bolster Defense in 2020 Entry Draft
September 18, 2020 - National Lacrosse League (NLL) - Halifax Thunderbirds News Release



Halifax, NS - The National Lacrosse League (NLL) joined the NFL, MLB, and WNBA Drafts as the fourth professional sports league to produce a fully live virtual draft last night. The Halifax Thunderbirds went into the evening holding the 11th and 14th selections in the first-round, followed by two second round and two third round selections.
The Halifax Thunderbirds added depth to their already solid defensive corps with their first three selections in the draft.
"We were trying to shore up our defense with young talented defenders," said Head Coach Mike Accursi. "We did that tonight with Riggs, Bell, Terefenko and Friesen. They are all fantastic young big defenders that will solidify the strength of our defense for years to come."
With the 11th overall selection the Thunderbirds drafted 20-year-old Ethan Riggs from Dundas, Ontario.
Weighing in at 240 pounds and standing at 6' 4", Riggs' stature alone makes him an intimidating defender. Riggs started in Junior C and steadily worked his way up to being a Junior A stalwart for the chiefs. The Thunderbirds see huge potential in the young defender and are eager to see how he performs in the line-up this season.
"If Junior A would have been playing this summer he would have been one of the top picks" said Accursi. "He has not hit his ceiling yet, he gives us size and grit. He plays with an edge and doesn't get a lot of penalties.... Put him with Hossack and Soupy (Scott Campbell). That's a scary left side."
The Thunderbirds traded their 14th and 20th overall selections in the 2020 NLL Virtual Draft to The Calgary Roughnecks in exchange for Tyson Bell. The dynamic defenseman came into the league in 2016 and has played the past six seasons with the Roughnecks, collecting 48 points, 31 assists, and collecting 412 loose balls. The St. Catherines, Ontario native will no doubt be a force alongside three-time NLL defenseman Graeme Hossack on the 2021 Thunderbirds roster.
"Bell is a great asset to have on our team, it never hurts to have a player like that back there" Thunderbirds defenseman Graeme Hossack said. "It'll be nice to get back to playing with him again."
"Christmas came early, I'm absolutely ecstatic about our picks and trade for my little cousin Tyson" said Thunderbirds defensive coach and former NLL defenseman Billy Dee Smith. "Not only did we add depth, we also added players that are game ready now! A defensive Coaches dream!"
In the second round with their 27th pick the Thunderbirds selected Ryan Terefenko from Ohio State University. With Terefenko, the Thunderbirds will now have four former Ohio State Buckeyes on their roster. Terefenko's accolades made him a standout for the Thunderbirds, he was named All-Big Ten first team and is a three-time-All-America selection by the United States Intercollegiate Lacrosse Association. Terefenko hasn't played box lacrosse but has all the tools necessary to be a standout in the indoor game.
With the 47th pick in the third round the Thunderbirds drafted Yale forward Matt Gaudet. Gaudet finished his Yale University career ranked third all time in school history for goals (142) and tength for points (158). Prior to the shortened 2020 season, Gaudet was selected to the Tewaaraton Award Watch List and was named to the Preseason All-New England First Team.
Owen Friesen from Brock University was picked up in the third round with the Thunderbirds 48th pick. Friesen, a righty defenseman, played for St. Catharines Athletics OLA Jr A from 2016 to 2019. Friesen was also named all-star on three occasions at Provincial Final Six Championships.
In the fifth round, 78th overall, the Thunderbirds drafted goaltender Dustin Hill. Hill has played for the Six Nations Snipers and the Six Nation Arrows. In 2019 with the Arrows, he played in 12 games recording five wins and one loss, with a 6.57 goals against average.
With the Thunderbirds final pick in the 2020 draft they went local with Brett Draper from Dartmouth, Nova Scotia. In 2019 with the Dartmouth Bandits, he tallied 23 goals and added 19 assists in eight games.
Thunderbirds Picks:
First Round (11th overall) - Ethan Riggs, D
Second Round (27th overall) - Ryan Terefenko, D
Third Round (47th overall) - Matt Gaudet, F
Third Round (48th overall) - Owen Friesen, D
Fifth Round (78th overall) - Dustin Hill, G
Sixth Round (91st overall) - Brett Draper, F
TRADE: Thunderbirds traded their 14th and 20th overall selections in the 2020 Entry Draft to Calgary in exchange for Tyson Bell
• Discuss this story on the National Lacrosse League message board...


National Lacrosse League Stories from September 18, 2020
The opinions expressed in this release are those of the organization issuing it, and do not necessarily reflect the thoughts or opinions of OurSports Central or its staff.