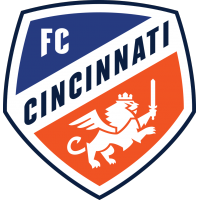 Tallies from Cruz, Adi give FC Cincinnati second consecutive win
July 13, 2019 - Major League Soccer (MLS) - FC Cincinnati News Release



BRIDGEVIEW, Ill. - Allan Cruz's first-minute strike and Fanendo Adi's late game-winning goal powered FC Cincinnati to a 2-1 win over the Chicago Fire on Saturday evening at SeatGeek Stadium. Chicago's Nico Gaitán recorded Chicago's lone goal just prior to the halftime whistle.
FC Cincinnati (5-13-2, 17 pts.) claimed their second win in as many matches and their first road win since they defeated the New England Revolution at Gillette Stadium on March 24. Chicago (5-9-7, 22 pts.) had an eight-match home unbeaten streak snapped and fell at home for just the second time through 11 home matches.
Cruz's goal was his third of the season and it marked the fastest goal in FC Cincinnati history. The tally is tied for the third-fastest goal to be scored in MLS this season. Adi, meanwhile, scored his first goal of the campaign in game-winning fashion.
Spencer Richey equaled a previous career high by making six saves on the night. Additionally, he became the third MLS goalkeeper to record two penalty saves this season when he stopped Gaitán's 45th-minute strike from the spot.
FC Cincinnati's next game will come on Thursday, July 18, when the team hosts a "White Out" match against D.C. United on ESPN at Nippert Stadium. Tickets for the game are on sale to the general public at fccincinnati.com/tickets or by calling 513-977-5425 (KICK). Pick-Six mini plans, individual-game tickets and group options are on sale for all remaining games.
For up-to-the-minute information about FC Cincinnati, visit the team's official website at fccincinnati.com, or follow the team on Twitter, Instagram and Facebook at @FCCincinnati.
FC Cincinnati 2, Chicago Fire 1
SeatGeek Stadium | Bridgeview, Ill.
Saturday, July 13, 2019
SCORING SUMMARY
CIN - Allan Cruz (unassisted) 1'
CHI - Nico Gaitán (unassisted) 45+4'
CIN - Fanendo Adi (Kekuta Manneh) 83'
FC Cincinnati: Spencer Richey, Mathieu Deplagne, Kendall Waston ©, Justin Hoyte, Alvas Powell, Caleb Stanko, Allan Cruz (Nick Hagglund 90+3'), Leonardo Bertone, Kekuta Manneh (Victor Ulloa 84'), Rashawn Dally (Fanendo Adi 67'), Emmanuel Ledesma
Bench: Przemysław Tytoń, Logan Gdula, Tommy McCabe, Corben Bone
Stats: Shots 6, Shots on goal 3, Saves 6, Corner kicks 3, Offsides 1, Fouls 14, Possession 40.2%, Passes 306 (67.6%)
Chicago Fire: Kenneth Kronholm, Brandt Bronico, Jorge Corarales, Francisco Calvo, Johan Kappelhof, Nico Gaitán, Aleksandar Katai (Amando Moreno 90+1'), Przemyslaw Frankowski (Nemanja Nikolic 75'), Dax McCarty ©, Fabian Herbers (Djordje Mihailovic 65'), C.J. Sapong
Bench: Richard Sánchez, Marcelo, Grant Lillard, Diego Campos
Stats: Shots 20, Shots on goal 7, Saves 0, Corner kicks 13, Offsides 0, Fouls 16, Possession 59.8%, Passes 439 (78.4%)
MISCONDUCT SUMMARY
CIN - Spencer Richey (caution) 48'
CIN - Emmanuel Ledesma (caution) 52'
CIN - Leonardo Bertone (caution) 59'
CHI - Jorge Corrales (caution) 73'
CHI - Djordje Mihailovic (caution) 78
Referee: Fotis Bazakos
Assistant Referees: CJ Morgante, TJ Zablocki
4th Official: Farhad Dadkho
VAR: Younes Marrakchiz
Weather: 90 degrees and partly cloudy
Attendance: 13,127
HOW IT HAPPENED
1' | FCC GOAL - After Mathieu Deplagne was fouled in FCC's defensive third, Spencer Richey kicked a long cross to the right flank of the field to Leonardo Bertone. Bertone crossed the ball, and after Chicago failed to clear it, Allan Cruz volleyed the ball in for the fastest goal in club history
25' | Following a foul from Kendall Waston on C.J. Sapong on the edge of the penalty area, the Fire were awarded a penalty. Nicolás Gaitán stepped up to the spot and hit his left-footed shot off the left post, keeping the Orange and Blue in the lead
26' | WEATHER DELAY - The game was halted for severe weather in the area at 25:08 into the game ... the delay lasted 59 minutes
30' | Emmanuel Ledesma sent a corner kick into the six-yard box, where Deplagne got his head to the ball, but sent it wide of the near post
38' | A failed clearance from the Fire presented an opportunity for the Orange and Blue to break on the counter from just beyond the halfway line. Bertone found Dally just beyond the penalty arc, where the forward played a through ball to an oncoming Cruz. The Costa Rican attempted to chip Kenneth Kronholm, but Francisco Calvo was able to clear the attempt off the line
39' | Aleksandar Katai sent a low cross into the box, where nobody was able to get a clean touch on the ball. After the deflected ball cleared the penalty area, McCarty attempted a first-timed shot from approximately 25 yards out, but Spencer Richey was able to calmly make the save
45'+1' | Attacking down the right flank once again, Katai sent a cross into the box, but Sapong's headed effort went just wide of the far post
45+4' | CHI GOAL - Przemyslaw Frankowski sent a cross from inside the 18-yard box that resulted in a whistled handball by Ledesma, when the latter attempted to block the cross. Richey saved the initial penalty shot from Gaitan, but Gaitian picked up the rebound and leveled the scoreline just before halftime
77' | Gaitan played a cross to the near post from the left corner flag. Calvo flicked the ball towards goal, but was denied by Richey who parried the ball out for a corner
83' | FCC GOAL - Kekuta Manneh won the ball and quickly countered into the final third. Eventually, he played a through ball Fanendo Adi, who first-timed a shot inside of the back post
GAME NOTES
With today's win, the Orange and Blue improve to 5-13-2 through 20 MLS matches ... in addition, FC Cincinnati improved to 2-9-1 in away contests ... FC Cincinnati's all-time, all-competition record against Chicago Fire sits at 1-0-1 ... Cincinnati is now 3-6-1 against Eastern Conference opponents
Tonight's win marks the second time FC Cincinnati have won back-to-back matches this season ... the Orange and Blue defeated the Portland Timbers and the New England Revolution in consecutive matches on March 17 and March 24, respectively
Allan Cruz scored the fastest goal in FC Cincinnati history when he tallied in the first minute of tonight's match ... at 45 seconds into the match, the goal is tied for the third-fastest goal recorded in MLS this season ... Cruz broke the club's previous record that he set on May 11 against Montreal when he tallied in the 7th minute
Fanendo Adi scored his first MLS goal as an FC Cincinnati player in tonight's match ... Adi became FC Cincinnati's 13th player to score a goal and the fifth to record a game-winning goal this season
FC Cincinnati experienced their first weather delay of the season ... play was halted in the 26th minute following a lightning strike in the nearby area ... the delay lasted 59 minutes
FCC snapped the Chicago Fire's eight-match home unbeaten streak ... prior to tonight's match, the Fire posted a record of 5-0-3 at SeatGeek Stadium dating back to March 30
Spencer Richey equaled a previous career high by making six saves on the night ... Richey made six saves for FC Cincinnati at Philadelphia on May 1
Richey recorded his second penalty save of the season ... the goalkeeper recorded his first career penalty save on May 19 when he saved a penalty taken by Orlando City SC's Nani ... Richey is one of three goalkeepers, along with David Bingham and Tim Melia, to record two penalty saves this season
Tonight's match marked the first time this season FC Cincinnati recorded a win or a draw while conceding in minutes 31 through 45 ... prior to tonight's match, FC Cincinnati was 0-7-0 when conceding in the fifteen minutes just before halftime
Interim Head Coach Yoann Damet made two changes to the starting lineup from FC Cincinnati's most recent match against Houston Dynamo on July 6 ... Alvas Powell (RB) and Caleb Stanko (CDM) shifted into the starting lineup, while Nick Hagglund and Frankie Amaya were dropped ... today's lineup is FC Cincinnati's 20th unique lineup of the season ... the only two instances FCC have had the same starting XI was on March 10 and March 17
Caleb Stanko returned to the starting lineup for the first time since June 29 at Minnesota United FC ... in that match, Stanko made his first MLS appearance at right back
Alvas Powell made his first start since returning from the Concacaf Gold Cup ... prior to tonight's match, Powell's most recent appearance came against the Houston Dynamo on July 6, when he was subbed on in the 88th minute ... Powell last started for the Orange and Blue at Colorado on June 1
Fatai Alashe (hamstring), Frankie Amaya (knee), Greg Garza (calf) and Roland Lamah (hamstring) were unavailable for selection because of injury
POSTGAME QUOTES
FC Cincinnati Interim Head Coach Yoann Damet
On tonight's match
"The most important thing was to get the result. I said it at the beginning of the week that we wanted to confirm the good performance from last week. We know it's tough on the road to offer quality content and a quality performance, so tonight was about the mentality and about the character. I'm very happy with the group and how they worked hard to get this one."
On Adi scoring his first goal
"It's very good. Again, there is an individual satisfaction and collective satisfaction. I'm very happy for Adi. He's been working really hard and he's been through some tough moments. Getting that goal tonight, but also getting the result tonight because he got the goal is huge for him from an individual standpoint, so I'm very happy for him."
On if he was pleased with the defense
"Not really in the first half. I was a bit disappointed with the first 45 minutes and the way we showed up, the spaces, the setup, the system and the animation for the system wasn't what I was expecting. We tried to adjust at halftime and had to make a couple adjustments at the end of the game to make sure we could preserve the result. I've been happy with the mentality."
On how happy he is for the team
"I'm very happy for them. Like I said, we focus on ourselves. We knew we were going to go through a tough time the past month. Getting a second result in a row is big for them. I'm very happy this group is working so hard every day to get better but also to get results. They earned it and they deserved it."
On if it feels like things are turning around
"Of course. I knew last week could be a turning point for us. Again, adversity defines people. Adversity in this group. We went through tough moments all together and that second result in a row is something big for us. I'm very proud of them."
On if he feels he is putting the club in a position to make the playoffs
"I'm not here to speak about myself. The players are here to do the job. The players are showing up in training with a strong mentality and working really hard to put the work together on game days. They are changing the dynamics right now because of their work and that's the most important thing."
On how the team managed the weather delay
"It's never easy. Everyone tries to deal with this preparation in their own way. So, you try to let them relax but also focus on the next part of the game. It's always something that you have to be careful with. We tried to address some problems we saw in the first 25 minutes to adjust and also let them rest to start to the second part of the game."
On the club playing a full 90 minutes
"We knew we had to capitalize on our chances as early as possible. We did tonight and scored very early in the game and finished well too. I'm very happy and it shows a lot of character from them."
FC Cincinnati Goalkeeper Spencer Richey
On the penalties
"I watched a little bit of (Nico Gaitán's) previous two (penalty attempts.) He opened up, so I thought maybe on that first one, he was going to close his hips. He went left, fortunately it went off the post. The second one, I was just trying not to go early. I think he waited till the last second to choose his side. Unfortunately, I get a good hand on it, but I don't put it in a great area, it's a penalty 2.0. It's not always easy to maneuver penalties where you want to put "em, but we won."
On the team's play as of late
"I think anyone that watches that game can say that this is a different team than it was a few weeks ago. It's super disappointing to concede right before the end of the first half, obviously end of the second as well, but to come in, momentum on their side at halftime, I think it showed a lot of character from the guys. The work rate, the mentality that guys put in and then to eventually get the winner and hang on at the end is a huge win against a team that we're directly competing with to try to climb the table."
On if he feels like the team is about to go on a run
"Momentum is insane in this league. I was just saying (to the TV broadcast), you look at New England and Colorado, they obviously have the coaching change, but they don't sign any new players. It's just a switch, it's something that clicks in the locker room with guys' mentalities and you can turn your season around. I think they were two of the worst teams in the league and then they go five unbeaten. We're trying to get on that roll as well and we'll certainly take a lot of confidence from this game. It's not easy winning on the road in this league. We'll try to do it again this Thursday against D.C."
On if he was happy with his overall performance
"Yeah, and we won the game. Unfortunately, the penalty save didn't end up really helping the scoreline, given that he finished the rebound, but I was more happy with how we managed the game as a back five, a back seven. Like I said, it's really difficult to win on the road in this league and their team has a lot of good attacking pieces up front, so it's a huge win for us."
FC Cincinnati Forward Fanendo Adi
On his emotions when scoring
"I just got to thank my wife and my daughter. It's been a very tough year, we didn't expect this, but I've got a lot of people praying for me, basically. I just want to say thank you to my wife, but the most I want to say God I thank you, but that is all."
On the importance of scoring
"It's been a tough year for everybody. Not just for me, but obviously for me it's been one hell of a year. I wanted to do well for the club, I came in as a very huge investment for the club. It didn't turn out to be what we expected, but the club has been very patient with me. They stick with me. The most people that have been affected are my family. My wife gets really worried about this. I've never had a year like this, but this moment tonight is just for me, I thank God, I thank my family for being there for me."
On what he saw on the goal
"I definitely saw the goalkeeper and I wanted him to backstep before I shot the ball, because I knew he was started, but the minute I saw him take a step backward, I released the ball and anything can happen at that point. I thank God it went in."
On if the goal was any more meaningful since it was a game-winning goal
"It's very important for the team. We've been in a tough stretch also, for everybody, not just for me, but for the team entirely, for the fans, for everybody, to come out here and get three points. We had a meeting and I told the guys you've got to play dirty sometimes to get three points on the road. Rashawn did a great job. All the players did a wonderful job today. We stuck in there and we defended. I think we just need to keep the momentum going."
FC Cincinnati Midfielder Allan Cruz
On his emotions after contributing on both goals
"Primero que todo, agradecido con dios, con los compañeros. Con el esfuerzo de todos pudimos sacar el resultado hoy."
"First of all, thankful to God, my teammates. With everyone's hard work we were able to get the result today."
On team's mentality after back-to-back wins
"No, seguimos trabajando durante la semana fuerte. Ahora, ya ah que pensar en el partido que viene. Ya hoy paso y contentos con el resultado."
"No, we have to continue working hard during the week. Now, we have to think on the game that is coming. Today has already passed and we are happy with the result."
On making an impact on the team after returning from Concacaf Gold Cup
"Claro, contento de regresar al equipo. Lo más importante es que los dos partidos que hemos jugado los hemos ganado. Nos sentimos cómodos. Vamos paso a paso."
"Of course, happy to be back with the team. The most important thing is that from the two games that we have played, we have won. We feel comfortable. We are taking it step by step."
On the biggest factor on tonight's win
"El esfuerzo de todos. Creo que desde el primer minuto empezamos a atacar. Por ahÃ-, pudimos anotar. Por ahÃ-, manejamos mas el tiempo. Tratamos de jugar al contragolpe y gracias a dios tuvimos una oportunidad y pudimos aprovechar."
"Everyone's hard work. I think that from the very first minute we started to attack. We were able to score. We controlled the timing of the game. We tried to play the counter attack and, thanks to god, we had an opportunity and we capitalized."
• Discuss this story on the Major League Soccer message board...


Major League Soccer Stories from July 13, 2019
The opinions expressed in this release are those of the organization issuing it, and do not necessarily reflect the thoughts or opinions of OurSports Central or its staff.