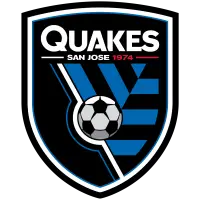 Earthquakes take club record 32 shots in victory, surge to fourth place
July 13, 2019 - Major League Soccer (MLS) - San Jose Earthquakes News Release



CARSON, Calif. - The San Jose Earthquakes defeated the rival LA Galaxy 3-1 at Dignity Health Sports Park on Friday night, giving the club two multi-goal victories over LA in a span of 14 days. The win propels the Quakes to fourth place in the Western Conference and within three points of second.
San Jose is now 9-3-4 (W-L-D) since April 1 and 4-1-0 in their last five matches. The Earthquakes set club records for shots (32) and shots on target (16) in Friday's victory, while holding the Galaxy to five shots, their fewest at home since June 2, 2016.
After conceding in the second minute and being unable to break through before halftime, the Quakes rebounded to score a trio of goals in a 24-minute span in the second half. Vako and Jackson Yueill each contributed a goal and an assist, while Danny Hoesen scored the game-winner for the second consecutive match.
The Earthquakes will host Spain's Real Valladolid in an international friendly on Tuesday, July 16 at 7:15 p.m. The Quakes' next MLS match takes place against Vancouver Whitecaps FC at BC Place on Saturday, July 20 at 7 p.m. The match will be broadcast live on NBC Sports Bay Area, KNBR 1050 and 1370 KZSF.
MATCH NOTES:
San Jose now holds a 9-7-4 record this season and sit in fourth place in the Western Conference.
The Earthquakes are now 8-2-4 in their last 14 MLS regular season matches.
San Jose outshot the Galaxy 32-5, getting 16 on target. Both the Quakes' shots and shots-on-goal tallies are club records. They have now outshot their opponent for the fifth time in their last six road games.
Midfielder Vako tallied one goal and one game-winning assist. He now has five goals and three assists this season, and 20 goals and 10 assists for his MLS career. Friday marked his 50th career start in MLS since signing with the club in June of 2017.
Forward Danny Hoesen scored his fifth goal of the season and 22nd of his MLS career. He has scored the game-winning goal in back-to-back games and now has three game-winning goals this season, tied for fifth most in MLS.
Midfielder Jackson Yueill was credited with the assist on Danny Hoesen's goal. It marked his third assist of the season and seventh of his MLS career.
Shea Salinas made his 300th appearance in MLS, becoming just the 41st player in league history to reach the milestone.
Nick Lima made his return to the Quakes, playing 38 minutes as a second-half substitute. It marked his first appearance since competing with the United States at the 2019 Concacaf Gold Cup.
MLS Regular Season
LA Galaxy 1 - 3 San Jose Earthquakes
July 12, 2019 - Dignity Health Sports Park in Carson, Calif.
Attendance: 22,508
Scoring Summary: LA - Rolf Feltscher (Jonathan dos Santos) 2; SJ - Vako (Jackson Yueill) 61; SJ - Danny Hoesen (Vako) 64; SJ - Jackson Yueill (unassisted) 85.
Misconduct Summary: SJ - Tommy Thompson (caution) 7; LA - Joe Corona (caution) 31; LA - Jorgen Skjelvik (caution) 33; SJ - Judson (caution) 56; SJ - Marcos Lopez (caution) 68; LA - Zlatan Ibrahimovic (caution) 89.
LA GALAXY: David Bingham; Giancarlo Gonzalez, Rolf Feltscher, Jorgen Skjelvik, Daniel Steres (Dave Romney 89); Jonathan dos Santos, Uriel Antuna (Emil Cuello 65); Favio Alvarez (Emmanuel Boateng 69), Efrain Alvarez, Joe Corona; Zlatan Ibrahimovic.
SHOTS: 5; SHOTS ON TARGET: 1; SAVES: 2; FOULS: 13; CORNERS: 3; OFFSIDES: 0
SAN JOSE EARTHQUAKES: Daniel Vega; Marcos Lopez (Shea Salinas 71), Florian Jungwirth, Guram Kashia, Tommy Thompson (Nick Lima 62); Jackson Yueill, Judson; Vako, Magnus Eriksson, Cristian Espinoza; Chris Wondolowski (Chris Wondolowski 62).
SHOTS: 32; SHOTS ON TARGET: 16; SAVES: 0; FOULS: 14; CORNERS: 12; OFFSIDES: 7
SAN JOSE EARTHQUAKES HEAD COACH MATIAS ALMEYDA
On San Jose's progress from last season:
"I believe that until this date, it's very positive. We started the season really bad, knowing that they had suffered a year of losses and tough moments, and little by little we have been putting together a group. And, within that group, they have found a soccer identity, and we're getting there. We're in the fight, but we are happy because the players, our leaders, and our community are a lot happier than last year."
On what is so special about his team:
"They have sacrifice, they have self-love, they know what they are playing for, and they've all started to feel important, each and every one of them, and that's what interests me most."
On what he tells his team in practice and in the locker room:
"I always try to give them the best concepts, and best ideas, and that's why things go well. What's important is that they are working with a lot of humility, and a lot of unity, and we are converting this team into a family, as I usually try to do."
SAN JOSE EARTHQUAKES FORWARD CHRIS WONDOLOWSKI
On comparing San Jose's current team to their previous Supporters' Shield-winning teams, and on Matias Almeyda's coaching philosophy:
"Absolutely, I've been lucky to be a part of the team in 2012 and 2005, and this team ranks right up there with them. I love the way that we play. I love the philosophy; just how he goes about it both on and off the field. It's bringing a joy to the game, and I think that you can kind of see it in each guy's eyes and face, and you know it's hard work. It's very tough, but it's fun at the same time."
On describing Matias Almeyda's coaching philosophy:
"I'm loving this, because he just breaks it down. He breaks it down in the simplest ways, but at the same time executes it, and he says that he's going to use each guy and we've used, I think, almost 23 guys of our roster. Again, I think that kind of shows you how deep we are, but at the same time he just implements next man up. He doesn't change, our philosophy doesn't change anything. He wants us to go out there and try to dribble guys, but if you lose it make sure you run back and tackle, and that's just something that we've all adopted."
SAN JOSE EARTHQUAKES FORWARD DANNY HOESEN
On what, if anything, they changed for tonight's match vs. last contest between LA and SJ:
"The funny thing is, I don't think we changed anything. The coach is a very humble guy, and the first games of the season, he was calm and he was saying the same things he was saying now. Obviously when you start to win games, you really believe it. I have a feeling we don't panic anymore as a team. Even if we're down or something, we know what we can do and just follow the game plan. The group is so united if that's the right word and we all believe in each other. It's amazing and we enjoy the ride."
On being connected as a team:
"We just like to fight for each other. If someone is out of position, the other one takes over and we are willing to get hurt for each other. That's an amazing thing to have as a team. We actually start to believe that we can keep going this way and, like I said before, I don't believe we're going to win all games. But even if we lose a game, we continue in the same way and still keep believing."
On the difference Almeyda has made:
"He brought in a lot of confidence. He tried to talk to us a lot; our meetings are very long and our training sessions are longer. Everything we do on the training field or in the video [sessions] explains what we need to do in the games. The meetings are longer but that gives us so much information about our opponent and we know exactly what to do. Even players coming off the bench know exactly what to do, so it's just working really well."
Images from this story
• Discuss this story on the Major League Soccer message board...


Major League Soccer Stories from July 13, 2019
The opinions expressed in this release are those of the organization issuing it, and do not necessarily reflect the thoughts or opinions of OurSports Central or its staff.
Other Recent San Jose Earthquakes Stories