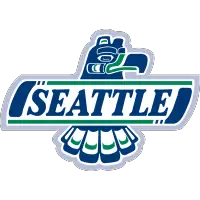 T-Birds Double up Americans and Extend Wild Card Playoff Lead
March 4, 2019 - Western Hockey League (WHL) - Seattle Thunderbirds News Release



KENT - Matthew Wedman had two goals and an assist Sunday night at accesso ShoWare Center to help lead the Seattle Thunderbirds to a 6-3 win over the Tri-City Americans.
The T-Birds improve their record to 26-28-6-2 and are now seven points ahead of the Kamloops Blazers for the second wild card playoff spot in the Western Conference. Kamloops (23-31-5-2) lost in overtime, 5-4, to the Vancouver Giants Sunday night. Kamloops has one game in hand on the T-Birds.
Seattle goalie Cole Schwebius had 23 saves to get his fourth win of the season.
Noah Philp had three assists and Andrej Kukuca and Henrik Rybinski each had a goal and an assist.
The T-Birds next game is Friday, March 8, at 7:35pm against the Victoria Royals at accesso ShoWare Center.
Tri-City took a 1-0 lead at 4:07 of the first period on a goal from Sasha Mutala. Riley Sawchuk and Samuel Stuart had the assist.
Seattle tied the game 1-1 on a five-on-three power play at 13:20 of the first. Philp held the puck in the left circle and then passed it to Jarret Tyszka in the high slot. Tyszka crossed the puck to Wedman in the right circle. Wedman one-timed the pass beating Tri-City goalie Talyn Boyko under the left arm.
The T-Birds took a 2-1 lead at 4:22 of the second period. Sean Richards went hard to the net on the left wing. Boyko made a save and Philp got the rebound and sent it to Kukuca to the right of the net. Kukuca spun with the puck and took a shot. The puck deflected off a Americans defenseman and up and over Boyko's right shoulder. It was Kukuca's 25th goal of the season.
Brecon Wood made it a two-goal lead with an unassisted goal at 7:56 of the second. Wood intercepted a pass in the slot on a backcheck. Wood spun and put a hard wrist shot over Boyko's glove for his third goal this season.
The Americans cut the T-Birds lead to 3-2 with a power-play goal by Krystof Hrabik at 13:17 of the second.
Wedman got the two-goal lead back at 17:07 of the second on the power play with a pretty goal. Kukuca forced a turnover along the left boards and quickly passed the puck to Philp in the left circle. Philp just as quickly sent the puck to Wedman skating along the goal line. Wedman skated backwards into the low slot and beat Boyko over the glove for his 37th goal of the season.
Seattle made it a 6-2 lead with two goals in seven seconds.
Graeme Bryks scored his first goal of the season to give the T-Birds a 5-2 lead. Rybinski got the puck in the right corner and backhanded it to Bryks in the right circle. Bryks beat Boyko with a wrist shot under the right arm at 2:58 of the third. Simon Kubicek had the second assist.
Off the ensuing faceoff Wedman won the puck forward and Rybinski got it. Rybinski skated down the left wing and cut hard to the net. Rybinski beat Boyko through the legs at 3:05 of the third.
Boyko had 31 saves.
Single game tickets are on sale online on the T-Birds website and at the accesso ShoWare Center box office.
The T-Birds are now taking orders for Flex-24 Ticket packages. Fans that purchase the 24-Flex Ticket Package will be able to select any available premium seat for any game, in any ticket combination, during the 2018-19 season.
SCORING SUMMARY
First period - 1, Tri-City, Mutala 18 (Sawchuk, Stuart), 4:07. 2, Seattle, Wedman 36 (Tyszka, Philp), 13:20 (pp). Penalties - Volcan, Sea (boarding), 5:56. Cadieux, Tri (holding), 12:38. Bruce, Tri (hooking), 12:38. Richards, Sea (roughing), 15:37. Olson, Tri (roughing), 15:37.
Second period - 3, Seattle, Kukuca 25 (Richards, Philp), 4:22. 4, Seattle, Wood 3, 7:56. 5, Tri-City, Hrabik 18 (Hyman, Yaremko), 13:17 (pp). 6, Seattle, Wedman 37 (Philp, Kukuca), 17:07 (pp). Penalties - Kubicek, Sea (major-fighting), 3:01. Kushniryk, Tri (major-fighting), 3:01. Richards, Sea (double minor-slew footing), 9:37. Stuart, Tri (tripping), 14:44. AuCoin, Sea (slashing), 16:29. Bruce, Tri (10-minute misconduct), 16:29. Yaremko, Tri (tripping), 19:11. AuCoin, Tri (roughing), 19:11. Bauer, Sea (roughing), 19:11.
Third period - 7, Seattle, Bryks 1 (Rybinksi, Kubicek), 2:58. 8, Seattle, Rybinksi 7 (Wedman), 3:05. 9, Tri-City, AuCoin 38 (Olson, Hyman), 7:30 (pp). Penalties - Lee, Sea (interference), 7:21. Wedman, Sea (roughing), 10:35. Olson, Tri (roughing), 10:35. Bjorklund, Tri (10-minute misconduct), 10:35. Hrabik, Tri (cross checking), 14:50. Bench, Tri (unsportsmanlike conduct-served by Mutala), 14:50. Carpendale, Sea (slashing), 15:49. Olson, Tri (10-minute misconduct), 15:49. Rybinski, Sea (10-minute misconduct), 15:49.
Shots on goal - Seattle 11-12-14 37, Tri-City 12-7-7 26. Goalies - Seattle, Schwebius 26 shots-23 saves (4-8-2-0); Tri-City, Boyko 37-31 (2-3-0-1). Power plays - Seattle 2-7; Tri-City 2-6. A - 5,103. Referees - Jeff Ingram, Ryan O'Keeffe. Linesmen - Michael Bean, Tim Plamondon.
• Discuss this story on the Western Hockey League message board...


Western Hockey League Stories from March 4, 2019
The opinions expressed in this release are those of the organization issuing it, and do not necessarily reflect the thoughts or opinions of OurSports Central or its staff.