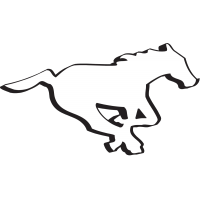 Stampeders sign a pair of quarterbacks
May 21, 2004 - Canadian Football League (CFL) - Calgary Stampeders News Release



(Calgary) – Today Calgary Stampeders' General Manager and Head Coach Matt Dunigan announced the free agent signing of quarterbacks Tommy Jones and Josh Rogers.
"Through an extensive evaluation the Calgary Stampeders have chosen to add these two fine pivots. We feel that both of these guys have the ability to make us better," stated General Manager and Head Coach Matt Dunigan
Here is a closer look at the newest Stampeders:
Tommy Jones
#16
Quarterback
College: Indiana
HT: 6'4" WT: 230 lbs
Born: August 3, 1979
Birthplace: Eaton, Ohio
Stampeders: 1st year
CFL: 1st year
Import
Pro
Entering his first season with the Stampeders Â… originally signed on May 18, 2004.
College
2002 Opened the season as the starting quarterback at N.C. State...completed 18 of 31 passes for 163 yards and one touchdown...saw action on the kickoff return team in game four at Wisconsin...did not play the remainder of the season as he was sidelined with tendonitis in his throwing shoulder.
2001 Saw action in a reserve role and completed 6 of 16 pass for 57 yards and one interception...at Northwestern completed both passes he threw for 43 yards, including a 27-yard strike...threw five passes against both Cincinnati and Wisconsin...also saw action against N.C. State, Michigan and Penn State.
2000 Played in three contests and completed 4 of 9 passes for 77 yards, including a 47-yard completion at Wisconsin...chipped a bone and sustained ligament damage to his right index finger during warm-ups prior to the North Carolina game.
1999 Redshirted.
Noteworthy Earned postseason All-America honors and was named as one of the top 90 players in the country by Tom Lemming's Prep Football Report...completed 88 of 174 passes for 1,532 yards and 18 touchdowns and rushed 67 times for 586 yards and 10 TDs as a senior...helped his team to a 9-1 record in 1997...was 25-5 as a starter during his career...threw for 1,022 yards and 14 TDs as a junior and 1,185 yards and 19 touchdowns as a sophomore...was named the Richmond (Ind.) Palladium-Item Player-of-the-Year following his senior season...was a first-team Southwestern Buckeye League selection...played basketball and averaged over 20 points per game as a junior and senior...also played shortstop on Eaton's baseball team...a General Studies major...born 8/3/79 in Eaton, Ohio...parents-Meg and Tom Jones...has three siblings; Teffie (23), Paisley (2) and William (1).
Josh Rogers
#17
Quarterback College: South Carolina
HT: 6'3" WT: 215 lbs Born: May 25, 1978 Birthplace:
Stampeders: 1st year
CFL: 1st year
Import
PRO
Entering his 1st season with the Calgary Stampeders Â… originally signed on May 19, 2004 Â… Rogers also has experience playing in the af2.
2003
In 2003 he played in nine games with the Louisville Fire. He completed 51.4 % of his passes for 1,752 yards and 27 touchdowns
2002
He played with the Florida Firecats and helped lead the team to the Arenac up League Championship Game.
College
He played two years at Los Medanos Junior College located in San Francisco. Was an All-American selection while in junior college Â… He then played spot duty for South Carolina from 1999-2000 where he went to one Outback Bowl.
Noteworthy
Rogers is originally from Los Gatos, CA located in the Bay Area ... He was a CSPN Roox Blue Chip All-American selection for the Western Region in 1996 as a senior at Los Gatos High School.
• Discuss this story on the Canadian Football League message board...


Canadian Football League Stories from May 21, 2004
The opinions expressed in this release are those of the organization issuing it, and do not necessarily reflect the thoughts or opinions of OurSports Central or its staff.