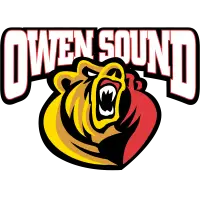 Sam Sedley Ready for Kia CHL ECup
November 24, 2020 - Ontario Hockey League (OHL) - Owen Sound Attack News Release



Earlier this month, the Canadian Hockey League launched the Premiere Edition of the Memorial eCup presented by Kia Canada and supported by veeZion. A 64-team tournament featuring every team in the CHL and four guest participants for the rights to claim eSports supremacy in Canada.
The announcement of the Kia CHL eCup generated a lot of buzz between Attack teammates. It all started with a simple text into the group chat asking who had a Playstation 4 and wanted to represent Owen Sound in an online tournament. Andrew Perrott was the first to throw his hat into the ring, but his career as an eSports player quickly ended when he admitted "I'm terrible, though."
Josh Samanski volunteered Barret Kirwin, saying "He's gross." Nolan Seed earned some kudos from his billet brother, Griffin Wilson, who said that he beats him every game. Mack Guzda offered to hop on the sticks as well, but one name was repeatedly brought up. Deadly Sam Sedley.
"Seds is filth." "Seds 100%." "Seds will play." "Seds is the man." It was clear that the young defenseman had a lot of respect in the room and he quickly became the representative for the Attack. Less than two weeks away from his opening match against the Saint John Sea Dogs, Sedley is getting down to business and practicing for the big tournament.
Kaleb Pearson has a lot of praise for his fellow St. Marys native: "He's good. When he's not on the ice, he's grinding on that thing 24/7. Every time I snap him, he's playing."
Nick Chenard knows firsthand how good Sam Sedley can be playing NHL. Sedley and Chenard billeted together in Owen Sound, their first year in the Scenic City and a lot of bonding was done over the Playstation even if some of the defeats left the Attack netminder feeling humbled. When asked what his worst defeat to his roommate was, Nick admitted it was a pretty lopsided score. "Probably 10-2. He's just such a good all around player." For those new to the world of eSports, it can be hard to quantify what makes a player 'good', but Chenard has some ideas. "He knows how to play D, and he knows how to score all the easy goals. He was playing almost every day in Owen Sound, and now with all the extra free time he'll be even better."
The young blueliner does have the support of his coaching staff going into the big tournament. When Attack assistant coach/GM Joey Hishon was asked what makes Sedley such a good NHL 21 player, it only took him four words to answer: "Because he's a nerd."
Sedley first started playing with his copy of NHL 15, and in the six years since has only improved. His signature move is the backdoor tap-in. When not playing NHL, he is a frequent Fortnite player which helps keeps his reflexes and hand-eye coordination sharp.
Owen Sound's first game of the tournament will take place on Saturday, December 5th at 3:55 pm ET, when Sedley takes on Riley Bezeau of the Saint John Sea Dogs. The opening rounds are single elimination, where one bad game can mean the end of a run.
The hopes are high for the seventeen-year-old as he takes on the rest of the CHL, but his roommate thinks he can do it. Chenard ends with high praise: "Let's just say, Seds better win. If not, I'm going to be really disappointed. If he doesn't win at least four games, that's a big upset."
The puck drops for the Memorial eCup presented by Kia on November 28 with a 10-game set beginning with Justin O'Donnell of the Sarnia Sting facing off against Michael Milne of the Winnipeg ICE. Beginning as a 64-team showdown, the opening round features 32 contests over eight days. Further scheduling information will be revealed following the completion of the first round of play.
All games of the Memorial eCup presented by Kia will be streamed via Facebook Live and Twitch. Fans are also invited to follow along at CHL.ca/MemorialeCup and via #KiaCHLeCup. Additionally, a promo code will be provided during each game, giving fans a chance to win a $100 PlayStation® Store [CAN] or Xbox [CAN] gift card as well as e-copies of © 2020 Electronic Arts Inc. NHL 21. All contest entries will also be automatically entered into a grand prize draw for a chance to win a $1,000 prepaid Vanilla VISA® gift card!
Crowned December 17, the ultimate winner of the Memorial eCup presented by Kia will be celebrated with a $1,000 donation made to the winner's charity of choice.
• Discuss this story on the Ontario Hockey League message board...


Ontario Hockey League Stories from November 24, 2020
The opinions expressed in this release are those of the organization issuing it, and do not necessarily reflect the thoughts or opinions of OurSports Central or its staff.
Other Recent Owen Sound Attack Stories