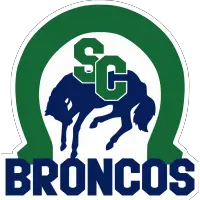 Sam McGinley Invited to St. Louis Blues Rookie Camp
July 27, 2021 - Western Hockey League (WHL) - Swift Current Broncos News Release



Swift Current, Sask. - The Swift Current Broncos are proud to announce 2002-born defenceman Sam McGinley has received an invite to St. Louis Blues rookie camp which begins September 12.
McGinley, from Calgary, wrapped up his second WHL season earlier this year, scoring once and adding five assists in 22 games during the hub season in Regina.
Originally drafted in the fifth round, 92nd overall by the Regina Pats in the 2017 WHL Prospects Draft, McGinley was acquired by the Broncos on November 14, 2019.
In 61 games with the Broncos McGinley has recorded four goals and 14 assists and was named the Broncos Most Improved Player in both 2019-20 and 2020-21.
scbroncos.com spoke with McGinley following the news.
The morning of July 25 was a pretty good day for Sam McGinley. Not only was he staring a plate of iHop pancakes for breakfast, he received one of the most memorable phone calls of his life.
"I was eating some pancakes and then my dad called me and told me there was a scout that wanted to talk to me," McGinley said from his home in Calgary. "He said I needed to call him right away, so I did and the scout told me they wanted to get me down there for their rookie camp. It was more of a surprise than anything. It still hasn't really sunk in, I don't know if the full emotion of it will hit me until I get there."
McGinley will travel to St. Louis on September 12 and spend a few days there before heading to Traverse City, Michigan for the annual prospects tournament that usually includes eight teams.
He admits he was keeping tabs on the second day of the NHL Draft which ran through most of Saturday, July 24, but was mostly checking to see if some of his friends were getting picked up.
"I was keeping tabs but I was mostly just watching to see my friends get drafted," he said. "It wasn't too much of watching myself. Ryker Evans getting drafted in the second round was pretty sweet to watch, but other than that, not too many of my buddies were drafted, which I was kind of surprised about honestly."
Many experts predicted the 2021 NHL Draft would be different from previous years, considering the varying amounts of competitive games the prospects were able to get into throughout the course of the 2020-21 season.
While there were challenges and sacrifices involved with playing in the Regina Hub for 24 games, an invite to an NHL camp made it all worth it for McGinley.
"It really emphasizes how people are always watching," he said. "It doesn't matter if you're practicing or working out or wherever you are, there's always going to be people watching. You need to put in that effort and time and it will pay off eventually. Getting that call reassured that there will always be people there each and every game."
McGinley finished the hub season with a goal and five assists in 22 games and was named the Broncos Most Improved Player for the second season in a row.
While there will undoubtedly be some nerves heading to an NHL camp, McGinley is focused on making the most of the opportunity.
"The main thing I want to get out of this camp is the experience and the exposure," he said. "It's kind of my foot in the door. Obviously my main goal is to show them who I am and show them that I'm worthy of playing on that team. Trying to get that foot in the door for a contract, or even talk about a contract. If I'm able to leave camp and they're having a tough time deciding if I should go or stay, that's what I want to show them. I want to make it a hard decision for them."
With over six weeks until leaving for St. Louis, McGinley continues to work through his offseason training regime, though he says he's made some adjustments this summer compared to previous years.
"I've kind of changed my focus to the dietary side of things," said McGinley, who has celiac disease. "There's been some times where I haven't been able to put on weight, so this summer I've dedicated it to what I put in my body and how I treat myself off the ice with stretching and things like that."
Upon returning to Swift Current for his third season as a Bronco, McGinley has one goal in mind.
"I want to make the playoffs," he stated. "I want to be on a winning team. I want the team to have success and coming out of that bubble experience, I can happily say that we're going to have a team that can do that. It's going to be a wild ride and we're all going to have to buy in, but I just want to make the playoffs. Especially with this group of guys and Swift Current."
• Discuss this story on the Western Hockey League message board...


Western Hockey League Stories from July 27, 2021
The opinions expressed in this release are those of the organization issuing it, and do not necessarily reflect the thoughts or opinions of OurSports Central or its staff.
Other Recent Swift Current Broncos Stories