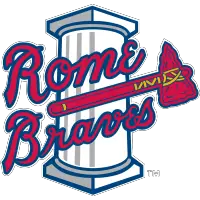 Rome Earns Doubleheader Split on 1-0 Walk-Off Win
August 11, 2019 - South Atlantic League (SAL) - Rome Braves News Release



ROME, GA - Rome ended a long day of baseball with a satisfying 1-0 win in walk-off fashion, concluding their doubleheader against Augusta with a split. With Ricardo Rodriguez at second base and nobody out in the Bottom of the 8th inning, Braulio Vasquez put down a sacrifice bunt. Augusta's Frankie Tostado attempted to nab the lead runner at third base but the throw missed wide, allowing Rodriguez to race home and score the winning run. The 1-0 victory gives Rome two shutouts over Augusta and a chance to win the series on Sunday.
After enduring a rain delay and extra innings the Braves eventually played 15 innings across two games Saturday at State Mutual Stadium. Game 1 started 46 minutes behind schedule due to the threat of rain and then Rome opened the scoring with a run in the 1st inning when Justin Dean scored on a Braden Shewmake ground ball. Leading 1-0 the Braves then surrendered 10 unanswered runs across the 3rd, 4th and 5th innings.
Augusta appeared to have the game under control with a 10-1 advantage but Rome refused to go quietly. The Braves scored four runs on just one hit in the 5th, a rally highlighted by a Greg Cullen RBI single. Rome added two additional runs in the 6th on a Dean RBI single and a balk. The tying run came to the plate in the 6th but the Braves never got closer than three runs, dropping Game 1 by the final score of 10-7.
Game 2 was dominated by pitching as Rome starter RHP Ryan Shetter and Augusta starter LHP Seth Corry each provided stellar performances. Shetter completed 5 scoreless innings and allowed only two hits and one walk while striking out two. It was Shetter's longest outing of the season. Rome relievers RHP's Kasey Kalich and Luis Mora took it the rest of the way and gave the offense a chance to pull out the win. The bunt by Vasquez brought home Rodriguez and the Braves erupted in celebration on the field, winning 1-0 and drawing to within 3 games in the Southern Division race.
Cullen was 4-6 with a walk and an RBI in the doubleheader. Dean went 1-5 with a walk, an RBI, three runs scored and a stolen base. He was also hit by a pitch.
Rome and Augusta conclude their four game series on Sunday afternoon at State Mutual Stadium. Game 4 is scheduled for 2 pm. Rome will start LHP Dilmer Mejia (6-2, 2.52) while Augusta is expected to start RHP Keith Weisenberg (1-2, 4.19).
Game 1
Rome Braves (23-24, 53-63): 7 R 6 H 1 E
Augusta GreenJackets (27-20, 63-52): 10 R 8 H 3 E
W: Preston White (3-3)
L: Ricky DeVito (0-1)
Time: 3:01 (:46 delay)
Game 2
Rome Braves (24-24, 54-63) 1 R 2 H 0 E
Augusta GreenJackets (27-21, 63-53) 0 R 2 H 1 E
W: Luis Mora (2-0)
L: Ryan Walker (2-2)
Time: 2:20
Attendance: 2,398
• Discuss this story on the South Atlantic League message board...


South Atlantic League Stories from August 11, 2019
The opinions expressed in this release are those of the organization issuing it, and do not necessarily reflect the thoughts or opinions of OurSports Central or its staff.