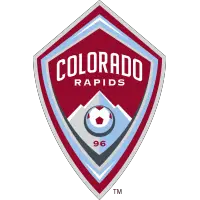 Rapids Defeat FC Dallas 1-0 in Drew Moor's Final Home Game
October 1, 2022 - Major League Soccer (MLS) - Colorado Rapids News Release



The Big Picture
The Colorado Rapids (11-13-9, 42 pts) closed out their final home game of the season with a 1-0 win over FC Dallas (13-9-11, 50 pts) on Saturday afternoon. Diego Rubio scored the game-winner, and in doing so, broke the club's all-time record for most goal contributions in a season (22), as well as setting a new record for most game-winning goals all time in club history (13). The Rapids will conclude the 2022 season with a road match at Austin FC on October 9.
F Diego Rubio sored his team-leading 15th goal of the season to secure the win for the Rapids.
It marked his 13th game-winning goal in Burgundy all-time, setting a new club record for the most game-winning goals all-time in Rapids history, surpassing club great Paul Bravo.
The goal also marked his 22nd goal contribution of the year (15 goals, 7 assists), surpassing Mark Chung (21 in 2002) and John Spencer (21 in 2001) for the most goal contributions in a single season in club history.
With the goal, Rubio becomes the first Rapids player to contribute to a goal in nine straight home matches since Chris Carrieri in 2002, as well as becoming the first Rapids player to score in six straight home MLS matches since Mark Chung in 2003.
GK William Yarbrough recorded his 26th clean sheet for the Rapids, tying him with Clint Irwin for second-most in club history.
F Michael Barrios recorded his 200th MLS start today.
With today's result, FC Dallas has not recorded a win in Colorado since October 18, 2014 (1-5-4 in that time), with the Rapids winning their last five encounters at DSGP and equaling their longest home winning streak in the series (2002-03, including playoffs).
COLORADO RAPIDS HEAD COACH ROBIN FRASER
On the match:
"Really proud. I thought we played really well. I thought we played really well from start to finish. I thought when we were 11 versus 11, the guys' concentration to be in the right spots with the ball, without the ball, was really, really good. We made it tough for them. Obviously, in the end we scored a really, really good goal. Then we go down to 10 and then it wasn't about tactics, it was just fighting and they just fought. And what a great way for Drew [Moor] to go out. We're up a goal, down a man, need to hang on for 15 minutes, 12 minutes, and Drew comes in and Drew does what he does: wins a bunch of headers and we end up coming out of it. So, I'm so happy for him to go out this way at home and really just proud of the team."
On the team's overall performance:
"I thought it was massive. We've definitely shot ourselves in the foot kind of throughout the season where, I've said this so many times, within games, we have been the better team at some point for most of the games. In those moments, we at times didn't capitalize or made a mistake defensively and then all of a sudden, this good work just goes completely unnoticed. And I thought tonight the level of engagement to keep it going and the one thing I talked about halftime is concentration because we had done pretty well in the first half. We controlled the half quite well, but I've seen us do that and come out in the second half and it seems like we relax just a little bit. We really preach concentration and to continue to do the things that we're doing. A couple of minor adjustments, but concentration was the biggest thing because I've seen us play well in the first half and not quite as well in the second half. I thought over 90 minutes it was a really, really solid game. You just said one of the biggest things, which is the giveaways that have gotten us in trouble, we didn't really see that today. Guys were so efficient with the ball and that's why between the work rate and the fact that you're not in the playoffs and there's all the reasons why they could not have concentration, I thought today was excellent."
COLORADO RAPIDS DEFENDER DREW MOOR
On the match:
"Yeah, a good win obviously against a good team. Scrappy in the first half. I thought were pretty good the first bit of the first half and then kind of let our foot off the gas a little bit and let them back in it, but showed a lot of grit and character in the second half. Another good goal from Diego [Rubio] who deservedly got his 15th. And then behind the eight ball a little bit with a red card and I guess it presented an opportunity for me to come out in a situation I wasn't expecting to, but I've been in that situation before and so to be able to close the door was a pretty, pretty special way to finish off my career here at least."
On what he is most proud of in his career:
"You know, playing for 18 years, it's a long time certainly. I think just probably what I'm proudest of is just showing up every day with a smile on my face, at least I've tried to put a smile on my face every single day, and just go into work. It's a grind sometimes. The season's long. These days we start in early January and we go until late November, sometimes even into early December, which is almost a full year. We don't get a lot of time off and to be able to come in every day and just try to put my best foot forward and be a good example and be a good leader and push myself as hard as I can for 18 years is something that I can honestly say I feel like I've done and that's probably what I'm most proud of. Just being here, being present and giving it everything I have no matter what team I've played for, no matter who's around me, no matter who my coach is, no matter who's in the stands. Just gave it everything I have every single day."
• Discuss this story on the Major League Soccer message board...


Major League Soccer Stories from October 1, 2022
The opinions expressed in this release are those of the organization issuing it, and do not necessarily reflect the thoughts or opinions of OurSports Central or its staff.