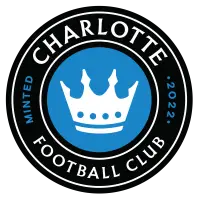 Christian Lattanzio Believes Charlotte FC Is Earning Respect
October 1, 2022 - Major League Soccer (MLS) - Charlotte FC News Release



CHARLOTTE - Charlotte FC did what many didn't believe they could - upset the Eastern Conference leaders and Supporter's Shield favorites, Philadelphia Union. Interim head coach Christian Lattanzio was naturally impressed with his team and particularly with their intensity, which in his opinion made all the difference in getting the win.
"I'm very impressed but one thing we want to do as a team is to play with high intensity. This is what me and the coaching staff demand on a daily basis. When you play with high intensity, the intensity of a game in every training session, then obviously that spills onto the pitch."
"To put intensity against a team that is renowned for intensity like that and we put more than them? I think it's a testament to how well the boys are working on a daily basis."
Aside from the team's intensity, what impressed Lattanzio the most from his team on the night was executing the game plan to put continuous pressure on Philadelphia's back line. Tactically, the Italian set up his team to disrupt the "source" of the opposing attackers which were the Union's center backs Jack Elliot and Jakob Glesnes and left back Kai Wagner.
Charlotte FC were rewarded with a clean sheet for executing the game plan, as well as four goals all scored by striker Daniel Ríos who had himself a night to remember.
"I'm not surprised, I think Danny can score many goals, I think he is a goalscorer. Not just that, he can hold the defense, he can do the job on the long balls, he can fight. Even if he doesn't win all the balls he can fight for them.
"He did it really well against Red Bulls in the past. We knew he could do the job. I also see him in training every day, so I know he is a goal scorer. I think because we want to replicate in training what we are going to do in games, I'm not surprised that Danny can score four goals. If the team creates, Danny is going to be there to finish."
There were 43,860 Charlotte fans in attendance cheering their home team, creating yet another memorable gameday atmosphere on Fan Appreciation Night.
"The more supporters for us the better because the players love to play in front of this crowd. They were so upset and disappointed when we couldn't get them a result when we went on this little run that we lost games at home. So, the more the better for us."
When asked if Lattanzio believes Charlotte FC aren't respected enough by other teams and media, he said that it's earned and the team's recent results have certainly helped in that regard.
"Respect, you earn it in life and football is no exception. Obviously, we are a rookie team, we are the new kids on the block... I'm not too worried about respect, because I understand that we must earn respect starting with me. So, people can talk but we just have to put our head down and work and it's the same for the players but I think that they are responding on the pitch in a way that they are earning respect."
• Discuss this story on the Major League Soccer message board...


Major League Soccer Stories from October 1, 2022
The opinions expressed in this release are those of the organization issuing it, and do not necessarily reflect the thoughts or opinions of OurSports Central or its staff.