Quakes remain above playoff line in eighth
October 25, 2020 - Major League Soccer (MLS) - San Jose Earthquakes News Release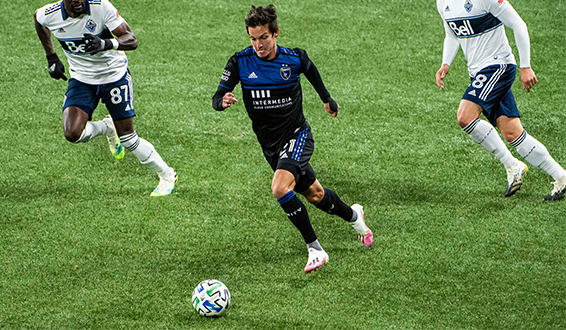 The San Jose Earthquakes' lone goal-scorer of the match, Carlos Fierro, dribbles near a pair of Whitecaps FC defenders
(San Jose Earthquakes)
PORTLAND, Ore. - The San Jose Earthquakes fell to Vancouver Whitecaps FC 2-1 on Saturday night at Providence Park.
San Jose took the lead in the 24th minute through Carlos Fierro. Cristian Espinoza, earning his team-high eighth assist of the season, whipped in a cross from the right flank and Fierro volleyed the ball past goalkeeper Evan Bush.
Vancouver would score two goals in the first 12 minutes of the second half to take the lead and ultimately all three points.
The Earthquakes will now return to San Jose to host Real Salt Lake on Wednesday, Oct. 28, presented by Sierra Nevada. Kickoff from Earthquakes Stadium is set for 7:30 p.m. PT and the match will be broadcast live on NBC Sports California, KNBR 1050 and 1370 KZSF.
CLICK HERE TO DOWNLOAD PHOTOS OF THE MATCH
CLICK HERE TO DOWNLOAD POSTGAME SOUNDBITES
GAME NOTES
San Jose now holds a 6-8-6 record in the 2020 regular season and sit above the playoff line in eighth place, just one point out of fifth place.
The Earthquakes now hold a 4-2-1 record in their last seven matches.
The Quakes are now 4-1-0 in their last five matches vs. Vancouver, winning this year's regular season series against the Canadian side 2-1-0.
Prior to Vancouver's first goal, San Jose had extended their shutout streak to 234 minutes (over 2.5 matches), plus stoppage time.
Midfielder Carlos Fierro scored his second goal of the season and second of his MLS career. He has now tallied one goal and two assists in his last five matches as a starter.
Midfielder Cristian Espinoza, making his 50th appearance for the Quakes, assisted Carlos Fierro's goal. It marked his eighth assist of the season and 21st of his MLS career. His 21 assists are third most in club history through a player's first 50 appearances (Wynalda - 29; Cerritos - 22). His 21 assists are also tied for the third most in MLS since the start of the 2019 season.
MLS Regular Season
San Jose Earthquakes 1 - 2 Vancouver Whitecaps FC
Oct. 24, 2020 - Providence Park in Portland, Ore.
Scoring Summary: SJ - Carlos Fierro (Cristian Espinoza) 24; VAN - Ali Adnan (unassisted) 51; VAN -Tosaint Ricketts (unassisted) 57.
Misconduct Summary: SJ - Marcos Lopez (caution) 82; VAN - Russell Teibert (caution) 90+1; VAN - Leonard Owusu (caution) 90+3.
SAN JOSE EARTHQUAKES: JT Marcinkowski; Nick Lima (Marcos Lopez 72), Oswaldo Alanis, Florian Jungwirth (Siad Haji 80), Tommy Thompson (Shea Salinas 71); Carlos Fierro, Judson, Jackson Yueill, Cristian Espinoza (Cade Cowell 80); Andy Rios, Chris Wondolowski.
Substitutes not used: Tanner Beason, Eric Calvillo, Luis Felipe, Paul Marie, Daniel Vega.
SHOTS: 10, SHOTS ON GOAL: 2; SAVES: 2; FOULS: 7; CORNER KICKS: 6, OFFSIDES: 0.
VANCOUVER WHITECAPS FC: Evan Bush; Ranko Veselinovic, Erik Godoy, Jake Nerwinski, Ali Adnan (Cristian Gutierrez 90+4); Leonard Owusu, Janio Bikel; Lucas Cavallini (Andy Rose 90+4), Cristian Dajome, Fredy Montero (Theo Bair 89), Tosaint Ricketts (Russell Teibert 69).
Substitutes not used: Michael Baldisimo, Derek Cornelius, Patrick Metcalfe, Bryan Meredith, Ryan Raposo.
SHOTS: 9; SHOTS ON GOAL: 4; SAVES: 1; FOULS: 17; CORNER KICKS: 6, OFFSIDES: 0.
SAN JOSE EARTHQUAKES HEAD COACH MATIAS ALMEYDA
On tonight's performance:
"I think we had a great first half in which we had the lead. We were interpreting how to play the game. But then we went back to making the same mistakes that were made previously. In five minutes, there was a lack of concentration that the opponent took advantage of. Once the opponent took the lead, I think the momentum in the match shifted. We were not able to find that final pass to create those chances that would give us the tie or win."
On the team's mentality and how to move forward:
"I don't think we lost due to the lack of concentration. It was a lack of doing what we were doing well in the first half. It wasn't that we played bad for 45 minutes, rather seven to eight minutes. There was virtue for the rival and there was little relentlessness on our part to put away the game when we were up 1-0. Our way of being from beginning to end is going to be the same, the same way we recovered when we were losing and when we were winning. We are trying to finish this season the best way we can and there are three matches left. We can soon be on vacation, or we can keep fighting for more. As long as we have our chance, we will fight until the last minute."
SAN JOSE EARTHQUAKES FORWARD CHRIS WONDOLOWSKI
On what Vancouver changed in the second half:
"I think it was a combination of a couple things. I think, one, Vancouver came out and wanted to press us down the middle, and we played right into the teeth of it. Also, we just weren't able to connect passes. I think once we did connect a pass, we didn't move after and give us an option. When we do that, we become stagnant. We lose a lot of possession and a lot of passes that we shouldn't. That usually feeds into another team's counterattack. They punished us twice and rightfully so. Then we're playing catchup. I thought we combined well after that. We just couldn't hit that final pass."
On what lessons the team takes from this game:
"I think that we need to fix our mistakes. I think that we've been playing well, and that's kind of been our MO over the last six or seven games, but five or 10-minute lapses here or there. I think that's definitely hurt us. I think that once we let up a goal, we need to regroup, stay focused, and stay the course. I think once we get punched in the nose, we don't know what to do. I think it takes us a little bit of time to find our feet again and get going. We need to be, from the kickoff, ready to go get it. I think that's hurt us in the past. Even last year, it was kind of our bugaboo. We better learn from last year. We better have learned from these mistakes, this year. To be honest, I'm not too excited we're making a lot of the same ones, so we've got to be better."
On how the team avoids making the same mistakes as last year:
"It's a great question. That's the million-dollar question: what we need to do. That's on myself. The captain better make sure guys are ready, guys are ready for the moment, ready to step up, and ready to take that moment on. I think that we've been playing well. I'm not sure if we get a little tight or a little nervous. I can't put my finger on it, but I hope we figure it out soon."
Images from this story
• Discuss this story on the Major League Soccer message board...


Major League Soccer Stories from October 25, 2020
The opinions expressed in this release are those of the organization issuing it, and do not necessarily reflect the thoughts or opinions of OurSports Central or its staff.