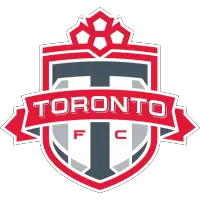 Philadelphia Union (3) - Toronto FC (0) Post Game Summary
August 4, 2021 - Major League Soccer (MLS) - Toronto FC News Release



SCORING SUMMARY
PHI - Jakob Glesnes 12' (Dániel Gazdag)
PHI - Dániel Gazdag 33' (PK)
PHI - Sérgio Santos 36' (José Martínez)
MISCONDUCT SUMMARY
PHI - Jakob Glesnes 26' (caution)
PHI - Kai Wagner 47' (caution)
PHI - Olivier Mbaizo 90' (caution)
RECORDS (W-L-D)
Toronto FC 3-9-5 14 points
Philadelphia Union 7-4-7 28 points
LINEUPS
TORONTO FC - Alex Bono; Richie Laryea (Ifunanyachi Achara 60'), Eriq Zavaleta, Omar González, Chris Mavinga (Nick DeLeon 46'), Kemar Lawrence; Michael Bradley (C), Mark Delgado, Jonathan Osorio (Patrick Mullins 71'); Yeferson Soteldo, Jozy Altidore (Jordan Perruzza 71')
Substitutes Not Used: Quentin Westberg, Luke Singh, Noble Okello, Jahkeele Marshall-Rutty, Ralph Priso
PHILADELPHIA UNION - Andre Blake; Olivier Mbaizo, Jakob Glesnes, Jack Elliott, Kai Wagner; José Martínez, Alejandro Bedoya (C), Leon Flach (Jack McGlynn 85'); Dániel Gazdag (Quinn Sullivan 74'), Sérgio Santos (Cory Burke 66'), Kacper Przybylko (Paxten Aaronson 74')
Substitutes Not Used: Matt Freese, Matthew Real, Stuart Findlay, Cole Turner, Ilsinho
MEDIA NOTES
Patrick Mullins made his 50th appearance for Toronto FC.
JAVIER PÉREZ - INTERIM HEAD COACH, TORONTO FC
Q. That was a pretty disappointing performance. The club seemed to revert to some of its bad habits early in the season and frankly it looked like Philadelphia wanted it more at some points in the evening. What went wrong?
Yeah, I think we came, and this is a big red flag that we were expecting at some point, right. You make some steps forward and at one point, you make one step backward and it was tonight, we came flat in the first half. The team was sending some signs that it was going to be the case, but it was one of these games that you just have to go through and the only positive thing I think is it was an exercise to stay in the game.
In another moment of the season, probably this would be a much larger score line, right. We have that chance we get a penalty in the second half in the beginning, and I think that would probably help us a little bit to get back in the game. But we didn't convert that one, and at least the second half, we didn't -- we didn't concede any more goals.
I think I don't want to read more than this is just a step backwards from all the step forwards we did in the last weeks. We just have to gather our forces, I would probably use the term -- that's in the locker room, but we just have to gather our forces and think about our next opponent is going to come very fast, which is going to be Saturday in a few days.
Q. You sat Chris Mavinga after 45 minutes. Just curious as to what your evaluation was of his performance this evening.
Yeah, I think Chris, like everybody else, right, the team, was flat. I don't think you have to read more into that. The team didn't come with the right mentality. We are all responsible for that. It's not a matter of two points, one player or one single player or a couple of players.
I think we have -- like we said in the locker room, we are together on this. When we succeed, we succeed together. When we fail, we fail together. And tonight, wasn't a good night for Chris or any of the players on field or even for us.
Q. What goes into the notebook on a night like today? What do you see to address with the guys going forward?
On a night like tonight, there is no notebook. There is just I think -- it's as I said before in the previous three questions. We came flat. It doesn't matter which formation or how you plan the game. We need to get into the right mentality, right energy to play and compete, especially against a team like Philadelphia that we know they are all energy.
Q. It was nice seeing Achara make his first appearance performance the team in over a year. What did you make of that and how was his performance on the pitch tonight?
Yeah, I'm glad you asked this question because when you find yourself 3-0 at halftime, obviously you try to get back in the game. You try to start the second half stronger to see if you can get an early goal. That's what we tried to do. If the early goal doesn't come, you have to start to take whatever positives you can take out of a game like tonight.
So we at least -- in the second half and the other part was to see half was to see Achara back in the team. I think he had a decent performance in the circumstances, taking into account that he has been for so long out of the field. So yeah, we are happy to see that he was able to play, to get some minutes in his bag, and that is a big contribution for him and his reintegration to the group.
Q. Is there any update on Richie Laryea and do you expect to have Pozuelo back for the weekend?
Yes, I think Richie and Chris, we have to look at them once we go back tomorrow, back home. So I cannot pronounce right now what is the situation with any of the two. Alejandro, we will have to see. I don't know today how he will go. He is training, and my focus was on the game today. And tomorrow I see Alejandro, in which condition he is to get back on to the team.
Q. You mentioned there were signs that something like this was a possibility heading into. What were some of those signs that you saw and is this just something that sort of happens every once in a while, when you get a schedule like this and taking in so many lessons?
It's experience. It's the sense; you sense these things. Because when you come from six straight losses, whoever thinks that we are going to make four straight wins or six straight wins doesn't know anything about football, about soccer.
So we know that it's never a straight line going up. It's always some ups and some downs. I think by now we have a few signs to go up, and a sign down. It was due. Now what is important is just like I said, we gather our forces. We have a very strong opponent to play on Saturday, NYC FC. We are going to play them at home, and the important part will be that we are ready for that game and show that at home with our fans from the very first minute.
Q. On a similar note, one note change I noticed you made at halftime was reverting to something like a 4-2-3-1 formation. Can you tell us why you decided to go with the 5-3-2 today and make the change at halftime?
Yes, I think as I said before, we came flat. We were not doing what we were supposed to do at the beginning of the game. This is not blaming anyone. This is my fault as much as everybody else's right, but probably more my fault.
But the reality that things were not clicking, we have to take a step back just to regain the control of the game, or at least to match up the game and that was a step, meaning that we were more able to be positioned more solidly, organize, not concede so many mistakes in midfield.
Because the problem, the problem we have in the beginning of the game, it was just too easy for them to play through the middle. We try to get that organized and solved at the beginning of game, but we didn't -- we didn't do a great job as you can see.
MICHAEL BRADLEY - MIDFIELDER, TORONTO FC
Q. After some pretty encouraging performances the last few weeks, this seemed like a step back. What was your assessment of the evening?
Bad start. Not ready for their intensity and their energy. And then you get behind in the game early and you're chasing. Obviously in that there's some key moments that don't go our way.
You know, 1-0, Richie Laryea has a big chance, if we can get back to 1-1 and obviously the game is very different. Obviously impossible to ever know for sure with angles and cameras and replays, but it sure looks like that third goal's off-side and then obviously at 3-0, we have a penalty that gets saved. So we let ourselves down with a bad start.
And along the way we have a few -- there's some moments where you can start to get back into it and change the game a little bit, but you know, for different reasons. You know, one or two things don't go our way, we didn't make a play, and so it's how the night goes.
Q. I think Javier mentioned that at times there was a lack of urgency in the first half. Is that a fair assessment in did you see that the same way?
My assessment is what I just said, which is you play against a team that relies on energy, mobility, intensity and trying to be dynamic, and you know, they are a team that -- it's a transition football team. It's a team that wants to make the game fast; that wants to make the game chaotic in certain moments, and I don't use the word chaotic in a negative way.
It's just there's teams all around the world that tilt the bar towards playing more vertical and playing, you know, more in transition and trying to press and counter press and that -- they are one of those teams and if the game starts and for different reasons, we're not really ready for that, then a bar tilts -- tilts their way, and as I said, along the -- along the way, there's some moments that we have to get ourselves back into it in different ways and you know, we weren't quite able to do it.
Q. A match like that, is that a cause for concern or just every so often you're going to get a game like that when the games come as thick and fast as they do?
With all -- with all due respect, like with our position right now, and the way the season has gone, we can't afford to have many more nights like this. So is it a cause for concern? It's another night similar to too many that we've had this year. And if we want to try to claw ourselves back into it, we can't afford -- we can't afford many more, if any.
And so, you know, with the position that we're in right now, you know, everything -- every game matter, every point matters. You know, and so it's a frustrating night. If you're trying to find a positive, it's that you play again in two days, in three days, and we get another chance to play at home. And, you know, look, the second half was still -- we didn't let things -- we didn't let things get away from us. We tried to push to get the first goal. Couldn't quite do it, but yeah, again, we've got -- we can't afford many more like this.
Q. Perhaps one positive was the return of Achara. I guess you've seen the hard work he's put in since going down in June. Just your thoughts about seeing the young man back in action.
Yeah, that is -- that's more than positive. He has worked so hard behind the scenes to get himself back in a position where he was able to be ready to step on the field tonight. He's a great kid, a great young man. You know, the way that he injured himself last year, broke everyone's heart.
And so to see him work his way back to see him get back on the field tonight, that part -- that part was -- that part was amazing, and we're all happy for him, we're all proud of him, and we, you know, want to continue to push him along because he's a talented, talented young player.
• Discuss this story on the Major League Soccer message board...


Major League Soccer Stories from August 4, 2021
The opinions expressed in this release are those of the organization issuing it, and do not necessarily reflect the thoughts or opinions of OurSports Central or its staff.