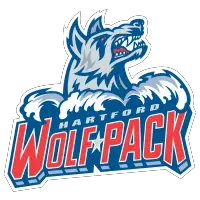 Phantoms Turn Tables On Pack, 6-4
February 18, 2017 - American Hockey League (AHL) - Hartford Wolf Pack News Release



Allentown, PA - The Hartford Wolf Pack outshot the Lehigh Valley Phantoms 44-27, and had a 24-5 shots advantage in the third period, Saturday night at the PPL Center, but fell to the Phantoms 6-4, in the second of back-to-back games between the two teams.
It was nearly a mirror image of the previous night's game, which saw the Wolf Pack outshot 44-18, including 25-5 in the third, but prevail by a score of 3-2.
Justin Fontaine had a goal and an assist for Hartford Saturday, and Steven Kampfer and Chris Brown had two assists apiece, but Danick Martel had the game-winning goal and an assist for Lehigh Valley, and Andy Miele and T.J. Brennan added a goal and an assist each.
"We came out hard in the third, and we just couldn't capitalize on some chances," Kampfer said. "And they capitalized on all of our mistakes. So it's something we've got to tighten up on, especially at this time of year. We've got to tighten up on those real quick."
The Wolf Pack got off to an excellent start in the first period, scoring on the game's first shot and getting eight of the first nine shots of the game.
Fontaine gave Hartford the game's first lead at 3:01, taking a feed from Kampfer and moving up the middle in the Lehigh Valley zone, before snapping a shot past Phantom goaltender Anthony Stolarz on the stick side.
The Wolf Pack got a bad break at 6:42, though, when Steven Fogarty's stick clipped Martel in the face and Fogarty received a double minor for high-sticking.
That would start the Phantoms away to registering the next ten shots of the period, and they clicked on the power play at 7:18. Wolf Pack goaltender Brandon Halverson had a pass attempt intercepted by Miele in the slot, and after Lehigh Valley missed on a couple of opportunities, Greg Carey slid a loose puck in from the left side of the slot.
Colin McDonald then gave the Phantoms their first lead of the two games between the two teams at 13:12. After the Wolf Pack's Matt Carey blocked a shot, the puck came to McDonald covering the right point, and his high shot got by Halverson on the stick side.
Brennan scored his 14th goal of the year just 2:03 into the second period, to increase the Phantoms' lead to 3-1. Martel moved into the Wolf Pack zone down the left side and dished across to Brennan, who fired a quick shot past Halverson as he tried to move to his left.
The Wolf Pack would get the next two, though, starting just 1:02 after Brennan's goal, when Robin Kovacs scored at 3:05 in a delayed-penalty situation. Malte Stromwall centered the puck from along the goal line on the right side and Kovacs poked it in.
Then, at 9:29, Marek Hrivik tied the score with his second goal in as many games. Brown played the puck to the front of the net from near the left-wing corner, and Hrivik banged it past Stolarz from the other side of the goal mouth.
Lehigh Valley broke right back at 14:15, however, with a breakaway goal by Radel Fazleev. He blocked a Matt Carey shot just inside the Phantom blue line and raced in alone on Halverson, making a move to the backhand and slipping the puck through the goaltender's legs.
Less than two minutes later, at 16:05, Martel made it 5-3 in favor of the Phantoms, after a Hrivik pass was broken up by Corban Knight near the Wolf Pack line. Martel cut towards the middle from the right side and let go a hard shot past Halverson's catching glove, using Hartford defenseman Tommy Hughes as a screen.
With 58.3 seconds left in the second, Halverson prevented further damage for the Wolf Pack when he stopped Chris Conner on a penalty shot, after Kampfer had hooked Conner on a breakaway with Lehigh Valley shorthanded.
Given that reprieve, the Wolf Pack completely dominated the first half of the third period, outshooting the Phantoms 17-0, and cut the margin back to one at 5:47. Stolarz stopped a slap shot by Bodie from high in the slot, but Fogarty banged the rebound in for his fifth goal of the season.
"It's resiliency," Kampfer said of the Wolf Pack's comebacks in the game. "It's knowing that we have the firepower, it's just believing in ourselves and doing the little things that help us get goals."
At 10:27, though, Bodie got into a tussle with Lehigh Valley's Nic Aube-Kubel and was hit with three minor penalties, with Aube-Kubel only getting a single minor. The Phantoms took advantage of the ensuing power play just 14 seconds later, at 10:41, with Miele making it a 6-4 game.
A shot by Brennan, Lehigh Valley's first of the period, from the top of the right circle hit Halverson high on the shoulder and dropped behind him, and Miele shoved it inside the post to the goaltender's right.
The Wolf Pack return home to the XL Center Sunday, hosting the Springfield Thunderbirds in a 5:00 game, and it's "Sonar Saves Pet Adoption Night". Fans can take a look at a number of Sonar's lovable little friends who are in need of good homes with loving families. That is also another "Click It or Ticket Family Value Pack" game. The Family Value Pack includes two tickets, two sodas and two hot dogs, all for just $40.
Tickets for all remaining Wolf Pack 2016-17 home games are on sale now at the Agera Energy Ticket Office at the XL Center, on-line at www.hartfordwolfpack.com and by phone at (877) 522-8499.
Season ticket information for the Wolf Pack's 2016-17 AHL season can be found on-line at www.hartfordwolfpack.com. To speak with a representative about all of the Wolf Pack's many attractive ticketing options, call (855) 762-6451.
Hartford Wolf Pack 4 at Lehigh Valley Phantoms 6 Saturday - PPL Center
Hartford 1 2 1 - 4 Lehigh Valley 2 3 1 - 6
1st Period-1, Hartford, Fontaine 8 (Kampfer, Brown), 3:01. 2, Lehigh Valley, Carey 23 (Conner, Miele), 7:18 (PP). 3, Lehigh Valley, McDonald 18 (Sanheim, Laughton), 13:12. Penalties-Fogarty Hfd (double minor - high-sticking), 6:42; Kovacs Hfd (tripping), 13:44; Carey Hfd (boarding), 16:50; O'Neill Lv (high-sticking), 18:54.
2nd Period-4, Lehigh Valley, Brennan 14 (Martel), 2:03. 5, Hartford, Kovacs 2 (Stromwall, Kampfer), 3:05. 6, Hartford, Hrivik 12 (Brown, Fontaine), 9:29. 7, Lehigh Valley, Fazleev 4 14:15. 8, Lehigh Valley, Martel 13 (Knight), 16:05. Penalties-Hagg Lv (tripping), 3:56; Bardreau Lv (high-sticking), 17:20.
3rd Period-9, Hartford, Fogarty 5 (Bodie, Chapie), 5:47. 10, Lehigh Valley, Miele 6 (Brennan, O'Neill), 10:41 (PP). Penalties-Fazleev Lv (hooking), 6:05; Bodie Hfd (hooking, slashing, roughing), 10:27; Aube-Kubel Lv (roughing), 10:27; Brown Hfd (fighting), 20:00; Carey Lv (fighting), 20:00.
Shots on Goal-Hartford 8-12-24-44. Lehigh Valley 11-11-5-27. Power Play Opportunities-Hartford 0 / 4; Lehigh Valley 2 / 6. Goalies-Hartford, Halverson 8-10-0 (27 shots-21 saves). Lehigh Valley, Stolarz 12-6-0 (44 shots-40 saves). A-8,683 Referees-Tom Chmielewski (43), Olivier Gouin (54). Linesmen-Bob Goodman (90), Tim Lyons (33).
• Discuss this story on the American Hockey League message board...


American Hockey League Stories from February 18, 2017
The opinions expressed in this release are those of the organization issuing it, and do not necessarily reflect the thoughts or opinions of OurSports Central or its staff.
Other Recent Hartford Wolf Pack Stories