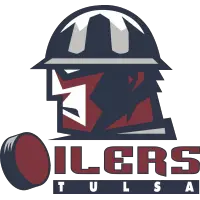 Oilers vs. Tarantulas
March 11, 2005 - Central Hockey League (CHL) - Tulsa Oilers News Release



* Good Week For The Oilers-The Oilers distanced themselves from their closest playoff competition this week without even playing a game. The Brahmas, Blazers and Scorpions were a combined 1-3 this week and now Fort Worth has only one game in hand while sitting five points behind Tulsa, as is Memphis who have been idle until tonight. New Mexico is the Oilers closest competition three points back, while Oklahoma City vaulted Fort Worth into third place in the Northeast Division, four points behind the Oilers.
* Clinched-The final playoff spot is the only thing left to be decided in the CHL's Northern Conference. Colorado has already locked up their divisional championship, as well as the league's best record Wichita will be second and also in the playoffs. Bossier-Shreveport is in the playoffs and have locked up the Northeast Division crown. Virtually nothing has been decided in the Southern Conference other than Rio Grande Valley has been mathematically eliminated.
* Joly Times Are Here Again-It's been twelve games since the Oilers' all-star defenseman has hit the ice, or any thing else. Mario Joly will come off his league- mandated suspension just in time to face off against a team he's done very well against this season. In nine games against Topeka, Joly is +6 with 8 points (1g, 7a).
* Eight-Legged Friends-The Oilers are 8-1 against the Topeka Tarantulas this season including a four game stretch of 3-2 wins. Todd Marcellus has feasted on the Kansan Arachnids with 18 points (11g, 7a). Mike Lukajic and Tab Lardner each have 7 points against the Oilers.
* Best Of The Best-The Tulsa Oilers raked in a little hardware this week in the Central Hockey League's "Best of the Best" poll. As voted on by players, coaches, media and front office personal the Oilers were recognized as having the best uniforms in the CHL. Other recognition came for Marcellus finishing second in the 'Smartest Player' category, Jason Bermingham second in 'Most Underrated' and Dan Gravelle second in 'Best In Face-Offs.' KC Lupp and Ken Kinder finished third as the league's 'Best PA Announcer.'
* Another Chance To Get Even-The Oilers will have yet another opportunity to pull to .500 at home this season. The Oilers are the only playoff contender with a losing home record (13-14-0. The Tarantulas and Rio Grande Valley are the only other teams to have losing home records.
* Oddities-Tonight is the second game in a row there has been two Dallases on the ice. Versus Austin, the Oilers Dallas Steward faced former Oiler Dallas Anderson. The Tarantulas will once again suit-up Dallas Flaman.
• Discuss this story on the Central Hockey League message board...


Central Hockey League Stories from March 11, 2005
The opinions expressed in this release are those of the organization issuing it, and do not necessarily reflect the thoughts or opinions of OurSports Central or its staff.