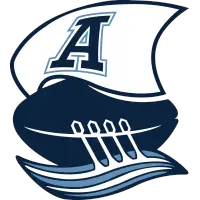 Nine Former Argos Named to CFL's All-Decade Teams
November 19, 2020 - Canadian Football League (CFL) - Toronto Argonauts News Release



TORONTO - The Canadian Football League announced today their All-Decade first and second teams with nine former Toronto Argonauts making the list. The All-Decade Team presented by LeoVegas was voted on by an All-Decade Team Committee, the Football Reporters of Canada and fans. Find which former Double Blue players made the teams below:
First Team:
WR S.J. Green
Green spent three seasons in Toronto (2017-2019) after being traded to the Double Blue from Montreal in April of 2017. In his time with the Argos the future Hall of Famer racked up three consecutive 1,000-yard seasons, three East All-Star nods, one CFL All-Star (2017) and became the 18th player in CFL history to top 10,000 career yards when he hit the milestone in 2019. The Florida native had the best season of his career in 2017 when he caught 104 passes for 1,462 yards and 10 touchdowns, helping the Argos win their 17th Grey Cup and Green's third. The 6'2, 217-pound receiver spent the first 10 years of his career with Montreal where he would go on to capture two more Grey Cup championships (2009-2010), five more East All-Star honours (2011-2015) and one CFL All-Star (2013). Green currently sits 15th all-time in receiving yards (10,222) and 12th in receptions (716) and has added 60 touchdowns in his illustrious career.
G Ryan Bomben
Stalwart guard Ryan Bomben joined the Argos in July 2018 after a trade with Montreal, dressing in 12 games with 11 starts and catching a touchdown pass (the third of his career) for the Argos that season. He would go on to be named a CFL East All-Star for the fourth consecutive season in 2018. The Burlington, Ontario native played 17 games for Toronto in 2019. Bomben came into the league in 2011 after being drafted by Montreal and would go on to play 18 games every season from 2011-2014 for the Als. A trade sent the 6'5, 295-pound lineman to Hamilton following the 2014 season where Bomben would play 48 games over three seasons, being named an East All-Star each year. Another trade sent the All-Star to Montreal before the 2018 season where he would play six games before joining the Argos.
K Justin Medlock
Medlock only played two seasons with the Argos (2009-2010) and just four games in the decade when he went 7-for-10 on field goals with a long of 52 in 2010. The California native played 125 games over the next seven seasons split with Hamilton (2011-2015) and Winnipeg (2016-2019), kicking 330 field goals in that time at an 86.8% clip with a long of 58. Medlock was named a CFL East All-Star in 2011 and 2015, a CFL All-Star in 2016 and was honoured as the Most Outstanding Special Teams Player that season after booting 60 field goals, a CFL record.
Second Team:
QB Ricky Ray
Ray joined the Argos via trade at the end of 2011 and played 79 games with the Argonauts between 2012-2018. His time with the Argos was nothing short of spectacular, racking up two CFL All-Star nods (2013, 2014), three East All-Star nominations (2013-2014, 2017), won two Grey Cups (2012, 2017) and led the league in passing yards (2014), pass completions (2014, 2017) and touchdown passes (2014). The native of Happy Camp, California retired as the Argos leader in touchdown passes (114), passing yards (20,205), pass attempts (2,476), pass completions (1,757) and pass completion percentage (71.0). Ray also holds Argos records for most pass completions in a season (474), in a game (40), and consecutive completions (21). He had previously played in 156 games with the Edmonton Eskimos between 2002-2011, capturing two more Grey Cups (2003, 2005). He retires as the all-time leader in all major passing categories for both teams, the only player to hold this distinction.
OL Chris Van Zeyl
A rock on the offensive line if there ever was one. Van Zeyl spent his first 10 years in the league representing Toronto (2009-2018), dressing in 156 games, getting two CFL All-Star nods (2013, 2017), five East All-Star awards and winning two Grey Cups (2012, 2017). The McMaster product would head down the QEW to Hamilton in 2019 where he would be honoured as the CFL's Most Outstanding Offensive Lineman and would be nominated as a CFL All-Star for the third time.
RET Chad Owens
The Flying Hawaiian was a fan favourite in Toronto for the first six years of the decade (2010-2015). As a member of the Argonauts, Owens was named the CFL's Most Outstanding Player in 2012 after setting a CFL record with over 3,800 all-purpose yards and added six touchdowns to boot. A four-time CFL All-Star (2010-2012, 2014), the Honolulu native also won two Grey Cups in his nine-year CFL career (2009, 2012), which included stop in Montreal, Hamilton and Saskatchewan. Owens led the CFL in kick return yards twice (2010-2011) and punt return yards three times (2010-2012), while taking 10 balls to the house including missed field goal returns.
WR Derel Walker
Walker played one season for the Boatmen (2019) but made it count, catching 65 passes for 1,040 yards and six touchdowns in 15 games en route to being named an East Division All-Star. The receiver was Toronto's choice for Most Outstanding Player in 2019. Before joining the Argos, Walker was a standout for the Edmonton Eskimos from 2015-2018, where he was honoured with three West All-Star nods (2015-2016, 2018), a 2015 Most Outstanding Rookie award after hauling in 89 receptions for 1,110 yards and six touchdowns and winning a Grey Cup the same season.
DB Patrick Watkins
Watkins spent his first two CFL seasons with Toronto (2012-2013), playing in 34 games while adding 109 tackles, two sacks, 10 interceptions, three forced fumbles and one touchdown. The Florida native would go on to be named a CFL All-Star in both seasons with Toronto while winning a Grey Cup on home soil (2012). Watkins signed with Edmonton in 2013 and played three more seasons in the league winning another Grey Cup (2015) and once again being named a CFL All-Star (2014).
DB Keon Raymond
The St. Louis, Missouri native only played one season in Double Blue (2016), dressing in eight games and tallying 34 tackles, one sack, two interceptions and one defensive touchdown. Raymond would gain notoriety in Calgary where he spent his first eight CFL seasons (2008-2015), racking up 267 defensive tackles, nine sacks, 23 interceptions and six touchdowns in 101 games played this decade. He went on to be a two-time West All-Star (2011-2012) and win two Grey Cups with the Stamps (2008, 2014).
• Discuss this story on the Canadian Football League message board...


Canadian Football League Stories from November 19, 2020
The opinions expressed in this release are those of the organization issuing it, and do not necessarily reflect the thoughts or opinions of OurSports Central or its staff.
Other Recent Toronto Argonauts Stories