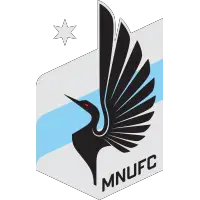 New Loons Show out in 2-0 Win over Austin in Front of Home Fans
June 24, 2021 - Major League Soccer (MLS) - Minnesota United FC News Release



SAINT PAUL, Minn. -- An ebullient and full-to-the-brim Allianz Field welcomed Minnesota United back for the team's annual Pride Game on Wednesday night. Facing Austin FC - who had walked away with a 1-0 win back in May - the Loons were aiming to turn the tables with new additions Adrien Hunou and Franco Fragapane and they did not disappoint. Fragapane bagged his second MLS goal in the 11th minute and Hunou followed with his first in the 17th and from there, the home team held off Austin to earn a 2-0 win and all three points.
Before the whistle even blew to start the game, the visitors had to make an adjustment as captain Alexander Ring was a late scratch following warm-ups. He was replaced by Sebastian Berhalter. In the game's opening minutes, Minnesota United established dominance in Austin FC's box with crisp passing and interplay between Emanuel Reynoso, Franco Fragapane and Adrien Hunou.
Nine minutes in, injury struck again for Austin as defender Nick Lima was forced from the field with a leg issue. Hector Jimenez came on for him, and just two minutes later the Loons opened the scoring. Right back Romain Metanire sliced into the box and received a pass from midfielder Hassani Dotson. Metanire sent it in to Franco Fragapane, who took just enough time to settle it before rifling it into the top netting from close range for a 1-0 lead in the 11th minute.
The visitors quickly regrouped and forced a tough save from Tyler Miller in the 14th minute, but throwing so much forward left them open to counterattack and in the next minute, forward Adrien Hunou led the break before dishing it off for fullback Chase Gasper, whose shot was deflected for a corner. MNUFC kept up the pressure and in the 17th minute it paid off. With Reynoso temporarily sidelined following a stern challenge that earned defender Jhohan Romana a yellow card, Fragapane lined up the corner kick from the left and delivered a cross that found the head of Hunou. The Frenchman drilled it past goalkeeper Brad Stuver for his first MLS goal and doubled the lead to 2-0.
With a two-goal cushion, MNUFC were not content to sit back, continuing to push and get defensive help from not only their backline but players like Dotson and Fragapane. In the 33rd minute, it looked for a moment like the Loons had added another goal after Hunou got free and buried one, but it was called back for offside. The interplay between Reynoso and Fragapane down the left wing pulled the defense out of shape all night, leaving acres of space for Metanire to attack down the right wing, and the Loons got in between the lines and moved the ball efficiently from side to side.
The first half ended with Minnesota United dominating possession to the tune of 59% of the ball. When the teams came back out for the second half, Austin had lost yet another starter as Cecilio Dominguez - who had looked occasionally dangerous in the first half - made way for midfielder Jared Stroud. In the opening minutes of the second half, Austin brought a renewed sense of purpose and played the hosts on a more even footing. The teams traded blows, with Fragapane hitting the crossbar on a good chance and the post saving a deflection off a Minnesota defender on the other end from becoming an own goal.
Head Coach Adrian Heath went to his bench in the 65th minute, bringing on Jacori Hayes for Hunou, which shifted the formation from a 4-2-3-1 to a more defensive 4-3-3. The move worked to slow down Austin's attack, and as it ticked over into the 70th minute, it began to look like the visitors were running short of both energy and ideas. Heath brought in subs to for several starters who had put a lot of miles on between the game Saturday and with another one coming in short order. MNUFC held off Austin for the 2-0 win, moving up to eighth in the Western Conference in the process.
BELL BANK MAN OF THE MATCH: Midfielder Franco Fragapane
GOAL BREAKDOWN
10' - MIN - Franco Fragapane | WATCH
18' - MIN - Adrien Hunou | WATCH
LINEUPS:
Minnesota United: GK Tyler Miller; D Chase Gasper, Bakaye Dibassy, Michael Boxall (c), Romain Metanire; M Wil Trapp, Hassani Dotson, Emanuel Reynoso, Niko Hansen, Franco Fragapane; F Adrien Hunou
Austin FC: GK Brad Stuver; D Jhohan Romana, Aedan Stanley, Julio Cascante, NIck Lima; M Manny Perez, Tomas Pochettino, Sebastian Berhalter, Diego Fagundez; F Cecilio Dominguez, Rodney Redes
UP NEXT
MINNESOTA UNITED FC @ Portland Timbers
Providence Park | Portland, Oregon
6.26.2021 | MLS Week No. 10 | MLS Game No. 10
10:00 p.m. CT (Bally Sports North, CW Twin Cities, MNUFC Radio on SKOR North)
MINNESOTA UNITED QUOTE SHEET
MINNESOTA UNITED HEAD COACH ADRIAN HEATH
On if this was the most complete game the team had played...
"A little bit. I thought it was most important as well. And I told the players that before the game. I wanted to keep this run going. And I know, playing these because of the way they play, they stretch you out, they're a good footballing team and you have to stay disciplined because that's what they work on. Getting you out of your shape. And they're good on the ball. They're a good possession team. And I thought, the first half, especially, we really picked our moments to press, turn the ball over and then I thought some of our play in the first half was outstanding. And, to be honest, maybe the best half we've had all season in terms of stuff we've been looking at. I think it's a sign of things to come. You saw [Franco] Fragapane with Rey [Emanuel Reynoso]. And, I thought Hassani [Dotson] was outstanding again. It's good for the two new guys to get a goal. You know, Adrien [Hunou] conceivably had four goals in the last two games. You know, final ball at times wasn't the best. But, you know, Tyler [Miller] has had, what, one big save first half I think? I can't really think of anything else that he, you know, he's had saves, but stuff that I think he should save. It's another clean sheet as well, which is important."
On what the atmosphere and energy felt like tonight inside Allianz Field ...
"I've always said we got we got a special atmosphere here and you saw it tonight. I thought the supporters were magnificent. And even in them moments when it's two nil, but we've just lost a bit of momentum, and the opposition are having plenty of possession, then they started to up the sing it and, and started to get the players going again. So, it's been a great night, but the one thing it shows you is how important supporters are for this game. It's a completely different game, different sport, when you've got 20,000 people in a building, supporting you, and, you know, just the atmosphere was fantastic. All evening. It really was. So, a big thank you to them. I know they've been waiting for it, and we've been waiting for it for them as well."
On if the start was what he means by playing on the front foot ...
"Yeah. Playing quick in their half. Making the opposition, you know, play on the back foot. I think our final ball a couple of times it may be a touch rushed, but the way that we got from one end of the field to the other with the possession play that we had, getting in between the lines, breaking pressure. I thought was outstanding. And, a really good, sort of, marker for things to come. I think when I look back at some of our play in the middle of the field last year, with Kevin [Molino] and people like that, it was very, very good to see signs that we maybe we can maybe eclipse that, with the players that we've got."
On the immediate impact that Adrien Hunou and Franco Fragapane have had on the team and how they have contributed so quickly ...
"Well we've followed them for a long time. They were both really attractive transfer deals. We thought they would do really well for us. What we've seen in training and what we've seen in games, you know, nothing changes our mind, in fact, makes us all more pleased that we've stayed the course with these two because a couple of times we thought, I'm not sure this is going to happen. I still think there's a lot more to come. They're still not 100 percent with their fitness, as you can see. As they get sharper, and they start to get a better understanding with the people they're playing with, starting to understand what people can and can't do. Yeah, they'll get better for sure."
On when Robin Lod, Jukka Raitala and Jan Gregus will be back from international duty ...
"I think it'll be too early for this weekend. Just for the travel. So, we're not going to rush them to come back. Robin [Lod] has got an appointment for his green card as well, in Finland, in Helsinki, so that will take him a day or two. We're hoping that him and Romain [Metanire] in the next few weeks will get the green cards sorted, which will be good. Opens up a couple slots for us. If we should want to do something in the next window. But, no, we won't rush them back for this weekend because I think that physically and emotionally, certainly for the Finland guys, I think it's been a really heavy couple of weeks with everything that they've gone through."
On MNUFC having 60 percent possession in the first half, and if not having Alex Ring in the middle for Austin opened things up for his side ...
"Well, he's a good player. And the way they play, he drops in to make it a back three, and then they push the fullbacks really high and, you know, we'd worked on that. So, they didn't really change, maybe they didn't have the same quality, but they didn't really change what they tried to do. I just thought that, from the first game we played them here, we had a far better shape and a far better understanding when and where to press. And I don't know many balls that we pinched in the first half and broke on them. So that was pleasing."
On Niko Hansen being very productive for the Loons ever since he got his opportunity ...
"He's very athletic. He's quick. It's one of the things we talk about. I think the Niko [Hansen], with his talent and his level of finishing in training, should be between eight and 12 goals a season. Because he does get in the box. And, as I say, he's strong as an ox and he's quick. So, we've been really pleased with his contribution. For sure."
On Emanuel Reynoso having a few issues in the first half - his neck, knee - but wanting to stay in the game and if it's the toughness he wants to see ...
"He wants to play all the time, you know, that's his nature. He had a bang on the head, then he said he was okay, then he said he wasn't. And with the language barrier, it's not the easiest thing. But, it's fine. He'll be available. He'll be tired and a bit sore because he's had five weeks of not really doing an awful lot. What did he play at the weekend, 15, 20 minutes? So, he's not done a lot for quite a while so he'll be better for the minutes he's had this evening and the conditions as well."
On how pleased he was that the game allowed for subs at the end of the game, especially to prepare for the heat this weekend in Portland ...
"I think you saw in San Jose or last night, this Saturday, Wednesday, Saturday, and the conditions, it's not easy. I think they've given the temperature of 108 [degrees] in Portland for the weekend. So, you know, it's not going to be any easier. So, it's nice to get them off, even with only 20 minutes to go. I think that we'll have a look at what we want to do at the weekend. We might have to freshen it up, certainly in the beginning."
MINNESOTA UNITED GOALKEEPER TYLER MILLER
On the atmosphere tonight....
"It was electric. To be able to step out there and see kind of what we've been through this past year and everything come full circle and to have everybody back in the arena. I think it's a special day just for our city and our team, and to be able to give them this result today. it really just culminates the entire experience and think that the boys tonight played fantastic and I think the crowd helped us every bit of the way."
On running to Wonderwall and hearing fans sing....
"That's great. Honestly, it doesn't compare I mean, everybody that came out for the last several games, was amazing and we obviously appreciate that but, to have a full capacity crowd, you can't beat it. So, like I said, to deliver that result tonight, it's a great feeling."
On is this the best game you've played this year....
"Yeah, I think that we've been figuring out, kind of, as the season has gone on, obviously, we get off to a difficult start. In the last five games now, I think we've done tremendously. As we've continued to improve, I think we've seen a complete performance now from the defense to the offense, to the midfield and how everybody can contribute, and how we can get back to being that team that everybody had those expectations for. Not that we're anywhere near where we should be or where we need to be but we're exactly where we have to be right now in this moment and I think that everybody is doing a tremendous job to continue to push, week in, week out to get results every game"
On the chemistry between Franco Fragapane and Adrien Hunou...
"I mean, you see the quality that they have. When you come from Argentina, when you come from France, and come from these dynamic leagues, you're going to bring a different element to the game and I think that that they are players that can really bring us a new perspective. We obviously have a dangerous flank and the service that we can put into the box but when you can combine that with the ability to play in tight spaces play quick combinations around the box that just adds another dangerous attack to us so it's only going to help improve us as we go forward."
On the impact of not having to play against Alex Ring...
"Obviously Alex [Ring] is a good player. He's a veteran player in this league and brings a lot of leadership to Austin. But for us, I think that we want to focus on ourselves. We knew that if we took care of our business that, ultimately, it wouldn't matter one player or not. So, he obviously is a good disruptive piece for them. He is a leader, but at the end of the day I think all of the focus really needed to be on our team and what we were bringing to the table, not really what Austin had or didn't have. So that's what we did, that's what we focused on, and honestly worked out tonight."
On the hot weather in Portland...
"Oh you know it's not bad. It will be good. We're used to it. So, you know, whatever they throw out there: turf, grass, at full capacity, we'll go there and deal with the elements and they're playing the same weather that we are so it really doesn't matter to me."
On Emanuel Reynoso playing through the pain...
"[Reynoso] is a warrior. He's probably the hardest guy on the field to bring off the field for the medical staff. He's a tremendous fighter and I think that he brings a lot of talent to our midfield and really helps be that that key guy for us that can break lines make a make a key pass and also contribute with a goal. I think that Rey is a great player and obviously everybody feeds off of him and his energy that he can bring to our team."
MINNESOTA UNITED MIDFIELDER FRANCO FRAGAPANE
On how he feels on scoring a goal and assisting in this game ...
[SPA]: "La verdad, me siento muy bien. Pude marcar y el equipo pudo ganar que era lo que queríamos hacer."
[ENG]: "Truth is, I feel very good. I was able to score and the team was able to win, which is what we wanted."
On how his chemistry has improved with Emanuel Reynoso and Adrien Hunou game after game...
[SPA]: "La verdad que jugar con esa clase de jugador y que tiene una técnica muy bueno y una visión muy buena, se hace más fácil para mí y para mis compañeros."
[ENG]: "Honestly, playing with that level of player and who has good skills and really good vision, it makes it easier for me and my teammates."
On if he felt the same love from the fans when he first arrived to Minnesota ...
[SPA]: "Cuando llega y firme me presentaron, me escribió mucha gente de Minnesota. Mucha gente, que la verdad, que me hizo sentir muy bien. Llegué y me sentí muy cómodo y creo que estoy haciendo una cosa bien y darle mucha gracias a toda la gente que te escribe."
[ENG]: "When I got here, signed and they announced me, a lot of people from Minnesota wrote to me. A lot of people who, honestly, made me feel good. I got here and I felt really comfortable and I think it's a thing that's been really good and I'm thankful to everyone who wrote me."
On comparing the atmosphere in Minnesota to Argentina ...
[SPA]: "Esta noche fue muy lindo. La verdad que ver a toda la gente, el estadio lleno. Yo en Argentina estaba jugando sin gente. La verdad que era muy triste jugar así y venir acá y jugar con toda la gente, que te apoya y te alienta es una cosa muy linda para el jugador."
[ENG]: "Tonight was beautiful. It was, honestly, to see all the people, the packed stadium. In Argentina, I was playing with no crowd. It was honestly very sad and when I got here, I played with a lot of people who supported and encouraged me and it's beautiful for the player."
On hearing the fans sing Wonderwall at the end of the game ...
[SPA]: "Si, algo muy lindo. Para mi, algo nuevo, porque la verdad que no venía acostumbrado. Pero fue algo muy lindo, ver a toda esa gente cantar y levantando la bandera cada uno."
[ENG]: "Something beautiful. For me, something new, because the truth is that I'm not accustomed to it. But it was beautiful to see the fans sing and lift their flags up, every single one."
On what it means to him to get on the scoresheet so quickly ...
[SPA]: "Si, yo vine para eso. Vine para tratar de ayudar al equipo, a meter goles y a ganar. La verdad que se me esta dando y bueno hay que seguir por el mismo camino."
[ENG]: "Yes, I came for that. I came to try to help the team score goals and win. The truth that it's going well and well we just have to continue on the same path."
On if the MLS is a difficult league ...
[SPA]: "La verdad que es muy dura. La MLS tiene bueno jugadores, buenos equipos. Pero bueno, nosotros somos un equipo duro también y estamos demostrando que queremos pelear. Arriba."
[ENG]: "The truth is that it is very hard. MLS has good players, it has good teams. And well, we are a tough team too and we are showing that we want to fight. Arriba."
On how he sees the Argentinian national team in the Copa America and if they can win ...
[SPA]: "Si, yo creo que sí. Teniendo a Messi, que es el mejor jugador del mundo, creo que pueden ganarlo. Tenemos una selección muy buena, muy buenos jugadores, pero bueno estamos haciendo las cosas bien y creo que si apoyamos todo a Messi, Argentina puede ganar."
[ENG]: "Yes I think so. Having Messi, who is the best player in the world, I think they can win it. We have a good national team, good players, and well we are doing things well and if we all support Messi, Argentina can win."
On who makes the best mate between him, Reynoso, or Ramón...
[SPA]: "Yo lo hago mejor. La verdad que yo lo llevo todos las días, al entrenamiento, a los partidos. Ellos parecen que vinieron sin mate."
[ENG]: "I make it better. The truth is that I bring it every day, to training, to the games. It seems they came without mate."
On how many goals he thinks he could've scored in the past two games ...
[SPA]: "No, yo no me pongo un número. Yo voy partido a partido. La verdad, bueno se me abrió el arco y hay que seguirle haciendo goles y aportando lo mejor para el equipo."
[ENG]: "No, I do not put a number. I'm going game by game . The truth is, the goal was open for me and we have to keep scoring goals and contributing the best for the team. "
On what he would tell a fellow countryman to come play here [at the MLS] ...
[SPA]: "Que venga. La verdad que es un país que se vive muy bien, en comparación de Argentina, es otro mundo. La liga es muy buena. Va creciendo año a año. La verdad que yo siempre quise jugar acá, siempre vea los partidos, a mis amigos que juegan acá, y bueno por suerte hoy se me dio y estoy acá muy feliz."
[ENG]: "To come. The truth is that it is a country that lives very well compared to Argentina, which is another world. The league is very good. It grows year by year. The truth is that I always wanted to play here, I always watched the games, there are friends who play here and well luckily today it was given to me and I am very happy here. "
MINNESOTA UNITED FORWARD ADRIEN HUNOU
On scoring his first goal in front of the fans at Allianz Field...
"I'm very happy to be here. This is my first goal with the fans and it was a good atmosphere. And most important, the victory. We continue with three points. We have to keep going, it was a good game. We have to kill the game like the last game. But it's good. I'm very happy to be here. Thank you for the fans, it was very good atmosphere and very nice."
On the Wonderwall tradition...
"When I arrived here, [my teammates] told me with a thing and when we win, we have to sing the song and it was a good experience to sing with the fans. We are together. It was very good and I like this tradition. I have to continue to be strong, and to repeat this game."
On if this is a tradition in France...
"No, it's different. I knew we have some in [Rennes] in Brittany, but it's at the start of the game. No singing after the game. I like it."
On being full fitness and form....
"I feel good. I feel better because I arrived one month ago. It was difficult because I waited my visa, and was not playing one month, so I just ran and bicycled. So it is difficult, but we have the break, so I feel better because for the break I trained and practiced with my teammates, so it's better to speak with them, to know how to play, but I feel better days after days, game after game, but I feel better."
On having several scoring chances within the first couple of games....
"Yes! It is a very good sign because I am very happy to score but the game before I had to kill when we were winning one-zero. But it's football. I know that I can bring for the team. So I am very happy and I hope that I continue to score like that."
On drinking Mate with the Argentines...
"I drink Mate? No, not yet but I ask Franco [Fragapane] when he goes to Argentina [to bring some back]. Thank you very much and I'm sorry for my English! I am going to learn."
• Discuss this story on the Major League Soccer message board...


Major League Soccer Stories from June 24, 2021
The opinions expressed in this release are those of the organization issuing it, and do not necessarily reflect the thoughts or opinions of OurSports Central or its staff.