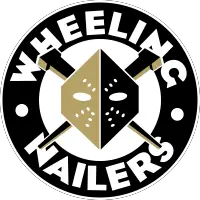 Nailers vs. Royals - Game Day Snap Shot
January 27, 2018 - ECHL (ECHL) - Wheeling Nailers News Release



Starting off with Six The Wheeling Nailers opened up their longest homestand of the season on Wednesday night, doing so with a bang, as they blasted the Kalamazoo Wings, 6-2. The offensive outburst began with a three-goal first period, opening with Cody Wydo's one-timer from the left circle. 3:13 later, Reid Gardiner scored his fifth goal in three games, finishing off a 2-on-1 rush with Nick Sorkin. Gardiner added another tally later in the stanza for a 3-2 score at intermission. With 2.2 seconds left in the middle frame, Sorkin gave the Nailers a big insurance marker, as they carried a two-goal advantage into the third. Jeremy Beirnes and Riley Bourbonnais capped off the scoring in the contest that Wheeling dominated in both score and shots (41-23). Adam Morrison backstopped his sixth straight victory between the pipes, making 21 saves on 23 shots.
Forced to Work Extra The Reading Royals had a great start to their game on Wednesday night, as they built a 3-0 lead over the Toledo Walleye at Santander Arena. Matt Wilkins netted the lone goal of the first period with 1:37 remaining, then added his second of the evening at the 11:19 mark of period two. Nick Luukko lit the lamp in between, as the Royals were off and running. Davis Vandane put the Walleye on the scoreboard in the middle stanza, but Toledo's real surge came in the last minute of regulation, when Austin Brassard and Mike Borkowski scored to force overtime with a 3-3 deadlock. Only three shots were recorded in the extra session, sending the game to a shootout. Reading's Michael Huntebrinker was the lone successful shooter for either side, as the Royals prevailed, 4-3. John Muse made 32 saves in the game, then three in the shootout to collect the win.
One Team Left to Beat One more opponent has been checked off of the list for the Nailers this season, as they played their first tilt of 2017-18 against the Kalamazoo Wings on Wednesday night, picking up a 6-2 triumph. Kalamazoo became the 12th different opponent that Wheeling has played against this season, and the Nailers have been victorious at least once against all 12, leaving one more pesky club to go. That team is the Orlando Solar Bears, who Wheeling will be looking to beat for the first time ever, when it invades Amway Center for a three-game set in February. Currently the team that the Nailers have beaten the most this year is Norfolk (4), but that mark can be tied on Friday, when Wheeling tries to even its season series against Reading. The Royals have defeated seven different opponents, and will not be able to beat everyone they play, as their season set with South Carolina has been completed. Reading has beaten Adirondack the most, going 7-4-0 in 11 matches.
A Tale of Two Tenders The two netminders for the Royals have experienced the most opposite of results as one could possibly imagine over the last month or so. After spending the majority of last season in the AHL, John Muse has been magnificent, as his 2.24 goals against average ranks third in the ECHL. Starting with a 31-save performance in a 4-3 win at Wheeling on December 1st, Muse is 10-1-0 in his last 11 games, with the lone setback coming on January 12th against Adirondack. On the other side of the coin, the Nailers also assisted in sending Mark Dekanich in the opposite direction. Starting on December 16th with a 4-2 Wheeling win, Dekanich has lost eight consecutive decisions, giving up at least three goals in seven of the eight. Either Muse or Dekanich has played in all but one period for Reading this season.
Shouldn't Take Long to Reacquaint Friday night marks the eighth of 11 head-to-head meetings between the Nailers and Royals this season, as well as the third of five battles at WesBanco Arena. Wheeling and Reading haven't played against each other for 40 days, but did get to clash six times during a 21-day span in November and December. Four of the first seven games in 2017-18 have been decided by one goal, while one game featured an empty netter to create a two-goal differential. The Nailers and Royals split the two games in the Friendly City, with Reading winning the opener 4-3, and Wheeling responding with a 5-4 overtime victory the following night. The top scorers on the active rosters are Matt Willows (4-3-7) for Reading and Cody Wydo (4-2-6) for Wheeling. The Nailers will travel to Pennsylvania once more on February 18th, before the Royals come to West Virginia to close out the series on March 9th and 10th.
Wheeling Nailers (24-16-3-0, 51 Pts.) vs. Reading Royals (23-18-2-0, 48 Pts.) WHEELING NAILERS (24-16-3-0, 51 PTS, 2nd North, 4th East) 158 GF, 135 GA PP: 22.0% (39-for-177), 1st PK: 81.0% (141-for-174), 21st
21-F-Cam Brown (12 goals, 27 assists, 39 points in 40 games) 24-F-Reid Gardiner (23 goals, 15 assists, 38 points in 38 games) 11-F-Cody Wydo (16 goals, 22 assists, 38 points in 32 games) 8-F-Nick Sorkin (5 goals, 29 assists, 34 points in 41 games) 14-F-Riley Bourbonnais (14 goals, 12 assists, 26 points in 40 games) 26-D-Kevin Schulze (4 goals, 17 assists, 21 points in 30 games) 29-G-Adam Morrison (8-7-0 record, 2.82 GAA, .911 Sv% in 15 games)
READING ROYALS (23-18-2-0, 48 PTS, 4th North, 6th East) 128 GF, 123 GA PP: 15.3% (23-for-150), 21st PK: 85.3% (116-for-136), 6th
90-F-Matt Willows (13 goals, 26 assists, 39 points in 43 games) 8-D-Nolan Zajac (9 goals, 15 assists, 24 points in 43 games) 17-F-Michael Huntebrinker (13 goals, 9 assists, 22 points in 36 games) 14-F-Adam Schmidt (6 goals, 13 assists, 19 points in 30 games) 16-F-Matt Wilkins (7 goals, 11 assists, 18 points in 25 games) 23-F-Jimmy DeVito (7 goals, 10 assists, 17 points in 26 games) 1-G-John Muse (15-4-1 record, 2.24 GAA, .933 Sv% in 20 games)
Head to Head Season Series: Royals 4, Nailers 3 Season Series at WesBanco Arena: Nailers 1, Royals 1 All-Time Series: Royals 93, Nailers 75 All-Time Series at WesBanco Arena: Nailers 41, Royals 41
• Discuss this story on the ECHL message board...


ECHL Stories from January 27, 2018
The opinions expressed in this release are those of the organization issuing it, and do not necessarily reflect the thoughts or opinions of OurSports Central or its staff.
Other Recent Wheeling Nailers Stories