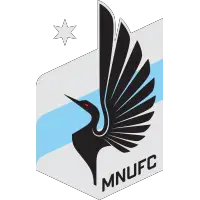 Minnesota vs Toronto FC Preview
June 2, 2023 - Major League Soccer (MLS) - Minnesota United FC News Release



GOLDEN VALLEY, Minn. -- Minnesota United is back in action on Saturday taking on an Eastern Conference opponent in Toronto FC. MNUFC played some of its best soccer of the season in a midweek match against Austin FC, only to be denied a share of the points by some outstanding goalkeeper play from Austin's Brad Stuver. The Loons would eventually fall 2-1, but there were plenty of positives to take, one of which was a season-high 22 shots. Minnesota will look to rebound back home at Allianz Field as they face a team in turmoil. Toronto earn a much-needed point in a midweek scoreless draw against Chicago, but the off the field drama has been the story over the past week. With both conferences so tightly packed in the middle of the table, a win or loss can lift or plummet a team any given Match Week. The Loons will hope to earn their second home win on the season and carry some momentum into the final weekend before the international break.
HEAD COACH ADRIAN HEATH QUOTES
On the positives taken away from Wednesday's loss...
"I think after the first 15 minutes, we were terrific; 21 efforts at goal, creating really good opportunities and had [Brad] Stuver not been their Man of the Match, which he was, conceivably, we would've won the game. So, disappointing with the score line, obviously, and not taking anything from it but the amount of effort that the players put in- but an outstanding performance on the road."
On Joseph Rosales in his recent performances...
"He'd came and seen me and said 'I deserve an opportunity' and he got it and he's taken it, which is what you expect. You can always ask for an opportunity but when that comes around, then you've got grasp it and that's what he's doing. He's giving us food for thought. We weren't sure whether he could play wide of a four, but his so versatile, he knows when to get in those little pockets, knows when to get in the box, and as he's proved in training, he's a really good finisher. The other night he could have, conceivably, had two or three [goals]. So more of the same from him, but we do like him. He's got a really good future. We like his natural instincts which is he's got a lot of fight in him whenever we play him on the field. He's had a few good weeks, Joe [Joseph Rosales]."
On a tactical adjustment or player comfortability in their roles creating a season high of 21 shots in the game on Wednesday...
"I think it's bit of both of that. We've tried to speak to the group about playing vertical rather than playing horizontally. At the end of the day, the one thing that [FC] Barcelona has done [is] they make everybody want to play exactly the same as them and sometimes one thing you forget about 'what is the game is about?' The game is about going that way [forward] and trying to score a goal. The fact that- you look at Bongi's [Bongokuhle Hlongwane] opportunities; he had two or three again the other night because he's getting in the right spots so more of the same."
On approaching Toronto FC as a team with lots of talent but a lack of results...
"You have to give them the respect that they deserve. They've got a big-time manager, they've got big-time players. Their last two games they won against D.C. [United], they should've beat Chicago [Fire FC]. They're coming in here with a bit of confidence. So, good players playing with confidence, it's never easy. We know that if [Federico] Bernadeschi gets time, [Lorenzo] Insigne gets time, invariably, they will hurt you and pick a pass and make something happen in the final third. We have to make sure we're aware of that."
On Richie Laryea and the strength Toronto FC has on the right side...
"I think Richie's [Laryea] got the most entries into the box in Major League Soccer so that doesn't surprise me. But him and [Federico] Bernadeschi down that side, they work very, very well, they play together. It's something we've spoken about. We have to be aware. We have to be in the right spots because that is a major threat from them down that side. If we can nullify that, we give ourselves a big chance."
On Mark-Anthony Kaye and the battle in the midfield...
"We know what we're getting. We aren't 100% sure what their shape will be of the team. They've played 3-4-3 [formation], they've played 4-3-3 [formation], so we'll have to see. We know that he's [Mark-Anthony Kaye] another quality player: give him time and space and eventually, they'll hurt you and pick a pass. We have to make sure we're mindful of when he's got him and space on the ball that we're really well-marked behind the ball."
On motivating the team for the match at Allianz Field on Saturday...
"If you look at most teams within the MLS, predominately, most of their points come at home and that's been the case for us over the years... this year it hasn't been. We've got one of the best away records in Major League Soccer. Now we need to get back to getting some wins at home. Had we gotten a couple of points, three or four points, we're in a far healthier position. We know that if we play well our supporters will be there, they never let us down, and I expected the same again tomorrow."
DEFENDER ZAREK VALENTIN QUOTES
On assessing the game at Austin FC...
"It's always difficult to lose and especially when you have three expected goals, two goals called back, two off the post. But ultimately, you have to have a short memory. There's a lot of games that we've played recently where it's been Saturday [and] Wednesday the majority of the month, if not, maybe, almost a month and a half now. So, we're trying to take all the positives we can, learn from some of those moments. We never want to give up a goal in which we would kind of call soft off a long throw-in. But we take those moments, we learn from what we can, and we try to put our good energy and our positive vibes into the game against Toronto [FC]."
On responding to a disappointing result in the upcoming match on Saturday...
"I think you can always learn from when you have bad results. You go back, you analyze the goals, what you could've done. With most goals, there are 10 different things that could've happened: players move one foot, maybe they stop something. In general, you try to take concepts and move forward to better those, and I think we did a lot of good stuff in Austin. We put out a good performance. I feel like we deserve more points in the night and they'd [Austin Fc] probably even say that themselves. It's a matter of learning those and carrying that momentum into home where our fans deserve three points, and we want to give them that win and hear 'Wonderwall.'"
On the sentiment of the locker room after the result at Austin, taking the positives despite a loss...
"It's one of these things where if we play that way for the majority of the games, we'll get a lot better results than negative ones. So, for us it's again, taking that in and understanding that we have to play against a good opponent. We have to be aware of them [Toronto FC], they have very good players, and they're very well coached. But, we have to also be cognizant of what we're doing and execute our game plan. And we're at home. We want to embrace that and use the fans to get us motivated, even more so than we already are and try to get a good win."
On his analysis of Toronto FC...
"They have a lot of seasoned MLS vets, guys that have played in very meaningful games, guys that have won championships. Matt Hedges has 500 games played in MLS, Richie Laryea's has been around the league, Sean's [Johnson] won a championship with New York [NYCFC] and obviously the DP's [Designated Players]- they're a very, very experienced team. Their results do not completely correlate exactly with the talent they have and how well their coached and how they go out there and perform. Everyone knows that. It's one of these things where you have to go out there and approach it very well because if you don't, then they're going to get wins. Obviously, there's been a lot written about them, and they're trying to put that behind them. Ultimately, we have to go out there and execute our game plan because they have to be aware of us as well. We've got some good players that can make the difference. It's exciting for us to go out there against a good opponent, get some good weather in front of some of the best fans in MLS."
On the key to stopping a high-power offense and key players of Toronto FC...
"Their front three is one of the best front three's in the entire league. They have a very good team on paper: it's a group that has a lot of MLS experience, a lot of international experience as well. It's one of these things of being very cognizant. If we're in transitional moments, that will be very big for us, and also trying to be as organized as possible. They have intelligent players, they make good runs that can play final passes that can score good goals. We have to cognitively been aware of where they're at, at all moments, even when we have the ball. And then ultimately, when we get our chances, we've got to put them away. We were inches away a few times this past Wednesday, so now hopefully the ball hits the post and goes in, and maybe some of these goals don't get called back because these margins turn three points into one or one point into three."
STORYLINES PRESENTED BY BMW
Storylines is back with all the windows rolled down and the volume cranked to 11 just blasting Loverboy's "Everybody's Working For The Weekend" as the Loons go all gas, no break, into Saturday's match up with Toronto FC. This comes on the heels of a battle down in Austin on Wednesday night that saw the boys put in maximum effort, but ultimately, run out of time. Sure, not exactly the result we wanted, but we were in the fight the whole time, and in some cases, a good scrap can really take it out of you. And with a Loons recent run of two games per week, it's safe to assume that the boys in Black and Blue may be feeling a little of that black and blue too.
Wednesday night may have shown just a little of that wear and tear taking a slight toll, as a couple of the boys ended up getting dinged up at Austin. More specifically, Kemar Lawrence, having to check out early due to a hamstring injury, and also Joseph Rosales taking a tough knock in the late stages of the game and then experiencing some discomfort that looked to be a groin issue. Obviously, with Lawrence being a key component of the defensive back line and Rosales scoring his first goal against Austin, these are key players that the Loons would be better with than without this weekend. But, at same time, the season is a marathon, not a sprint, and with quite a few of the starting 11 putting in an increased amount of minutes as of late, the Loons will no doubt be proceeding into Saturday's cross-conference matchup with Toronto with an air of caution. [READ MORE]
INJURY REPORT:
Minnesota United
OUT:
B. Dibassy - Thigh
R. Jiba - Knee
R. Lod - Knee
M. Marques - Shoulder
QUESTIONABLE:
K. Lawrence - Thigh
MINNESOTA UNITED vs. TORONTO FC
ALLIANZ FIELD | SAINT PAUL, Minn.,
6.2.23 | MLS Regular Season | MLS Matchday 17
7:30 P.M. (Apple TV MLS Season Pass; MNUFC Radio on 1500 ESPN)
2023 Record
MIN: 5-6-4 (1-1-4 at home), 7th in West
TOR: 3-5-8 (0-4-3 on the road), 13th in East
• Discuss this story on the Major League Soccer message board...


Major League Soccer Stories from June 2, 2023
The opinions expressed in this release are those of the organization issuing it, and do not necessarily reflect the thoughts or opinions of OurSports Central or its staff.