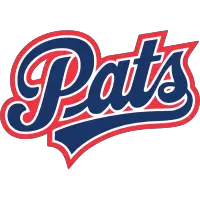 Michels Scores First Career WHL Goal, Pats Beat Broncos 5-2
January 22, 2023 - Western Hockey League (WHL) - Regina Pats News Release



Regina, Sask. - The Regina Pats extended their home winning-streak to four straight games following a 5-2 victory over the Swift Current Broncos in front of sold out crowd (6,499) on Saturday inside the Brandt Centre.
Connor Bedard scored twice, while the Pats got singles from Tanner Howe, Alexander Suzdalev and Matteo Michels who scored his first career WHL goal. Stanislav Svozil recorded three assists and Drew Sim made 23 saves for his 18th win of the season.
For Broncos, they got goals from Clarke Caswell and Connor Gabriel. Reid Dyck got the start in net, allowing five goals on 30 shots in the loss.
THE GOALS
First Period
REG 1-0 at 1:15 - Tanner Howe (23), assisted by Alexander Suzdalev and Stanislav Svozil // The Pats entered the Broncos zone with speed and after multiple passes, Howe got the puck in the slot and buried it past Dyck to give the Pats a 1-0 lead.
SC 1-1 at 6:06 - Clarke Caswell (7), assisted by Josh Filmon and Mathew Ward // A Broncos forward won the battle for the puck and sent it to Caswell at the top of the right circle, his wrist shot beat Sim blocker side to tie the game at 1-1.
REG 2-1 at 16:13 - Alexander Suzdalev (24), assisted by Stanislav Svozil and Borya Valis (5-on-3) // Valis' one-timer went wide of the net and Suzdalev got the puck and sent it to the point for Svozil who returned the puck to Suzdalev and he one-timed it past Dyck to give the Pats the 2-1 lead.
Second Period
REG 3-1 at 2:12 - Connor Bedard (38), assisted by Stanislav Svozil // Svozil chipped the puck up to Bedard, who got behind the Broncos' defence and he went in alone and as he was being harassed by the trailing defender, he ripped a low snap shot past Dyck's glove hand to extend the pats lead to 3-1.
Third Period
REG 4-1 at 7:04 - Connor Bedard (39), assisted by Alexander Suzdalev // Suzdalev stole the puck from a Broncos player and sent a pass to Bedard who got in close on a two-on-one and fired home his second of the game to give the Pats a 4-1 lead.
SC 4-2 at 13:58 - Connor Gabriel (1), assisted by Luke Mistelbacher // The Broncos broke into the Pats' zone with speed and Gabriel got to the left circle and fired a low shot past Sim for his first-ever WHL goal to get the Broncos back to within a pair at 4-2.
REG 5-2 at 16:26 - Matteo Michels (1), assisted by Brayden Barnett // Barnett chipped the puck past the defence to himself along the left boards and found Michels streaking in and he put home a wrister past Dyck's glove hand for his first career marker giving the Pats a 5-2 lead late in the contest.
STATISTICS
SOG: REG - 14-5-11-30 | SC 6-6-13-25
PP: REG - 1/3 | SC - 0/3
Face-Offs: REG - 38 | SC - 24
GOALTENDING BATTLE
Regina: Drew Sim (25 shots/23 saves)
Swift Current: Reid Dyck (30 shots/25 saves)
3 STARS
First: Bedard (2G, 10 shots, +3, 19/27 on faceoffs) - Pats
Second: Svozil (3A, +2) - Pats
Third: Michels (1G, +1) - Pats
NOTES
Connor Bedard extended his point streak to 32 games when he scored his 38th goal of the season early in the second period. He finished the game with two goals and has 59 points in his last 21 games. Despite missing 11 games, Bedard leads the WHL in goals (39), assists (42), points (81), and shots on goal (220). He has 11 goals and 16 points in five games since coming back from the World Juniors.
Connor Bedard also set a career-high as he scored in his eighth straight game.
In his 76th career game, Matteo Michels finally found the back of the net as he scored the Pats' fifth goal and deservedly earned third-star honours.
Stanislav Svozil had three assists and now has nine points (9A) in his four games since returning from the World Juniors. His 41 assists place him in second in the league, trailing only Connor Bedard.
Alexander Suzdalev had a pair of points (1G-1A) to extend his point streak to five games (3G-6A-9PTS).
Drew Sim's 18th win of the season has him tied for fourth in the WHL in wins. He has also won four of his last five starts.
The Pats dominated the face-off dot, winning 38 of 62 (61.3%).
The Pats have now won their last four home games and improve to 9-4-1-1 against the Central Division this season.
UP NEXT
The Pats have eight days off before their next contest, they meet the Medicine Hat Tigers for their first meeting of the season on Sunday, January 29th, with a 4:00 p.m. puck-drop at the Brandt Centre.
• Discuss this story on the Western Hockey League message board...


Western Hockey League Stories from January 22, 2023
The opinions expressed in this release are those of the organization issuing it, and do not necessarily reflect the thoughts or opinions of OurSports Central or its staff.