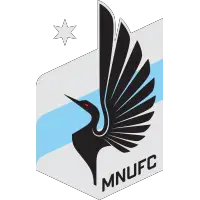 Loons Maintain Playoff Position with Tie against LAFC
October 23, 2021 - Major League Soccer (MLS) - Minnesota United FC News Release



SAINT PAUL, Minn. - .Both Minnesota Untied and LAFC came into Saturday night's game at Allianz Field badly in need of three points to help them climb up the standings with the playoffs on the horizon. Still without Carlos Vela and Eduard Atuesta, LAFC opted to go with five at the back, and Minnesota encountered early success with possession but couldn't find the first goal before LAFC struck in the 33rd minute on a free kick by Cristian Arango that just snaked through Tyler Miller's hands. In the 65th minute, it was the home side's turn to score off a free kick, although this time it was off the rebound as Osvaldo Alonso rounded on the loose ball and buried it. Neither team could find a game-winner, though, contenting themselves with splitting the points.
Minnesota United came out of the gates with energy and by the fifth minute, had started to wrest control of the game. Los Angeles FC struggled to get the ball out of their own final third, eventually needing to drop midfielder Jose Cifuentes directly in front of the backline to lock things down. Emanuel Reynoso ran rampant regardless, and this gave Minnesota the opportunity to set up in the visitors' half through the majority of the first 45.
By the 30 minute mark, the Loons had rung up almost 10 shots to LAFC's zero, but so many had gone begging as forward Adrien Hunou couldn't find his finishing touch. Midfielder Robin Lod had a golden opportunity in the 17th minute as he muscled a long ball down and had a good look at goal, but on his weaker right foot. He opted to smash it at goalkeeper Jamal Blackman but Blackman was up to the challenge, turning it away for a corner kick.
But then with one strike, LAFC turned the game on its head. The visitors sprung the counterattack quickly in the 32nd minute off a turnover and midfielder Wil Trapp was forced to take down forward Brian Rodriguez or watch him waltz unopposed onto the goal. Trapp was shown a yellow and Cristian Arango set up over the ball. Arango drove the ball straight at the wall and it snuck between Osvaldo Alonso and Chase Gasper, curling down hard towards the ground and squirting through Tyler MIller's hands and between his legs to put the Black-and-Gold on top 1-0.
Rattled by the goal, the Loons had to regroup and try to find the pressure and energy they began the game with as LAFC shifted into sitting deep in a low block. LAFC's reticence frustrated the home side, who seemed to struggle with attacking a more or less set defense. Four minute of stoppage time turned into considerably more after a collision near midfield between defender Moonhwan Kim, Alonso and head referee Robert Sibiga. Sibiga in particular bore the brunt of the fender bender, staying down for several minutes. At the very end of stoppage, goalkeeper Tyler Miller came up clutch with a save on a hard shot from Arango after a cross from the left wing by Brian Rodriguez, preserving LAFC's advantage at just one goal heading into the break.
Although MNUFC continued to win the possession battle, the second half proceeded on more even footing than the first half. The teams parried and thrusted, with Miller coming up big with another save on a shot in the 54th minute.
In the 65th minute, the Loons finally got their breakthrough, and it came on a set piece - a handy means of sidestepping LAFC's low block. Reynoso lined up the free kick from close range and drove it at Blackman hard enough to force him into punching it wide, where it took a bounce and found Alonso. The captain sent it back to the far post with a high side kick, scoring his first goal of the season at a perfect time.
Looking for the go-ahead goal, Head Coach Adrian Heath brought in Ethan Finlay for Hunou in the 78th minute, shifting Lod to the forward position and putting Finlay on the right wing. The injection of energy did the trick as far as tilting the game in the Loons' favor down the stretch, but they couldn't find the final ball to put them over the top. Despite taking 18 shots to LAFC's six and owning 70.4% of the possession, Minnesota United found themselves settling for splitting the points and turning to a midweek matchup with the Vancouver Whitecaps.
MAN OF THE MATCH: Midfielder Osvaldo Alonso
LINEUPS:
Minnesota United: GK Tyler Miller; D Chase Gasper, Bakaye Dibassy, Michael Boxall, Hassani Dotson; M Osvaldo Alonso (c), Wil Trapp, Franco Fragapane, Emanuel Reynoso, Ethan Finlay; F Adrien Hunou
Los Angeles FC: GK Jamal Blackman; D Mamadou Fall, Diego Palacios, Moonhwan Kim, Jesus Murrilo (c); M Latif Blessing, Jose Cifuentes, Bryce Duke; F Brian Rodriguez, Cristian Arango, Raheem Edwards
UP NEXT
MINNESOTA UNITED FC @ VANCOUVER WHITECAPS
BC Place | Vancouver, Canada
10.27.21 | MLS Week No. 33 | MLS Game No. 32
9:00 p.m. CT (Bally Sports North, MNUFC Radio on SKOR North)
MINNESOTA UNITED QUOTE SHEET
MINNESOTA UNITED HEAD COACH ADRIAN HEATH
On if he's coming out of this game feeling like his squad deserves three points ...
"Yes. I think it'd been a travesty had we not taken anything from this game. We were dominant in virtually every aspect of the game. Against a good team. Very expensive assembled team, with good players. You know, every time they go forward, you look at the pace they've got in their front areas. Tyler [Miller] made one big save. In the first half. Which kept us in the game. But after that, it doesn't surprise me. We've dominated every stat because, we're the better team this evening and nobody will convince me of anything else."
On if he knows what happened on LAFC's goal ...
"No. It's a mistake. First one to hold his hand up is Tyler [Miller] when he comes in. This happens. It's the occupational hazard for a goalkeeper. When you make a mistake, invariably, it proves very, very costly. And, but hey, he's saved us on numerous occasions this season. Most important thing is he put it behind him and we'll move on."
On if he's content with the one point ...
"No. Because I think we deserved three. The way we played deserved three points. But, I always say, I'll never turn down a point down. Because, certainly I'm going to be thankful for that point in a couple of weeks time."
On if Osvaldo Alonso's goal reminds him of another goal Alonso has scored here at Allianz Field ...
"Another magnificent performance from him this evening. Defies logic at times when you look at the distance he covers in high-speed running. I think he had his fastest run in the league last week, for somebody who has been at it for a long 8, 12, 15 years. We can't speak highly enough of him at the minute. But, I can't think of anybody who I didn't think had a great game tonight. I really can't. So, our back four was really good when we needed them to be. I ought the two midfielders covered an awful lot of ground. I thought Franco [Fragapne] was good. Adrien [Hunou] looked dangerous. I always talk to the players about a level of performance that's expected and acceptable to everyone. Tonight was one of them nights. Had we lost game, yeah, I'd have been incredibly disappointed. But, trust me, with a performance, we play like that, more often than not, we'll win the game."
On Osvaldo Alonso's first goal ever scored at Allianz Field in 2019 ...
"Yeah. Very similar."
On how dangerous the collision with the referee looked to him ...
"Well, when there's always a clash of heads and you see the blood coming out from either people, and there's a couple of guys going through the concussion protocol, it's never good. But, it looks like fortunately everybody is okay. I'm not quite sure about [Moonhwan Kim], because obviously he didn't come out for the second half, but, fortunately everybody is okay and I hope he's okay as well."
On Emanuel Reynoso setting the tone early on in the game and how important it is in a game to get the tone set offensively ...
"I just wanted to keep the momentum from the last couple of games. I wanted us to start well. And, we have started well. And, obviously, it was a sucker punch that goal, the way that it came about, because we were dominating the game. If anybody looked like scoring, it was us. I actually thought we should have had a foul before they got a foul for the free kick. But, you know, that's another matter."
On what the discussion was after the game with Osvaldo Alonso ...
"Well, Ozzie [Alonso] is not happy with one of their members of staff. He put his hands on him. But, thankfully everything has sorted itself out and we're okay."
MINNESOTA UNITED MIDFIELDER OSVALDO ALONSO
On how the team feels about coming out of the match with only one point after dominating most of the game ...
"A little disappointing you know because when we play at home we always try to get the three points but after being down one-zero and then tied, I think it's a good point. Now I have to focus on Vancouver."
On if his goal tonight reminded him of a previous goal he scored at the stadium ...
"I don't know. It's a different situation. I think my first goal was similar, like a volley, this one is special because my first goal of the year, losing one-zero, come out with a tie. It always special when you score a goal. But like I say, little disappointed with a point but I'm happy the way we play, the way we press the ball, press them. You know now we got to focus in Vancouver, like I said before."
On his collision with the referee (Robert Sibiga) and LAFC player Moonhwan Kim ...
"Yeah, I got the ball, I saw somebody bumping my face, and I see when I woke up I saw the referee and the other guy [Moonhwan Kim] in the floor bleeding. So, it was tough moment but fortunately they're good and they keep going."
On how he got up the fastest of three after the collision [follow up to previous question] ...
"Yeah. Lucky."
On the contention he had with LAFC Head Coach Bob Bradley ...
"I came to talk to the referee. He pushed me from the side, and I tell him don't push me because you have to respect me because I respect him. So, after, we got in an argument. That's it."
On whether he's content with one point at this state of the standing...
"The way we play, the way we got the point, yes, but, we play at home we have to get the three points. But yeah this point is good because playing one-zero down, we get up and show a lot of character to try to tie the game. I was impressed with the team. But like I said we wanted to walk away with the three points, unfortunately we didn't, but now we have to keep going."
MINNESOTA UNITED MIDFIELDER WIL TRAPP
On tonight's game...
"Look, I think it was probably one of our best performances of the year. It's hard to admit that when you tie and that's disappointing because we felt like we had plenty of opportunities to score. Obviously, the goal is the goal. I think Tyler [Miller] did an amazing job right after that making a huge save. That's not easy to do from a reaction perspective, the goalkeeper position can be pretty lonely. So for us, it was great to see him react, but for the rest of the group moving forward, it's those half chances that we need to turn into real on goal chances."
On talking to Tyler Miller after letting in the goal...
"You just try to encourage and I think he got the message from all of us and it's always great when teammates dig each other out. I mean Ozzie [Alonso] scores a great goal and that's what the group is building towards and that's where our mentality is focused."
On Osvaldo Alonso's goal...
"When you need someone to stand up, it's great to have your captain do so and he did a great job tonight. Not just with the goal but his entire performance. No matter how they go as long as they go in. So like I said, as long as we can continue to get chances, clear cut chances, and have that final third quality I think we're going to score goals."
On the collision with the referee...
"Concerning of course. I know Robert [Sibiga] well so that was one where you're obviously concerned for Ozzie [Alonso] for [Moonhwan] Kim from LAFC but also I think Robert took the brunt of it and the way he landed didn't look great but he got up and of course they do all the medical protocols to make sure that he's fit to referee the game but definitely a scary moment."
On Osvaldo Alonso's discussion with LAFC Head Coach Bob Bradley...
"I think this was a situation which our guys felt, we probably were owed a little bit more extra time. I think we got short-changed in the first half. But that's really what [Ozzie Alonso's] take was and I don't think Bob [Bradley] really appreciated that so much."
On maybe leaving points on the board in the game tonight...
"Once again we still control our destiny. Biggest thing is recovery and getting ready for Vancouver. The rest of the results, there's only so much we can do. Not worrying about it, really just focusing on ourselves."
On the game being frustrating or encouraging...
"It's both. It's both in the sense of it's great to see the group clicking, but the ultimate test of a team clicking is scoring goals. So, in that regard we have a little bit more to keep building on and left the crowd wanting and left ourselves wanting. For us, it's understanding that we did a lot of good things, build on it, but now let's put some goals in and really cement not only a playoff spot, but hopefully a playoff game."
• Discuss this story on the Major League Soccer message board...


Major League Soccer Stories from October 23, 2021
The opinions expressed in this release are those of the organization issuing it, and do not necessarily reflect the thoughts or opinions of OurSports Central or its staff.
Other Recent Minnesota United FC Stories