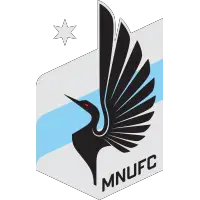 Loons Fall to Vancouver 1-2
October 28, 2021 - Major League Soccer (MLS) - Minnesota United FC News Release



VANCOUVER, British Columbia - Minnesota United came into Wednesday's midweek match with the Vancouver Whitecaps needing to take three points only a little more than they needed to take them away from the Caps, who sat just a point behind them in the standings. There wasn't much between the two sides in the first half but then just before stoppage time, the Whitecaps nudged ahead on a defensive mistake. They then doubled the lead in the 63rd minute on a goal from Brian White and held on despite a late goal for Fanendo Adi to take it 2-1 and climb into fifth place as the Loons fell to eighth.
Both teams began the game pressing high - a characteristic that Vancouver have been leaning heavily on under interim Head Coach Vanni Sartini. Minnesota's attacking players also put pressure on the backline and that resulted early in a back and forth game. Both the home side and the visitors looked to strike on the counterattack, although Minnesota found themselves often stymied near the edge of the box. In the 10th minute, midfielder Emanuel Reynoso had a golden opportunity as goalkeeper Maxime Crepeau hesitated on a long ball and let midfielder Franco Fragapane collect it on the left wing before centering it to Reynoso. Reynoso's strike went high, though, and it was one of the better looks the Loons would get in the opening 45.
With relatively few whistles blown in the first half, the game had an open feel, but neither team seemed prepared to grab the game by the scruff of the neck and exert control. Shortly after the 20th minute, Minnesota's focus shifted into building up possession and MNUFC did well to move the ball from left to right and back, but often found themselves doing it near the edge of the final third and not genuinely building up a threat.
Things tightened up as halftime drew near and players got a little more physical. It looked like the two sides would head into the tunnel deadlocked at 0-0 but then just before stoppage time kicked in, a defensive miscue led to the opening goal. Vancouver captain Russell Teibert pinged a long lofted pass forward and striker Brian White chested it down close to the edge of the box with Minnesota's centerbacks in hot pursuit. Goalkeeper Tyler Miller came out aggressively and stopped White initial strike with an outstretched hand, but the rebound bounced off defender Michael Boxall's foot and rolled into the goal, making it 1-0 as the teams headed for the locker rooms.
Needing to come out with more energy on the road, MNUFC did their best to press forward more and in the 62nd minute, they had their best opportunity of the night so far. Forward Adrien Hunou got the ball in space on the right side of the box and sent a shot through the legs of Crepeau. It curled towards the goal on the ground but bounced off the near post and there was no Minnesota player there to get the rebound. Moments later, Vancouver responded by charging down the pitch and getting the ball to midfielder Ryan Gauld on the left wing. Gauld centered it to a streaking White and the forward struck home his 12th goal of the season to make it 2-0.
Late on, Minnesota pulled back within one as subs Ethan Finlay and Fanendo Adi combined to get Adi his first goal of the season. Finlay centered it and Adi nodded it onto the post, then picked up and finished the rebound in stoppage time, but there wasn't enough time for MNUFC to claw their way back into the game as they fell 2-1 to the Whitecaps and dropped out of playoff contention.
MAN OF THE MATCH: Midfielder Emanuel Reynoso
LINEUPS:
Minnesota United: GK Tyler Miller; D Hassani Dotson, Bakaye Dibassy, Michael Boxall, Romain Metanire; M Osvaldo Alonso (c), Wil Trapp, Franco Fragapane, Emanuel Reynoso, Ethan Finlay; F Adrien Hunou
Vancouver Whitecaps: GK Maxime Crepeau; D Ranko Veselinovic, Bruno Gaspar, Javain Brown, Jake Nerwinski; M Cristian Dajome, Leonard Owusu, Ryan Gauld, Florian Jungwirth, Russell Teibert (c); F Brian White
UP NEXT
MINNESOTA UNITED FC vs. SPORTING KANSAS CITY
Allianz Field | Saint Paul, Minnesota
10.31.21 | MLS Week No. 34 | MLS Game No. 33
12:00 p.m. CT (ESPN/CW Twin Cities, MNUFC Radio on SKOR North)
MINNESOTA UNITED QUOTE SHEET
MINNESOTA UNITED HEAD COACH ADRIAN HEATH
On looking for at least a point in this game, his impressions of the night and where this leaves his squad ...
"Two disappointing goals. They haven't had to work hard enough for the goals. The first one was a 75-yard ball in and a one-on-one with the goalkeeper. You know, Boxy [Michael Boxall] has held his hands up for that one. And they didn't have to do enough for the second. There was nothing in the game. I can't really think of any opportunities they created. We had a lot of the ball. And, we had a chance to make it 1-1 when Adrien [Hunou] goes through, we don't take it and they go down the other end. So, disappointing result, but, as I said to you last week, I think it's going to go all the way to the wire and, tonight, wouldn't really change anything for me on that point."
On how he felt that the energy levels were for the team ...
"I just thought we were comfortable most of the evening. If you look at the game in general, we probably dominated most of the possession. Probably didn't create enough with it in the final third. Second half, we started a little bit slowly, then we got into the game as the game wore on. But, I just don't think we were quite at it the way we were, or the way we have been the last few weeks."
On how deflating the timing of the first goal was in the 44th minute ...
"Yeah. When you consider we were comfortable in the first half. Then the kid had a shot or it deflected off Ozzie [Alonso], I can't really remember a really, really good, clear cut opportunity. We were comfortable. We can't get beat on a 70-yard straight ball. So, that was poor from our point of view. We start the second half not great, but then we work our way in toward the game. Adrien [Hunou] has the chance to make it 1-1 and it goes straight down the other end and they get the second goal. Which, again, for at most, was poor defending."
On what he told his squad at halftime to get them restarted again ...
"Just carry on doing what we're doing. Picking our moments. They went three to three at times and I don't think we played forward enough and then that would open it up. But, no, more of the same, I wanted more of the same. And then we wanted a little bit more of a cutting edge and a little bit more in the final third. But, when you look at the 45 minutes in the first half, we were far and away the dominant team I felt."
On what he's going to have to do these next couple of games ...
"Well, we need them to play well. It's the bottom line. We're at that stage now where everybody has got to bring their A game. We've got a huge game on Saturday against a team that's top of the league now. Never easy against Kansas. So, hey, we've got to go and get three points at the weekend and see where that leaves us. Because, as I've been saying to you guys for I don't know how long now, it's going to go to the last game and it probably will, looking at the Galaxy's sort of fixtures between now and then."
On if it's difficult to see Michael Boxall and Tyler Miller's mistakes in back to back games and how it's costed the team ...
"Yeah. But, at this level, you make big mistakes and invariably, you get punished. Boxy [Michael Boxall] held his hand up as soon as he came in at halftime and said, hey, that goal was on me. You know, you can't get done with a long, straight ball. It's not like the guy made a clever run or anything. He just chased the ball through the middle. And that's down to us. That's not a great play from them for sure."
On if he was just looking for some energy and spark with the four substitutions ...
"Yeah, a little bit. I obviously have got my eye on the weekend as well. So, we've got to think about this. Travel tomorrow. Get back tomorrow evening virtually. So, it's about now preparation and regeneration and getting ourselves really prepared and resting up for the weekend."
On if there were some MNUFC chances that were missed early on by Emanuel Reynoso, Robin Lod, Franco Fragapane in the first three minutes ...
"Yeah. Really. Because we were controlling the game there. I said to the staff on the bench that I thought the first goal was going to be crucial this evening. And, you know, for us, when you've got them opportunities on the road, we're in good spots, we probably didn't do enough with them. But, that's football. But you still can't legislate for the goals that we conceded."
On slipping under the playoff line if it means anything mentally ...
"It means we've got to win at the weekend. We said that our home form is going to be crucial. The last couple of weeks it's been good. We go again this weekend, against a difficult opponent, but one that we can win if we play as well as we can. And that's what we've got to do. We have to go get a win this weekend."
MINNESOTA UNITED MIDFIELDER WIL TRAPP
On falling below the playoff line tonight...
"It's a little bit of a double jeopardy, I guess you could say. There's nothing worse than having to rely on other teams. Thankfully for us, we still control our destiny in the sense that we got two huge games and we have to win."
On going down heading into halftime and Adrien Hunou hitting the post and Vancouver scoring again right after...
"Yea, Adrian [Heath] always says it, 'goals change games.' The fact that we concede with a minute and a half left...the way the goal is conceded of course is disappointing and now the game changes in its complexity. I think the chance Adrien [Hunou] has...we could have done more of that. To create runs behind him and try to get shots on the goal. That's unlucky that it doesn't bounce off the post and go in. but we need to be cleaner in the sense that how we're defending. It's just too easy in how they cut through us and score the goal."
On the energy levels after four games in two weeks...
"I think our guys have done an amazing job. It's not easy to bounce around, play this many game in this amount of time but we still have one left, right? it's not something where the energy was lagging but this isn't an easy place to play. Travel. The turf is different than most surfaces we're going to play on. And they're a team that really outs you under pressure. We just needed to be cleaner in a couple moments. Like I was just saying, the goal right before the half really changes the look of the game. Had we gone zero-zero with some of the good things we did in the first half, we're feeling a little bit different for sure coming out of this game."
On if falling below the playoff line means anything mentally...
"No, Jerry. I don't think so. We always knew that the last few games here were going to be hugely important and that doesn't change. The huge thing is stepping forward, recovering and being ready for a good Kansas City team at home in front of our fans. That's where we're focusing our energy and our time now."
On early thoughts on the upcoming matchup against Kansas City...
"It's a good team. There's a reason they're perennially pushing the level in this league. They have a good idea of how they want to play, how they want to break teams down, how they want to defend. For us, it's really not dwelling on those two games in the sense of, especially what happened in KC. For us it's learning from it. You're going to have to learn from it in a hugely important game for us at home to try to win."
On the two defending and goalkeeping mistakes in these last couple games that led to goals conceded...
"Those are moments that get exacerbated. The magnifying glass is certainly on more and more and it really makes it seem like it's more important, because it is. We're sitting here with two games where maybe we win at home on Wednesday. But I think, tonight as well, we got to keep trying to dig each other out. If guys make mistakes, you just got to be there to try and dig each other out and I think we did that against [Philadelphia Union], Ozzie [Alonso] scores a great goal against LAFC bring us back, and tonight we just didn't do that."
On the transition moments that led to Brian White's goal...
"We probably stepped out before we needed to. We were a little bit in those no-mans land positions. It's a great finish, to be honest. It's not an easy from him and it's something where, especially in transitions against a team that likes open play, we just need to be more buttoned up on our communication, on our shifting and delaying plays. They want the game to be open like that and I don't think we did a good enough job stimming those types of plays enough tonight."
On preparing for a noon game in four days...
"I think we'll be ready. We've shown in front of our fans at home, it's a different team. And of course, we like to be the same team every single game but we have shown at home that we really do bring the energy and bring the focus and we've been scoring goals. It's about recovering. It's about getting home and gearing up for what's going to be a tough game."
• Discuss this story on the Major League Soccer message board...


Major League Soccer Stories from October 28, 2021
The opinions expressed in this release are those of the organization issuing it, and do not necessarily reflect the thoughts or opinions of OurSports Central or its staff.
Other Recent Minnesota United FC Stories