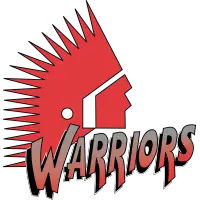 Looking Back at the 2021 Regular Season in the Hub
April 27, 2021 - Western Hockey League (WHL) - Moose Jaw Warriors News Release



The Moose Jaw Warriors closed the books on the 2021 Subway WHL Hub in Regina with an overtime loss to the Saskatoon Blades on Monday, they finished the season with a record of 8-13-3.
Heading into the Hub and the shortened season, development was at the forefront for the Warriors.  Talking with Head Coach Mark O'Leary, he felt that despite their record, individual players did take a step forward from the previous season.
"I think that's the biggest takeaway.  It's tougher after losses for sure, but when you step back and look at the week as a whole or the season as a whole, it's all about development.  I think that the have players certainly developed, to me that's a success and it will only help moving forward."
"Your competitiveness can change your viewings while you're in the moment.  That's why it's important to go back and watch the games and you can go over other things with the players," he added.  "Throughout all this, I think we are pleased with the development of the players.  You watch an NHL season, teams that are sellers at the (trade) deadline, still try to win after they sell it's just that their lineup dictates how many of those end up being wins.  It's like us, we go into games expecting to win games but our lineup is really young and it dictates how many wins you will have."
This season was unusual and it presented the team with a unique schedule.  From February 27 to April 26, the team was either in their dorms at the University of Regina or at the Brandt Centre for practice or a game.
Many players spoke of the mental and physical grind that their unique schedule presented, and O'Leary felt that the schedule combined with the unfamiliar surroundings for a long period of time did lead to "Hub Fatigue" for some individuals.
"You're going to the same place to eat your meals, you leave your room and jump on a bus to go to the rink, it's the same three places that you see over and over and I think it wears on you a little bit," he said.  "I know it's a different animal here and the monotony of doing those things can take its toll on you.  Eight weeks is a long time doing the same thing and seeing the same walls over and over."
Even though many were excited to head home, when asked if they could have one more game, it was not a surprise what O'Leary said.
"The Regina Pats.  I think that there is always a little extra something when you're playing Regina, it's been that way my entire time here, that's not going to change," he said.
"An honourable mention might be Winnipeg," O'Leary added.  "We didn't beat them here and those games seemed to be heated for the most part.  But there is just something special about playing Regina and I would take that any day."
As O'Leary reflects on the 2021 Subway WHL Hub, he says that the experience can help him grow as a coach.
"I think it's been great for communication and giving players feedback.  They (players) are always around whether you want them to be or not, they are always around," he said.
"That's something that I pride myself on is the relationships with the players and the honest conversations and I think it's been great to sit down and get to know the players a little bit better and build those relations, it's only going to help moving forward.  It's important, players want feedback, they want to know that you are in it with them and we have a great group here and I have really enjoyed that side of it."
• Discuss this story on the Western Hockey League message board...


Western Hockey League Stories from April 27, 2021
The opinions expressed in this release are those of the organization issuing it, and do not necessarily reflect the thoughts or opinions of OurSports Central or its staff.
Other Recent Moose Jaw Warriors Stories