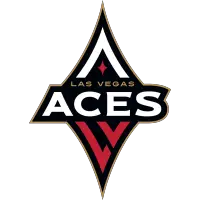 Las Vegas Aces Improve to 8-5 With, 90-82, Win over Visiting Chicago
July 2, 2019 - Women's National Basketball Association (WNBA) - Las Vegas Aces News Release



LAS VEGAS - Las Vegas moved to within a-game-and-a-half of the front-running Washington Mystics Tuesday with a 90-82 victory over the Chicago Sky.
KEY RUNS
Trailing 80-78 with 5:52 to go in the game, Las Vegas scored eight straight points and 12 of the final 14 to secure the win.
KEY STATS
The Aces outscored the Sky 18-10 in the fourth quarter.
Las Vegas outshot Chicago 53.7 percent (36 for 67) to 44.3 percent (31 for 70).
The Sky made 9 0f 23 shots from three-point range, while the Aces went 5 for 7.
Las Vegas outscored Chicago 54-30 in the paint.
The Aces outscored the Mystics 14-6 in fast break points.
Las Vegas grabbed just two offensive rebounds on the day (Chicago grabbed 28 defensive rebounds).
Although Chicago turned the ball over just three more times than the Aces (18 to 15), Las Vegas scored 24 points off of the Sky's turnovers, while Chicago managed just 10 points off of the Aces' miscues.
GAME NOTES
Liz Cambage extended her streak of double-digit scoring efforts to 44 games (16 points). That is the longest active streak in the WNBA.
The Aces improved to 6-2 at home with the victory.
Kayla McBride scored in double figures for the 11th time this season (16 points)
Dearica Hamby scored in double figures for the 8th time this season (14 points)
Kelsey Plum scored in double figures for the 6th time this season (14 points), and for the first time in her last 6 games.
Courtney Vandersloot's 12 assists are tied for the most in the WNBA this season in a single game, and her second game of 10 or more assists this season.
Las Vegas improved to 5-0 on the year when scoring 85 or more points.
The Aces 29 total rebounds and 2 offensive rebounds were the team's lowest totals of the year.
Over the last three games, Las Vegas has scored 46, 60 and 54 points in the paint. The Aces lead the WNBA in points in the paint per game with 40.3.
Over their last two games, the Aces have outscored the opposition 30-10 in fastbreak points. Las Vegas leads the league in fast break points per game, averaging 12.0 per contest.
NEXT GAME
The Aces remain at home to take on the Washington Mystics on Friday, July 5 at 7:30 pm PT.
Aces Head Coach Bill Laimbeer
Opening Statement...
Grind out win. That's what today was was a grinded out game. Our defense was not there for two-thirds of the game but it happens that way sometimes. Our offense was able to carry the day. We got them but we got to lock down a little bit better than that. We made some adjustments it helped us in the 4th quarter. I told our team it half that defense was going to win this game and it did. They only scored 10 in the fourth. We got all the rebounds and converted on the other end to win the game. A lot of good performances, we are still learning each other. I thought Plum had a hell of a game. She's been very competitive. Shots haven't gone in but today her shots went in from the start. I ran the first play for her again and she converted. Get her off to a good start, wonderful. I got Liz there almost 16 points, 9 rebounds, and 7 assists. She can really pass. I told her and I told the team about a week or 10 days ago, they don't know who I'm talking about or what I am talking about but I said I want her to be our Wilt Chamberlain. I want a younger version of an old Wilt Chamberlain because Wilt dominated so much for all those years and single handily just beat on people and they double and triple teamed him and he still scored 50 or 100. But at the end of his career he went to the Lakers and led the league in assists. He was a great team player and won a championship which Wilt didn't win doing it by himself. I think Liz at this point in her career wants to win. She's an outstanding passer, we know she can score and rebound so we need everything that she's got.
On A'ja taking over late in the game and the team's offensive balance...
Every night is going to be a little different every half or every quarter is going to be a little different and I told them this is how our team works. McBride had 16 points in the first half and a donut in the second half. So what? She did her job at the moment she was counted on, so did Plum and A'ja was dying she couldn't hit anything she had no points and all of a sudden she ends up with 16 points. It comes and goes in waves, hopefully we have someone always stepping up offensively at a certain time of the game so we can ride that horse. But you just don't know what's going to happen from minute to minute in a good way.
On what the Ace's are doing well recently...
Winning. A combination of things, somedays its defense, today was offense in the first half that kept us in the game. Last game against Indiana it was a combination of both. We are learning we are coming together we are more confident in who we are. You saw passes thrown today by Liz or A'ja or somebody else that is a sign of growth, we know each other better. We know they are going to be there we know they are going to catch it. We know if we set screens for certain players they are going to be open so it's a learned thing and we are getting better but our big test will come Friday. We play Washington, top of the league, they spanked us here last time and we are conscious of that so we're going to prepare for them the next two days and throw the ball up and see what happens.
Aces guard Kelsey Plum
What is the key for you guys playing like you did during the 4th quarter?
"They are a really good offensive team, in terms of having shooters in every position and moving the ball really well. They were kind of getting everything they wanted, but we locked down during the fourth."
Your first four baskets all came on drives, was that intentional?
"I think it just happened. Bill wanted me to get more in the paint and I went in there and it opened up for me and I was able to make some buckets."
For Quigley and Vandersloot, what makes them so hard to keep up with?
"Shooters, they are amazing shooters. Unreal. Getting in her face, coming off the screen, coming away from the basket the degree of difficulty is amazing. Obviously you have Courtney, they have great chemistry they're married so they're always going to find each other. It's tough to go to guard. I was proud of Kayla, especially in the fourth, she got in her way and I loved to see that."
Aces guard/forward Kayla McBride
Thoughts about 12 o'clock and during camp day?
"I actually like it. It's nice not having to think about the game all day and just get up and have breakfast and do whatever it is that you do. Then be able to come and play a game. Obviously we do camp day for the kids, so the schools get to come in and the boys and girls club come out to the game, so that's always fun. It's different having an early start, because it's almost like shoot around time before the game. But I think most of us like it. We like to get up, let the game happen early, then have the rest of the day."
Did the timing have an impact on the Aces or Chicago?
"No, I don't think so. I know Chicago has been on the West Coast, because they just played Los Angeles, so I don't think the time difference changed anything like that. But you gotta show up and play no matter what time the game is. I thought we did a good job. We gave up a lot of points in the first half, but in the second half only giving up 28 points was huge for us."
On overall team effort
"That's the big thing with our team. We have so many weapons on our offensive end. We can do it in so many different ways. Plum and I are hitting shots, then A'ja gets involved, the Liz gets involved. It's kind of crazy, because I scored 16 points in the first half, and I didn't have to score for the rest of the game. It comes from so many different places, and that's the dynamic of our team. That's what makes us so good. We have so many weapons on both ends. Dearica comes in at the 3, she gives us a lot of energy. We score off of our defense and transitions, and we also just score off of the weapons we have on the offensive end. I thought it was a great team effort. You see people with 3 16's, 2 14's, a 7-point game, when you have contributions like that, it's really hard to beat us, especially at home. So, I was really proud of our effort.
Sky Head Coach James Wade
On last five minutes of the fourth quarter...
"It's about execution, it was more about the defense than offense. I think our ability to not execute defensively, not being able to put them in uncomfortable spots affected on offense. It's going to come down to executing in the last five minutes, setting screens, taking care of the ball, and not having defensive miscues. We weren't good in those things."
On Stefanie Dolson's early foul trouble...
"It hurts us because she's an important piece of what we want to do, we thought that the match up on that side of the floor was favorable. When she gets those fouls, it puts us behind the 8 ball a little bit. Those are things that we can't have, specially from an experienced veteran. You expect those things from a young rookie but when you have a veteran that you need on the floor, you expect her to be on the floor and want to be on the floor. It was disappointing but hopefully we can fix it faster, sooner than later. We're going to need her to be successful."
On key post players performance...
"I think they complement each other because you have a player like Stefanie Dolson who can play inside and outside, Jantel Lavender too, and then you have a player who likes to play inside like Cheyenne Parker. It keeps our floor equal; we have a good balance of things. I think the challenging part for us is to always be focus on what our defensive match ups are and try to execute in time like tonight."
Sky Guard Allie Quigley
Allie Quigley on mistakes tonight...
"We gave them too many points in the paint. It seemed like they were getting lay-ups at the end and we were missing jumpers. We had to many defensive miscues on back screens and plays that we knew they were going to run. Their post players were big down the stretch, our post players played them tough the first 35 minutes."
Allie Quigley on heading to the other half of the season...
"We have to stay together. I always tell them that this is going to happen, this is the name of the league. Just as easy as you can win four games you can lose three in a row. We just got to get back on the winning streak, regroup, and go home. Our next game is at home, it's a good chance for us to regroup and get back on a streak."
Allie Quigley on next game...
"We have to play hungry, we're craving to win, we have to get a win. They have a lot of young players so they're going to be coming out for a win. It's about who plays, stays together, and executes better. We just got to be us and focus on us."
• Discuss this story on the Women's National Basketball Association message board...


Women's National Basketball Association Stories from July 2, 2019
The opinions expressed in this release are those of the organization issuing it, and do not necessarily reflect the thoughts or opinions of OurSports Central or its staff.