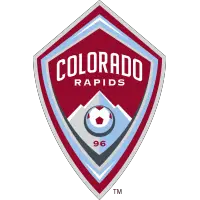 Keys against Seattle: Be Ambitious & Lock up a Playoff Berth
October 19, 2021 - Major League Soccer (MLS) - Colorado Rapids News Release



For the second match in a row, the goal is straightforward and the Rapids control their own destiny. Win and you're in. If the Rapids collect all three points, they'll clinch a berth in the Audi 2021 MLS Cup Playoffs for the second consecutive year. On top of that, they'll halve the deficit to the first-place Sounders, who still sit in first place in the West.
Should the Rapids win twice this week and the Sounders lose twice, they'll be even on points with three matches to play and will vault Sporting KC who only play once this week. Their lone match is Saturday in Seattle against the Sounders. (delete all this)
We're at the business end of the 2021 regular season, and for me, there's too much math involved. So we'll ignore the math and focus on clinching a spot in the playoffs because it requires no math, scoreboard watching or rooting for teams that leave an acrid aftertaste in your mouth for doing so.
The days are getting shorter, the air is getting cooler and the leaves are changing. All reliable indicators that fall is here and so is crunch time in the MLS calendar. This is the time of year where results, good and bad, are magnified, lineups are scoured for absences or formation tells and everybody involved feels a little twinge of nerves when thinking of upcoming matches.
Would you rather it be against anybody other than Seattle? Just a few weeks ago, they put the hammer down on the Rapids and the squad suffered a 3-0 defeat. Now it's in Colorado at elevation with a playoff berth on the line.
For the Sounders, it looks like their Peruvian striker, Raul Ruidiaz, who is/was an MVP candidate before suffering an injury, still won't be available. But he wasn't available on October 3rd, either, and Will Bruin filled in perfectly fine. We also likely won't see winger Jordan Morris or midfielder Nico Lodeiro but they've only combined for three starts and seven appearances all season, so it's hard to say they're sorely missed. Missed? Of course; they're both MVP-caliber players when healthy. Sorely? Nope.
This is part of why Brian Schmetzer is a name bandied about in Coach of the Year talks. He's taken a team where nearly all of his stars have been sidelined either intermittently or all season long. And all he's done is steady the ship after an MLS Cup blowout loss to their current perch of first place in the West. Hats off to him, their squad depth and that entire organization. You're not supposed to be able to do this in a league defined by parity. But he's doing it.
So how do the Burgundy Boys get three points against the Rave Green and lock up that playoff berth? I'm so glad you asked.
Pester Paulo
People in the Pacific Northwest believe midfielder João Paulo deserves MVP love. I don't. But I understand why people do. He's been the steady rock that dictates everything for Seattle in 2021. Offensively, he attempts 74.52 passes per 90 minutes, which puts him in the 97th percentile. Defensively, he's averaging 3.41 tackles per 90, which is the 94th percentile. All numbers via fbref.com. So when Seattle has the ball, Paulo is making a lot of the passes, and when they don't have possession, he's doing the dirty work to get it back. The Rapids should do their best to disrupt his rhythm offensively and get the ball out wide away from him when he's defending.
Be Ambitious
The Sounders have conceded 25 goals in 29 games. It's the fewest goals given up by anybody in MLS. They're pretty good! So should it be Diego Rubio, Michael Barrios, Younes Namli, etc. who find themselves with a chance to take a shot, take it. The Rapids have depth at the attacking positions so they can fire in volley after volley for 90 minutes, making substitutions where needed. There's value in bombarding Stefan Frei's goal even if some shots are from distance, acute angles or through traffic. We saw it over the weekend when Younes Namli let loose from outside the box on the volley; it took a deflection right into the back of the net. Just keep knocking on the door, create caroms and deflections, keep the Sounders on their heels.
Qualify for the Playoffs
It's going to be a key until it happens. Barring a catastrophic collapse, the Rapids will advance to the MLS Cup Playoffs, but we don't count our chickens until they're hatched. Part of being a perennial playoff team is being the team that steps up and consistently performs in its biggest games. This is one of those games because of the potential playoff berth but also the ability to catch the Sounders in the Western Conference standings. They're six points ahead but their stretch run is no picnic. And we just saw them fall on the road in Houston, so anything can happen. But it's imperative the Rapids close that gap.
• Discuss this story on the Major League Soccer message board...


Major League Soccer Stories from October 19, 2021
The opinions expressed in this release are those of the organization issuing it, and do not necessarily reflect the thoughts or opinions of OurSports Central or its staff.