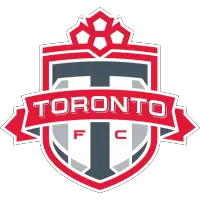 Inter Miami CF (4) - Toronto FC (0) Postgame Summary
September 20, 2023 - Major League Soccer (MLS) - Toronto FC News Release



SCORING SUMMARY
MIA - Facundo Farías 45+3'
MIA - Robert Taylor 54' (Noah Allen)
MIA - Benjamin Cremaschi 73' (Robert Taylor)
MIA - Robert Taylor 87' (Facundo Farías)
RECORDS (W-L-T)
Inter Miami CF 9-15-4 31 points
Toronto FC 4-15-10 22 points
LINEUPS
INTER MIAMI CF - Drake Callender; DeAndre Yedlin, Tomás Avilés (Dixon Arroyo 65'), Serhiy Kryvtsov, Kamal Miller, Jordi Alba (Noah Allen 35'); Sergio Busquets, David Ruiz (Benjamin Cremaschi 65'), Facundo Farías; Lionel Messi (C) (Robert Taylor 37'), Josef Martínez (Leonardo Campana 65')
Substitutes Not Used: CJ dos Santos, Ryan Sailor, Robbie Robinson, Nicolás Stefanelli
TORONTO FC - Tomás Romero; Kobe Franklin, Sigurd Rosted, Michael Bradley (C), Raoul Petretta (Themi Antonoglou 69'); Víctor Vázquez (Brandon Servania 12', Franco Ibarra 26'), Alonso Coello (Latif Blessing 70'), Jonathan Osorio; Federico Bernardeschi, Lorenzo Insigne, Deandre Kerr (CJ Sapong 69')
Substitutes Not Used: Luka Gavran, Aimé Mabika, Shane O'Neill, Jahkeele Marshall-Rutty
TERRY DUNFIELD - INTERIM HEAD COACH, TORONTO FC
Q. Could you give us your thoughts on the performance and also if there was any update on Victor [Vázquez] and Brandon [Servania]?
Yeah, unfortunately all we know is it's a lower leg injury right now, and I can't give you any further update. As to a big picture comment on the game, we knew it would be tough tonight. Since Messi's come in, and co, Inter Miami are six wins and a draw at home, they are undefeated. And there was two ways we could approach the game: Sit back and look to really hit them on the counter or try to play some football. And man, I thought we were very good in the first half. We created two really nice opportunities where we need to take one, really.
Q. To be clear, the lower leg was Brandon, I take it. What was Victor's situation?
Same.
Q. Disappointing result tonight. Do you take any positives from this? Can you look at this and say, you know, at least there was this? Anything that kind of stood out for you in a positive way?
The first half, I thought we outplayed Inter Miami. We created the better chances, played the better football. I thought we were really well organized defensively. And we need to take a chance, when we come away, I thought we protect the ball well.
Similar to Vancouver at home in our last game, we struggled to take a punch. When we concede, it's really hard for us to move on to the next play at the moment. If we can figure that out then maybe we won't have as tough finishes to games.
Q. Talking about taking the second punch and not being able to recover, do you have any sense of why that is?
Yeah, I think there's such variance amongst our squad, and I feel like several players are, and it's a positive, almost perfectionists where it's got to be perfect, and when it doesn't quite come off, it's hard for us to take and continue to stay united and robust and move on to the next play.
That's what I shared with the group after the game. If we can play like we did here for the first half or the first 60 minutes against Vancouver, the complete performance against Philly, we are going to have an enjoyable end to the season.
Q. You touched on this a little bit, Deandre Kerr goes off the post early, the Fede offside call, Oso has a chance to tee it up. Can you speak about the quality of the chances you guys were able to create, and how you get those over the line so that you are taking those punches?
Yeah, I think each chance is a little bit different; that the Fede one offside, is individual quality. The one where we get Oso in behind, we progress the field up nicely. There's a nice relationship between getting Oso and Fede.
We spoke about moving Miami around a little bit at the right time and trying to get in behind their back line. They love to step and we slipped kind of Deandre through. Think the first one is going to go in and there's another opportunity and that one goes off the post. Yeah, it was tough to watch but really pleased with the performance in the first half.
Q. The early exit of Lionel Messi and Jordi Alba in the first half of the match was an unexpected turn of events. How did Miami's early changes impact your gameplan and what adjustments did you make in response?
Yeah, I think we had two players come off. That was unexpected. I think both sides' structures changed a little bit. I think the energy and the youthfulness that came on for Miami caused us some problems.
Q. They say you make your own luck, but you mentioned the chances that you had in the first half and Lorenzo [Insigne] hit the goal post in the second half. Do you ever just shake your head, and say when are we going to get a break? This team, the talent seems so much better than what the record reflects.
Yeah, unfortunately, though, that's where we're at right now. But we are seeing I think longer spells of good football. There is so much talent here.
And I think I'd add to that as well, the first one's a tough goal to give up. Miami really didn't have an opportunity in the first half, and the way we concede the first one, as well, on the back of missing chances, is tough to swallow. Keep the changing room together at halftime, as well, where we knew we deserved more, and then yeah, the second one, again, it was a tough one. Deandre is dealing with a blood issue, a little bit of a cut on the top of his lip. So we concede the second and we only have ten men on the field and at 2-0 it's really difficult for us to get back into it.
Q. The rationale of starting Victor [Vázquez] in central midfield, seems like Franco [Ibarra] and Alonso [Coello] had a pretty good understanding the last couple games. What was your thinking there?
Yeah, it was tactical and I also think Victor earned the opportunity with how he's been training and his performances off the bench. I thought the way the game played out was perfect for Victor.
We were hoping to continue dominating the ball, and make it hard for Miami to get it off us, which was a perfect fit for Victor at halftime when I saw him in the changing room, I just shared with him that I thought the game played out perfectly for him, if he was able to stay fit to really pull the strings.
Q. Speaking of Alonso, he had a pretty good first half there, taking the ball off Messi on one or two occasions. What did you see from him tonight and what do you want a young man like that to take away from a match like this?
Again, it's tough to be too positive on the back of the result. I thought Alonso was outstanding, and I don't think it came out of nowhere. I think his body of work over the last 13 weeks has been excellent, but he took his game to another level tonight, receiving it in tight spaces just off the shoulder of Miami's frontline, and some of his decision-making, when and when not to press was excellent. I thought defensively he protected space well, and he worked really hard to regain possession when it was the right time to step out and win it. The thinking behind taking him off was just to protect him for the game in New York on Saturday.
ALONSO COELLO - MIDFIELDER, TORONTO FC
Q. Tough game, tough result. From your perspective, where do you think things went wrong for TFC tonight?
I think we started the game very well. We started putting some pressure on them. We got the possession from them, and then once they get the first goal, we come back in the second half and we kind of lose that edge and that territory and they start controlling the ball a little bit more, and once they start dominating, we are not able to get the ball back and play our game.
Q. Do you feel sometimes that if this keeps on happening, you had a good start to the game and then gave up a goal at a bad time and then the wheels fell off?
Yeah, I think that's something that we have to clearly look at, when things go sideways in a soccer game, for 90 minutes, sometimes it's going to happen. We need to be able to keep our head in and stick together and kind of trust in what we are doing, because as I said, I think before the first game, we were doing things pretty good, and as you said, it is something that keeps on happening and we clearly have to improve.
Q. With only five games left in the season and sitting in last place, what is the team's mindset as you approach the remaining matches?
I think it hasn't changed. There's five games left. We are thinking about winning them all, one by one. Obviously we are not in a great position, but we've just got to play for ourselves and kind of get some momentum going and start getting some results, and that way, the players, I don't know what the numbers say, but in any other scenario, we have to start building something maybe for next year.
Q. I think I asked you at the time when [Lionel] Messi and [Sergio] Busquets joining was announced, how that was going to be for you? I know it's difficult to separate the result from the occasion, but what was it like taking the pitch with those guys?
For me it was very exciting. I was looking forward to this game. Obviously everyone knows what kind of player they are and the respect that I have for them is huge because I think they have provided a lot to this game, and they are legends, of course. But more than anything, I was excited to prove myself in that pitch and try and show people what kind of player I am next to them. And I think it was a very good opportunity for everyone on this team to kind of make a statement, not just as an individual but as a team.
Q. Another quick turnaround, off to New York City. How do you shake this one off and get ready for the next one?
Obviously right now it's tough, but as we said, I think everyone in this group is professional enough for them to be able to learn and move forward and change our mindset going into Saturday. Yeah, I think we've got to learn from the mistakes that we made today that clearly were there, and try and build something, come back together, and play as a team on Saturday.
• Discuss this story on the Major League Soccer message board...


Major League Soccer Stories from September 20, 2023
The opinions expressed in this release are those of the organization issuing it, and do not necessarily reflect the thoughts or opinions of OurSports Central or its staff.