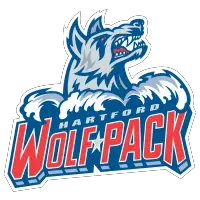 Hellberg, Wolf Pack Feeding off of Each Other's Confidence
February 19, 2016 - American Hockey League (AHL) - Hartford Wolf Pack News Release



No team can ever be successful without solid goaltending, and if there is one individual whose play could be cited as being most key to the recent improvement in the Hartford Wolf Pack's fortunes, it would be their number-one netminder, Magnus Hellberg.
The 6-5, 185-pound Swedish import was in goal for each of the Wolf Pack's eight straight wins from January 9-27, the second-longest winning streak in franchise history, and in a 12-game stretch from January 15-February 17, Hellberg went 9-3-0 with a 1.66 goals-against average, a 94.4% save percentage and two shutouts.
It's not like Hellberg was having a bad year before mid-January, but he has clearly turned a bit of a corner since then, and has helped bring the team right along with him.
It has not been a matter of changing anything technical, according to Hellberg, but more of a case of a different mind-set.
"I think I have a little bit more relaxed approach this last couple months," he said, after a recent Wolf Pack practice. "I just try to play the game they give me. I can't do anything else, I can't control it. And I think it's been affecting the team a little bit, I hope, that they feel that I'm calm back there."
In Head Coach Ken Gernander's view, the squad has definitely picked up on Hellberg's calm vibe and has drawn strength from it.
"I think when you look at a team sport, everybody's interdependent upon one another," is how Gernander put it. "So if Magnus is playing well, I think the guys out front of him are a little bit more confident , and certainly when he's in there battling and he makes a few big saves, I think it seems to energize guys and they want to battle for him in return. So I think one feeds off of the other, and the whole thing is kind of co-dependent."
Hellberg characterized his focus as simply, "I just try to do my job. "
"Obviously I'm the last guy they have to go through to score, and I try to be there for the guys," he continued. "I think they've minimized mistakes in front of me and I think everybody has been playing really well together. It's a team effort, they help me with rebounds, they help me see shots, and I think everybody's just on the same page.
"We have a good flow right now, where everybody feels confidence that everybody's doing their job, not only in the defensive zone, but offensively too. We've been scoring a lot, and even though maybe we were down a goal, we've been better at not letting it affect us. I think we still believe in what we're doing, and we know that we can get back in a game, even though it may be late in a game. There's been a couple of games where they tie it up late in the third and we score right after, so I think that shows huge character from our team."
The Wolf Pack have definitely picked up their offensive play during their run of success, hitting the five-goal mark twice and reaching four goals in a game four other times. To Hellberg, that proves the maxim that good offensive play starts in the defensive zone.
"I think it goes hand in hand," he said. "If you're solid defensively and you know what you're doing, I think the guys jump up on rushes more, and they know that they have guys that back them up behind, which makes them do offensive plays. Just the confidence of our team right now, it's good. Obviously we want to stay humble, and we know it's going to be a race all the way to the end. Every point is so important right now, but I think if we continue to play the way we are now, and take one game at a time and just fight hard every night, I think we have a really good chance to win a lot of hockey games."
Gernander agreed, as most coaches would, with Hellberg's assessment of the Wolf Pack's progress in taking care of the defensive part of the game.
"I think it's kind of a cornerstone of how we've been playing as of late," the Pack bench boss said. "Our penalty kill's been very strong, we've limited the amount of chances we give up, our goals-against are down, and then we get some timely scoring."
Hellberg came into this 2015-16 season as a fairly experienced hand at the AHL level, having played in 98 AHL games with the Milwaukee Admirals in his three seasons with the Nashville Predators organization, which drafted him in the second round in 2011. He is only five games short of his career high in games-played, which is 39, set in his rookie year of 2012-13, but tries not to get caught up in thinking too much about where his role stands.
"I'm really happy to be a part of the Rangers organization, and the Wolf Pack team," Hellberg said. "Obviously I want to play every game and I've been playing a lot, and I think I earned the coaches' trust a little bit, which for me personally is awesome. Malcs (Wolf Pack stablemate Jeff Malcolm) is a really good goalie, and we push each other every day to become better. And I think he's a really good friend and a great goalie. So it doesn't matter who plays, I think everybody has to contribute to the team. If I get the chance to start, I'm going to try to do my best to help the team to win hockey games. That's all I can do.
"I have great communication with Benoit Allaire, the (Ranger) goalie coach, I like him a lot. We talk about small details, but I think I have a pretty good foundation. Obviously there are some things you want to tweak, and you can always do something better, every game. I look at every (game) tape and see what I can do."
This summer's trade to the Rangers, who swapped a 2017 sixth-round draft pick to the Predators to obtain Hellberg, was his first experience with changing organizational addresses in North America, and he has been happy with the change.
"Nashville was a great place, I had three great years there," Hellberg said. "I'm so happy they believed in me in the first place and even drafted me. That was huge, and now, Rangers is Rangers. They're a world-class organization, and they have so many assets. It's a classic team.
"It's a dream come true, I watched the Rangers growing up, since (Ranger star backstop Henrik) Lundqvist has been, I would say, the best Swedish goaltender for a long time now, and the only one who's been a starter in the NHL for a long time like that. So obviously it's special, and I think the most special thing is that you just feel that they believe in you.
"All the staff here is unbelievable, the strength coach Mark (Cesari), Brian (Fairbrother, the Wolf Pack's athletic trainer), the coaches, everybody. Their knowledge is so good, you just have to embrace it and try to put it in your game, to become a better hockey player. I think this is a great place to develop."
The chance to rub shoulders with Lundqvist, one of his heroes, has also been a boon for Hellberg.
"You've been looking up to him for a long time, but at the same time he's a goalie too, we have the same job," Hellberg said. "I've learned a lot from him just being with him at camp. He's got so much experience, and he's being playing at such a high level, and he's been successful at the highest levels for a really long time span. I mean, he's doing something right, so you just have to look at him and embrace it. It's been cool."
Hellberg was afforded the opportunity to suit up alongside Lundqvist for three Ranger games right before Christmas. That was after Antti Raanta was injured in a game in Minnesota December 17, and Hellberg's callup included his second career NHL appearance, one period of work in relief of Lundqvist in a Ranger home loss to Washington December 20.
"My dream is to play there (the NHL), and I did it first with Nashville, now I got to do it at Madison Square Garden, which is a pretty magical arena," Hellberg mused. "It's one of the most famous in the world, the fans are great. It was an experience, for sure. It was a really cool memory, but I want to get up there and be there full-time, so that's what I'm battling for."
That goal of securing a full-time NHL job has certainly gotten a boost from Hellberg's recent stingy play, and he feels that both he and the team as a group were made more resilient by the team's difficulties earlier on in the season.
"During this year we started off really well and then we were on a tough stretch," Hellberg said. "And I think when we were down on that tough stretch, when you win, you appreciate it more. Because you've been down that tough stretch, and you know how it's not fun to be part of something like that. But it feels way better when you have the strength to get out of it.
"I think that shows character for our group, and that we've got a strong core. So now it feels really good, and I'm just happy to be part of it."
Images from this story
• Discuss this story on the American Hockey League message board...


American Hockey League Stories from February 19, 2016
The opinions expressed in this release are those of the organization issuing it, and do not necessarily reflect the thoughts or opinions of OurSports Central or its staff.
Other Recent Hartford Wolf Pack Stories