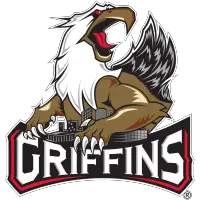 Griffins Pack 11-Game Winning Streak for Upcoming Texas Trip
March 15, 2016 - American Hockey League (AHL) - Grand Rapids Griffins News Release



Opening Faceoff: The Griffins extended their winning streak to 11 games following Sunday's 4-0 triumph against the Chicago Wolves...Grand Rapids' run, which ties for the second-longest streak in franchise history, has vaulted the Griffins to first place in the Central Division...In a tightly contested divisional race, the top four teams all boast winning percentages above 0.600 and are separated by just four points...In addition to leading the division, Grand Rapids is second in the Western Conference and fourth overall with a 39-20-1-1 record (0.656)...Fifteen games remain in the regular season for the Griffins - four at home and 11 on the road...Grand Rapids defeated Chicago on Sunday to kick off a five-game road trip...The Griffins continue their trip with a visit to Texas, facing a pair against the Stars before traveling to San Antonio for two games against the Rampage.
Winning Ways: Posting a franchise-record 15-game winning streak earlier this season and currently riding an 11-game streak, the Griffins are the first AHL team since the 2009-10 Calder Cup champion Hershey Bears to post a pair of double-digit winning streaks in the same season...The Griffins' 39 wins are second-most in the league...39 marks the third-highest win total in franchise history through 61 games (2005-06, 2000-01: 41)...The 2015-16 campaign is the third straight season in which Grand Rapids has achieved exactly 80 points through 61 contests (2014-15: 36-17-6-2; 2013-14: 37-18-2-4).
Drop it Like it's Hot: The Griffins are outscoring opponents 45-11 during their 11-game winning streak...Andy Miele is good for eight points (2-6 - 8) in his last three contests, including a four-point effort (1-3 - 4) against Manitoba last Friday...Miele is tied for 10th league wide with 50 points (14-36 - 50)...Eric Tangradi has collected seven points (3-4 - 7) over the last three games, buoyed by his career-high five-point night against Manitoba last Friday (2-3 - 5)...Tangradi became the second Griffin this season to tally five points in a game, joining Mitch Callahan's 3-2 - 5 effort at Rockford on Feb. 5...Tangradi ties for 18th in the league with 46 points... Rookie Robbie Russo continues to sizzle, registering 16 points (3-13 - 16) in the last 10 games...Russo leads the league in plus/minus at +47 while also tying for eighth among league defenseman in point production (5-31 - 36)...Martin Frk potted his sixth multi-goal game of the season in Sunday's win at Chicago, moving him into a tie for fourth in the AHL with 25 goals...Grand Rapids is 6-0 this season when Frk nets two or more goals.
Winning Streak Comparison: Earlier this season the Griffins set a franchise record with a 15-game winning streak. Compare how the statistics stack up from the first 11 games of that record-setting run (Nov. 18-Dec. 13) with the current 11-game streak (Feb. 20-March 13):
Nov. 18-Dec. 13 Feb. 20-March 13
Record 11-0-0-0 11-0-0-0
Goals For 45 (4.09 pg) 45 (4.09 pg)
Goals Against 17 (1.55 pg) 11 (1.00 pg)
Goal Differential +28 +34
Team +/- +123 +145
PP % 14.89% 23.26%
PK % 91.30% 86.96%
GR Leaders & League Rank
Goals 9 - Tangradi (1st) 6 - Mantha/Frk (T10th)
Assists 9 - Russo (T1st) 13 - Russo (T1st)
Points 16 - Tangradi (1st) 16 - Russo (T1st)
+/- +13 Russo - 1st +20 - Russo (1st)
GAA 1.24 - McCollum (1st) 0.99 - Coreau (1st)
1.71 - Coreau (6th) 1.00 - McCollum (2nd)
Save % 0.965 - McCollum (1st) 0.967 - McCollum (T1st)
0.945 - Coreau (3rd) 0.967 - Coreau (T1st)
Longest Winning Streaks in Griffins History:
Games Dates Coach
15 Nov. 18-Dec. 26, 2015 Todd Nelson
11 Feb. 20-March 13, 2016 Todd Nelson
March 5-31, 2006 Greg Ireland
9 Feb. 14-March 4, 2015 Jeff Blashill
Oct. 23-Nov. 13, 2009 Curt Fraser
Dec. 22, 2000-Jan. 12, 2001 Bruce Cassidy
8 Nov. 3-24, 2012 Jeff Blashill
Whoa, Nellie: Todd Nelson, whose squad set a Griffins record earlier this season with a 15-game winning streak, is the first head coach in team history to author two winning streaks of double digits at any point during his tenure...Current Detroit Red Wings bench boss Jeff Blashill recorded a nine-game winning streak with the Griffins from Feb. 14-March 5, 2015 while Nelson's current 11-game streak is dated Feb. 20-March 13.
Flip a Coin: During the 11-game winning streak, Grand Rapids has received solid goaltending play as Jared Coreau accounts for six wins and Tom McCollum is responsible for five...Coreau shows a 0.99 goals against average, a 0.967 save percentage and three shutouts in his last six starts...McCollum is good for a 1.00 GAA, a 0.967 save percentage and one shutout over his last five...Since Feb. 20, Coreau and McCollum are one-two, respectively, in GAA while tying for first in save percentage.
Road Warriors: The Griffins are set to play 11 of their final 15 games on the road. In fact, over a 26-day stretch lasting March 13-April 7, Grand Rapids will play just a single home game (Feb. 26 vs. Lake Erie). The Griffins have claimed four straight on the road, allowing just a single goal during that stretch, outscoring home teams 15-1.
Consistent Coreau: Jared Coreau has anchored a consistent presence between the pipes for the Griffins this season as he is categorized in the AHL's top three for wins (29, second), shutouts (six, tied for second), goals against average (2.15, third) and save percentage (0.931, tied for third). Coreau claimed his 29th win of the campaign on Sunday in Chicago by recording 45 saves and earning his sixth shutout of the season. Coreau's 45 saves were the most ever by a Griffins goalie in a shutout, breaking the mark of 43 set by Jimmy Howard on Jan. 24, 2009 in a 1-0 shootout win vs. Quad City. The previous record for saves in a road shutout was 41, set more than 17 years ago (Neil Little on Dec. 26, 1998 in a 4-0 win at Michigan). Coreau's six bagels have equaled a club record reached five times previously and most recently by Jimmy Howard in 2006-07 while his 29 wins puts him in a tie with Jani Hurme (1999-00) for fifth on the team's single-season list.
Terrific Tom: Tom McCollum is about 85 minutes from qualifying for the AHL's goaltending leaders. If he had enough minutes, he would currently place fourth in save percentage (0.929) immediately behind teammate Jared Coreau and place fifth in GAA (2.31). Grand Rapids' all-time leader in appearances (216) and saves (5,400), McCollum used 32 saves last Saturday against Manitoba to earn his 98th win as a Griffin. He ranks second in wins, trailing only Joey MacDonald (109). Behind his seventh shutout as a Griffin on Feb. 27 versus Iowa, he is tied with current Detroit Red Wing Petr Mrazek for sixth on the franchise's all-time list.
On the Plus Side: Among the 17 Griffins skaters who have appeared in 20 or more games this season, 14 find themselves with a positive plus/minus rating including seven who are in double digits. Rookie Robbie Russo paces the league at +47 - 11 better than Andrew Campbell of Toronto in second. The AHL's single-season record for plus/minus was set by Joby Messier with a +59 rating during the 1992-93 season. Russo has been on the ice 24 times when the opponent scores and that includes three power play goals and two empty netters.
Home Ice Advantage: Averaging 8,306 fans per home game this season, the Griffins need to average only 6,184 over the final four home games to achieve an average attendance increase at Van Andel Arena for the sixth straight season and the ninth time in 10 years. Grand Rapids has taken full advantage of the raucous crowd support, leading the league with 24 home victories. In fact, the Griffins have won seven straight and nine of their last 10 at home and have secured points in 24 of the last 29 games at Van Andel Arena (23-5-1-0). Against Central Division opponents at home, the Griffins are 21-3-1-0 (0.860). The club record for home wins in a season is 31, set back in 2000-01 when the league played an 82-game schedule.
Griffins Leaders: Andy Miele (14-36 - 50) and Eric Tangradi (22-24 - 46) continue to pace the offense, ahead of Mark Zengerle (6-34 - 40), Martin Frk (25-13 - 38) and Robbie Russo (5-31 - 36).
Stepping Away from the Division: From Jan. 30-March 13, a span of 44 days, the Griffins played 18 consecutive games against Central Division foes. Grand Rapids started the stretch placing fourth in the division, but finished the stretch in first following a 15-3-0-0 record.
Only on the West Side: Grand Rapids has three times put together winning streaks of at least 11 games in the last 11 seasons, while its parent club in Detroit has never won more than nine consecutive games in its 90 seasons of play (seven times, most recently Oct. 18-Nov. 9, 2007).
Motown Mantha: The Detroit Red Wings on Monday recalled forward Anthony Mantha from the Griffins. Detroit's first choice (20th overall) in the 2013 NHL Entry Draft, Mantha has played in 56 games for the Griffins this season, ranking third on the team in points (45), third in goals (21) and tied for fourth in assists (24). Should he make his Red Wings debut, Mantha will become the 154th Griffins alumnus to play in the NHL.
Against the Best: The Griffins own a 25-16-0-1 (0.607) record against teams with a winning record this season, including a 20-12-0-1 (0.621) mark against teams with a winning percentage greater than 0.600 as of March 15. Grand Rapids has also posted a 36-11-1-1 (0.755) record against its Central Division rivals. Grand Rapids' remaining 15 games will see them play opponents with a combined winning percentage of 0.553.
Win Some and Lose Some: The Griffins own a 39-20-1-1 (0.656) record through 61 games. Take a look at how Grand Rapids' numbers stack up between its 39 wins and 22 (including overtime and shootout) losses:
GF GA Saves PP Chances PP Goals PP % Opp. PP Chances Opp. PP Goals PK % SF SA
W (39) 4.23 1.59 30.44 4.10 0.87 21.25% 4.00 0.41 89.74% 33.41 32.03
L (22) 1.50 3.77 28.36 4.32 0.36 8.42% 3.64 0.95 73.75% 33.82 32.14
Back-to-Back-to-Backs: Take a look at how the statistics compare for Grand Rapids when it plays on consecutive nights:
First Night Second Night Third Night
W 12 12 2
L 7 7 1
GF 4.11 3.00 3.33
GA 2.42 2.63 2.33
PP % 21.35% 13.04% 23.08%
PK % 85.92% 83.56% 73.33%
SF 34.32 32.32 32.33
SA 33.21 33.68 34.00
Goal Scoring: One of four teams to rank inside the top 10 in both goals for and goals against per game, the Griffins are the only ones to place in the top four in each category (goals for, 3.25, fourth; goals against, 2.38, third).
Free Hockey: In their 10 games that have gone to either overtime or a shootout, the Griffins post a 0.800 winning percentage - second-highest in the league (7-1 in OT, 1-1 in SO).
Magic Numbers: The Griffins are 35-3-1-0 when scoring three or more goals and 29-3-0-0 when allowing two or fewer...Grand Rapids is 22-4-0-0 when leading after one period, 26-2-0-0 when leading after two and 29-7-1-0 when striking first.
Clear Influence: A veteran of over 1,100 professional games including 938 in the NHL, 37-year-old Daniel Cleary has made his presence felt on the ice during his first season as a Griffin. Despite Cleary registering only 12 points (1-11 - 12) on the season, in the 31 games the 19th year pro is in the lineup the Griffins post a staggering 25-5-1-0 (0.823) record.
Walleye World: Leading the North Division with a 39-16-2-3 record (83 points), Toledo's magic number to clinch a spot in the 2016 Kelly Cup Playoffs has dropped to just three heading into play this week meaning they are just three wins or six points away from clinching a berth. The Walleye can pick up the North Division crown for a second consecutive season with nine more points. The offense is paced by former Griffins Shane Berschbach (23-37 - 60) and A.J. Jenks (22-23 - 45). Rookie netminder Jake Paterson, Detroit's second pick in the 2012 NHL Entry Draft, shows a 14-9-1-1 record with a 2.21 GAA and 0.925 save percentage as an understudy to former Michigan State Spartan Jeff Lerg (24-7-1-2, 2.12 GAA, 0.927%).
Scouting Report
Wednesday, March 16 at Texas Stars (35-21-5-3) - Cedar Park Center - 8:30 p.m.
Saturday, March 19 at Texas Stars - Cedar Park Center - 8 p.m.
Radio: WOOD 106.9 FM/1300 AM at 8:05 p.m. on Wednesday, 7:35 p.m. on Saturday Web Casts: Video web cast at AHLLive.com. All-Time Series: 8-5-1-0 Road, 19-8-1-2 Overall. Season Series: 0-0-0-0 Road, 2-0-0-0 Overall. Third and fourth meetings of four overall, first and second of two at Cedar Park Center. NHL Affiliation: Dallas Stars. Head Coach: Derek Laxdal (2nd season) Notes: The Texas Stars rank second in the Pacific Division, sixth in the Western Conference and 10th overall with a 35-21-5-3 record (0.609)...Grand Rapids is 3-4-0-0 against Pacific Division opponents this season...During the first meeting between the teams this season, Grand Rapids entered the two-game weekend set (Dec. 18-19) having won 12 in a row and swept the pair against Texas en route to setting a franchise record with 15 consecutive wins...The Griffins enter this week's two games against the Stars having won 11 straight...The Stars are 17-8-4-0 at home with a goal differential of +26...Texas ranks second in goals per game (3.67) and third in shots per game (33.20), while Grand Rapids is fourth in goals (3.25) and second in shots (33.56)...The Stars are 23rd in goals against (3.16) and tied for 25th in shots against (32.11)...Texas has claimed points in seven of its last 10 (5-3-2-0)...Brendan Ranford ties for sixth in the league in point production (16-35 - 51) while Travis Morin ties for 16th (15-32 - 47)...Grand Rapids has won the last six overall against Texas, dating back to the 2013-14 season...Against the Stars on the road, the Griffins have claimed three in a row and four of the last six...Grand Rapids swept a pair against Texas at Van Andel Arena in December, coming back from two goals down to win 5-4 on Dec. 18 before earning a 6-1 decision the following night.
Sunday, March 20 at San Antonio Rampage (24-31-8-0) - AT&T Center - 5 p.m.
Radio: WOOD 106.9 FM/1300 AM at 4:35 p.m. Web Casts: Video web cast at AHLLive.com. All-Time Series: 18-12-0-2-1 Road, 36-24-1-5-2 Overall. Season Series: Third of four meetings overall, first of two at the AT&T Center. NHL Affiliation: Colorado Avalanche. Head Coach: Dean Chynoweth (1st season). Notes: The Rampage rank seventh in the Pacific Division, 13th in the Western Conference and 26th overall with a 24-31-8-0 record (0.444)...Grand Rapids' home schedule this season began with two consecutive losses to the Rampage...San Antonio has dropped its last six contests and eight of the last 10...Rookie Mikko Rantanen ties for 10th in the league in points (21-29 - 50)...San Antonio has won a league-low eight games in 30 tries at the AT&T Center including a 13-game winless streak from Nov. 20-Jan. 19...Grand Rapids has dropped four of its last six against San Antonio on the road, dating back to the 2011-12 season...The Rampage place 11th in the power play (17.6%) and tied for 26th in the penalty kill (79.6)...Roman Will has seen the majority of minutes in between the pipes, showing a 3.21 GAA and a 0.902 save percentage.
This Week's Games
Wed., March 16 GRIFFINS at Texas Stars 8:30 p.m. WOOD 106.9 FM/1300 AM / AHLLive.com
Sat., March 19 GRIFFINS at Texas Stars 8 p.m. WOOD 106.9 FM/1300 AM / AHLLive.com
Sun., March 20 GRIFFINS at San Antonio Rampage 5 p.m. WOOD 106.9 FM/1300 AM / AHLLive.com
Last Week's Results
Fri., March 11 Manitoba Moose 2 at GRIFFINS 7 37-20-1-1 (76 points, 2nd Central Division)
Sat., March 12 Manitoba Moose 1 at GRIFFINS 5 38-20-1-1 (78 points, 2nd)
Sun., March 13 GRIFFINS 4 at Chicago Wolves 0 39-20-1-1 (80 points, 1st)
• Discuss this story on the American Hockey League message board...


American Hockey League Stories from March 15, 2016
The opinions expressed in this release are those of the organization issuing it, and do not necessarily reflect the thoughts or opinions of OurSports Central or its staff.