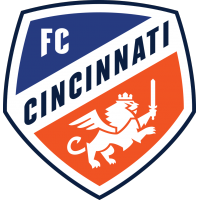 Game Preview: FC Cincinnati at Penn FC
September 20, 2018 - United Soccer League Championship (USL) - FC Cincinnati News Release



USL Regular Season | Match #30
FC Cincinnati at Penn FC
Saturday, September 22, 2018 | 7 p.m.
FNB Field | Harrisburg, Pa.
TV: WSTR 64 | Stream: ESPN+
Talent: Tom Gelehrter (play-by-play), Kevin McCloskey (analyst)
Team Records
FC Cincinnati: 20-3-6, 66 pts. | First in USL East
Penn FC: 9-12-8, 35 pts. | 13th in USL East
LEDESMA BREAKS USL SINGLE-SEASON ASSIST RECORD
Midfielder Emmanuel Ledesma eclipsed the USL single-season assist record when he recorded three assists over Toronto FC II on Sept. 16
The Argentine has 15 assists on the year and is just two goals shy of becoming the first player in USL history to record at least 15 goals and 15 assists in a single season.
Ledesma is currently the only player in USL to have registered at least 10 goals and 10 assists this season
Ledesma tied the previous single-season record when he recorded his 12th assist of the season at Louisville City FC on Sept. 11 ... that total was met twice previously: Chris Wehan (Reno 1868 FC, 2017) and Matthew Dallman (Pittsburgh Riverhounds SC, 2013)
BONE, LEDESMA HIGHLIGHT TWO-WIN WEEK
Corben Bone and Emmanuel Ledesma were named to the USL Team of the Week for their performances in Week 27 ... Bone recorded three goals - including a pair of game-winning goals - on four shots in 159 minutes of match action, while Ledesma tallied four assists - including a pair of game-winning assists - to surpass the USL's all-time single-season assist record
Bone opened the week by recording the game-winning goal in FCC's 1-0 victory over Louisville City FC on Tuesday, Sept. 11
On Sunday in FCC's come-from-behind victory over Toronto, Bone recorded his first brace in his three-year FC Cincinnati career
Ledesma kicked off the week by tying the all-time USL single-season assist record when he provided the game-winning assist on Bone's goal in the latest edition of the River Cities Cup.
FCC's leading scorer went on to eclipse the record by registering his second three-assist performance of 2018 on Sunday
MCLAUGHLIN RETURNS TO PLAY FORMER SIDE
Pennsylvania native Jimmy McLaughlin is set to play against a former team when FC Cincinnati plays Penn FC on Saturday evening
In parts of four seasons from 2012-15, McLaughlin made 78 appearances and recorded 14 goals in 4,302 minutes of USL regular-season play with the Harrisburg City Islanders
McLaughlin also made an appearance for Harrisburg in the third round of the 2014 U.S. Open Cup ... McLaughlin played all 90 minutes and tallied two goals in the City Islanders' 4-2 win over the Baltimore Bohemians
FCC SEEKS TO EXTEND CLUB-RECORD SEVEN-GAME WINNING STREAK
FC Cincinnati claimed its seventh consecutive USL win - the longest winning streak in club history - when the Orange and Blue defeated Toronto FC II, 4-3, on Sept. 16
Real Monarchs SLC hold the USL's all-time longest winning streak of nine matches, which they achieved in 2017
FCC previously won four consecutive games, two of which were U.S. Open Cup contests, in May 2017
During the current streak, FCC has outscored its opposition 18-6 and has posted three clean sheet
FC CINCINNATI ON LONGEST UNBEATEN RUN IN CLUB HISTORY
FCC enters Saturday's match riding a 18-game unbeaten run during which time FCC is 14-0-4 in USL play ... this is the longest undefeated run in club history
Should FC Cincinnati win or draw against Penn FC, they will have the second-longest unbeaten streak in USL history ... the Richmond Kickers set the USL's longest unbeaten run when they went unbeaten in 22 consecutive matches in 2013
FC Cincinnati recently completed its third-consecutive unbeaten month, having posted an unbeaten record in June (4-0-2), July (3-0-1), and August (4-0-1) ... overall, FCC has tallied seven unbeaten months in club history
During the run, FCC is 9-0-2 at home and 5-0-2 on the road
The club's previous longest undefeated run was 11 games in the first half of the 2016 season (7-0-4)
FC CINCINNATI SUPPORTING CHILDHOOD CANCER AWARENESS MONTH
This September, FC Cincinnati is working with several local non-profit organizations to bring greater visibility to their respective efforts in the childhood cancer field
At each of the team's three home games in September, FCC will host different organizations as the club's Community Outreach Partner, which is presented by Home City Ice
Cincinnati will also host The Cure Starts Now for FCC's match against Indy Eleven on Sept. 29 ... The Cure Starts Now focused on research to find a cure for DIPG, a rare form of pediatric brain cancer
FCC welcomed the Dragonfly Foundation for the club's match against Pittsburgh Riverhounds SC on Sept. 1 ... The Dragonfly Foundation helps pediatric cancer patients find strength, courage and joy throughout treatment and recovery in the form of support and comfort services
The Orange and Blue also hosted Cancer Free Kids for the match against Toronto FC II on Sept. 16 ... Cancer Free Kids seeks to eradicate cancer as a life-threatening disease in children by funding promising research that might otherwise go un- or under-funded
In addition to the club's community partners, goalkeeper Evan Newton, FCC and Cincy Shirts have collaborated on a fundraising effort for Cincinnati Children's Hospital ... specially designed t-shirts - featuring Newton's silhouette a making heart-shaped hands symbol while diving for a save - are available for purchase through Cincy Shirts ... all profits from the sale of the special-edition shirts will be donated to Cincinnati Children's Hospital
PREVIEW QUOTES
FC Cincinnati Head Coach Alan Koch
On if the playing surface at FNB Field will play a factor who plays on Saturday...
"It does [play a factor]. We haven't decided anything yet, we'll have to make some decisions tonight and then come start preparations [on Thursday] for the weekend. Obviously, surface, where you play, how we're going to play, obviously those things all impact our personnel decisions. Right now, we're open to everything. We haven't ruled anyone out in terms of not playing this weekend - other than Richie Ryan - but we'll check with medical and then we'll obviously put a game plan in place and use the individuals that we think are best for that game plan."
On Penn FC...
"Penn is a tough, experienced, older team. When they came here, I don't think they showcased themselves as what they're capable of doing. But, I think at home, they've shown some very, very good moments so far this season. I think their challenge has been consistency. We want to go there and impose ourselves on them, and try to control as much as the game as we can, because if you allow a team like them to grow in confidence, anything can happen in a game. We want to go there and try to control the game and then just ride the wave as the game goes along."
On if he feels the team has more choices this year compared to last year...
"Yeah, definitely. We built this group to have a squad and that's why there's so much healthy competition. I've got quality players in my group that aren't happy with their playing time. That's difficult for them, but that's a healthy situation for us as a group, because we've built a group where we don't just have 11 players. There's lots of different players that can play in different times and we've shown that this year. We're not afraid to rotate if we have to, we're not afraid to give players opportunities and then obviously, it's up to players to embrace those opportunities to grab them and show what they can do."
FC Cincinnati Midfielder Jimmy McLaughlin
On going back to a place where he's previously played...
"It's always good, it's always special for me. My family lives about an hour and a half away from there, so I get to see a big group of family and I got a lot of friends, so it's always a special occasion for me. I obviously played on loan at the club for a good bit - even though they kind of rebranded and everything - I had a really good time there and a really good experience. So yeah, it's a special place for me to go back to play and an opportunity that I always enjoy."
On Penn FC...
"This team has guys who have been playing all over the world, all over the country at a high level. They know how to get results, they know how to fight. They know how to do kind of all the little dirty things that will help them get the result. It's us kind of managing that and us using our experience as well to kind of change the tide and push it in our direction. They're going to be a difficult team to play against. I'm sure they'll be very tight, very compact, and not allow us much space to break them down, but we just have to focus on us and play our game and eventually it will definitely work."
On if two-match road trips are difficult...
"Yeah, that's the reality of the business. It's always difficult to go on the road. It comes with a bunch of issues that you don't foresee and little things that maybe you're not as used to or as comfortable when you are at home, so it's definitely easier to stay here at home. But, to win the league and be the best team, you've got to go on the road and you've got to get wins. We've been doing it all year and we've got a good system going on and a good mentality in the group and we always find a way to get it done. It's definitely difficult, but that's the reality of it."
On if he's conscious of potential accomplishments in the next few matches...
"Yeah, I think we'd be lying if we said we didn't know what's at stake, and how close we are to achieving one of our goals. With that being said, we try to take it one game at a time the best we can. We're focusing on [Penn FC] right now and if we get the result there, it gets us one step closer to our ultimate goal. We know what's at stake and we know what we've been pushing for all year. We know we're very close, but there's still a lot of work to be done and the best way to handle that is getting a win at [Penn FC] on Saturday."
• Discuss this story on the United Soccer League Championship message board...


United Soccer League Championship Stories from September 20, 2018
The opinions expressed in this release are those of the organization issuing it, and do not necessarily reflect the thoughts or opinions of OurSports Central or its staff.