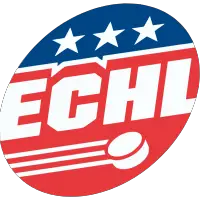 ECHL Announces Season-Ending Rosters
June 16, 2008 - ECHL (ECHL) News Release



PRINCETON, N.J. - The ECHL on Monday released the season-ending rosters submitted by each of its member teams.


Season-ending rosters may include up to 20 players. Season-ending rosters cannot include any players who did not sign an ECHL contract in 2007-08.


Each team is entitled to reserve rights to a maximum of eight players from the list of 20 by extending a qualifying offer no later than July 1. Of the eight qualified players, no more than four can be veterans (260 regular season professional hockey games played as of the start of the 2008-09 season). Players on open qualifying offers cannot be traded. Teams are not required to extend a qualifying offer to players who sign a contract prior to July 1.


The qualifying offer must remain open for acceptance until August 1 at which time the qualifying offer becomes null and void and the team may sign the qualified player to any salary or may elect to take no further action. Teams that extend a valid qualifying offer to a non-veteran player shall retain the rights to that qualified player for one playing season.


A team that extends a valid qualifying offer to a veteran player will retain the rights to that veteran until August 1. After August 1, if the veteran player is not signed to a contract by the team, the veteran shall be deemed a restricted free agent and shall be entitled to seek and secure offers of employment from other ECHL teams. Restricted free agents may not be traded. When a restricted free agent receives a contract offer from a team other than the team with the player's rights and the restricted free agent wishes to accept the contract offer, the restricted free agent and the offering member must, within 24 hours, notify the ECHL, the team with the player's rights and the Professional Hockey Players' Association. The member with the player's rights shall have seven days after the date it is notified to exercise its right to match the contract offer.


If a restricted free agent is not signed to either an offer sheet or a contract by an ECHL team by August 31, the player shall be deemed an unrestricted free agent.


ECHL Season-Ending Rosters


ALASKA ACES
Bo Cheesman
Kimbi Daniels
Olivier Filion
Ryan Glenn
Lee Green
Derek Gustafson
Barrett Heisten
Brett Hemingway
Ed Hill
Joey Hope
Michael Lambert
Felipe Larranaga
Derick Martin
Peter Metcalf
Eric Neilson
Vladimir Novak
Matt Robinson
Corbin Schmidt
Matt Shasby


AUGUSTA LYNX
Matt Auffrey
Anthony Battaglia
Will Bodine
Tim Branham
Chris Brooks
B.J. Crum
Travis Fuller
Louis Goulet
Dan Kronick
John Laliberte
Jamie McKinven
Jason Platt
Ken Scuderi
Aaron Slattengren
Nick Toneys
Chase Watson
Garrett Winder
Brian Yandle


BAKERSFIELD CONDORS
Andrew Andricopoulos
Scott Balan
Jesse Bennefield
Mark Derlago
Chris Di Ubaldo
Yutaka Fukufuji
Jason Goulet
Michael Handza
Mike Hofstrand
Andrew Ianiero
Chris Kaufman
Tim Konsorada
David Kudelka
Jay Langager
Brett Lutes
Tylor Michel
Dale Reinhardt
Ryan Salvis
Kevin Truelson
Sean Venedam


CHARLOTTE CHECKERS
Mike Ayers
Mike Bayrack
Blake Bellefeuille
Kaleb Betts
Chris Capraro
Kirk DeWaele
Lee Falardeau
Trevor Frischmon
Jeff Kyrzakos
Justin Maiser
Ryan Murphy
Jared Nightingale
Colin Sinclair
Kenny Smith
Kenton Smith
Mark Smith
Dallas Steward
Matt Waddell
Shawn Vinz


CINCINNATI CYCLONES
Jean-Michel Daoust
Jason Deitsch
David Desharnais
Barret Ehgoetz
Billy Irish-Baker
T.J. McElroy
Matt Macdonald
Conrad Martin
Sean Perkins
Scott Reynolds
Chad Starling
Jeremy Swanson
Matt Syroczynski
Avery Wilson

DAYTON BOMBERS
Justin Aikins
Matt Beaudoin
Mike Berry
Brad Bonello
Mike Campaner
Bobby Chaumont
Britt Dougherty
Chris Eade
Chanse Fitzpatrick
Peter Flache
Grant Goeckner-Zoeller
Alex Greig
Kriss Grundmanis
Jim Henkemeyer
Scott Kelman
Greg Labenski
Ryan MacGregor
Ryan Reid
Ryan Smyth
Yannick Tifu


ELMIRA JACKALS
Dan Boeser
Maxime Boisclair
Chris Busby
Benoit Doucet
Pierre-Luc Faubert
Luke Fritshaw
Matt Gens
Adam Henrich
Chaz Johnson
Frank Littlejohn
Joel Martin
Scott May
Brett Pilkington
Igor Pohanka
Elgin Reid
Bryan Rodney
Bobby Robins
Kevin Ulanski
Bruce Watson


FLORIDA EVERBLADES
Brad Brown
Preston Callander
Steve Czech
Derek Damon
Ernie Hartlieb
Brad Herauf
Jarret Lukin
Mike McLean
Brett Peterson
Ryan Van Buskirk
Brad Zancanaro


FRESNO FALCONS
Pierre-Olivier Beaulieu
Kenny Bernard
Spencer Carbery
Luke Curtin
Oren Eizenman
Igor Gongalsky
Jarrett Konkle
Louis-Philippe Lachance
Brady Leisenring
Kenny MacAulay
Stuart MacRae
Daryl Marcoux
Jake Moreland
Matt O'Dette
Brian O'Hanley
Josh Prudden
Matt Quinn
Mike Ramsay
Matt Stefanishion
Joe Van Culin


GWINNETT GLADIATORS
Andy Brandt
Bryson Busniuk
Jeff Campbell
Lou Dickenson
Joe Grimaldi
Jim Jackson
Craig Kowalski
Jeff Mason
Ryan Mahrle
Jamie Milam
Scott Mifsud
Derek Nesbitt
Brad Schell
Jon Sitko
Dirk Southern
Dinos Stamoulis
Mike Vigilante
Matt York


IDAHO STEELHEADS
Michael Beynon
Mark Bomersback
Kellen Briggs
Craig Cescon
Matt Craig
Taggart Desmet
Marty Flichel
Blake Forsyth
Lance Galbraith
Darrell Hay
Greg Rallo
Kory Scoran
Brent Shepheard
John Snowden
Mike Sullivan
Travis Wight


JOHNSTOWN CHIEFS
Justin Coutu
Brian Deeth
Jean Desrochers
Joel Gasper
Greg Gallagher
Ryan Garlock
Alexandre Imbeault
Kris Kasper
Mike Knight
Domenic Maiani
Andrew Martens
Joey Olson
Randy Rowe
Mike Sgroi
Jason Spence
Vincent Zaore


LAS VEGAS WRANGLERS
Kelly Czuy
Justin Donati
Peter Ferraro
Curtis Fraser
Brandon Kaleniecki
Shawn Limpright
Mike Madill
Mike McKenna
Adam Miller
Gerard Miller
Tyler Mosienko
Bruce Mulherin
Tyson Strachan
Marco Peluso
Aaron Power


MISSISSIPPI SEA WOLVES
Jason Beeman
Matt Burke
Chris Cava
Andy Contois
Michael Couch
Matt Deschamps
Gio Flamminio
Torry Gajda
Mike Hartwick
Mark Hurtubise
Bill LeClerc
Travis Lisabeth
Kyle McAllister
Ryan Menei
Mark Rooneem
Pat Oliveto
Brandon Scero
Jason Tejchma
Chase Trull
Jared Walker


ONTARIO REIGN

John Adams
Peter Aubry
Brandon Benedict
Danick Bouchard
Scott Champagne
Tim Cook
Jean-Francois David
Michael Grenzy
Corey LeClair
Jonathan Paiement
Ryan Pottruff
Jordie Preston
David Schulz
Max Taylor
Kris Tebbs

Dan Welch
Matt Yeats
Steve Yetman



PENSACOLA ICE PILOTS

Jason Bloomingburg
Patrick Bordeleau
J.R. Bria
Preston Briggs
Michael Cohen
Cam Ellsworth
Luke Erickson
Bryan Esner
Erik Fabian
AJ MacLean
Kris Mayotte
Michael Mullen
Brian Pouliot
Peter Rouleau
Mathieu Roy
Josh Sciba
Tim Songin
Daniel Sullivan
Phil Youngclaus
Andrew Winnik



PHOENIX ROADRUNNERS

Thatcher Bell
Mitch Carefoot
Matt Carter
Rob Dmytruk
Gino Guyer
Dave McKee
Mathieu Melanson
Jeff Moor
Dustin Moore
Bryan Nathe
Sean O'Connor
Cam Paddock
Tom Sawatske
Ian Turner
Ryan Walsh



READING ROYALS

Chad Allan
Jason Becker
Chris Blight
Brian Boulay
Marc Cavosie
Shawn Collymore
Shawn Germain
Matt Herneisen
Bracken Kearns
Charlie Kronschnabel
Rob LaLonde
Steven Later
John Murray
Dave Pszenyczny
Mike Salekin
Kevin Saurette
Kevin Schaeffer
Jason Weitzel
Joe Zappala



SOUTH CAROLINA STINGRAYS

Davis Parley
Josh Johnson
Nate Kiser
Scott Romfo
Rory Rawlyk
Tim Judy
Chris Chaput
Cail MacLean
Trent Campbell
Matt Smith
Todd Griffith
Pierre-Luc O'Brien
Paul McIlveen
Matt Scherer
Marc Busenburg
Mike Gabinet
Matt W. Reid



STOCKTON THUNDER

Mark Adamek
Tim Boron
Joe Dustin
Beau Geisler
Ryan Geris
Adam Huxley
Brian Lee

Luke Lynes
Ryan MacMurchy
Lance Monych

Brandon Schwartz
Tom Zanoski


TRENTON DEVILS

Luke Fulghum
Ryan Gunderson
Thomas Harrison
Jim Henkel
Andrew Leach
Brad Mills

Maxime Ouellet
Jay Pemberton
Colin Pepperall

Chris Poli
Matt Radoslovich
Evan Shaw
Brett Westgarth

Stephen Wood
Tony Zancanaro


UTAH GRIZZLIES

Ryan Kinasewich
Evan Kotsopoulos
Nathan Lawson

Sean Offers
Travis Rycroft
James Sanford
Andy Sertich


VICTORIA SALMON KINGS

Paul Ballantyne
Taylor Christie
Darren Deschamps
Jacob Dietrich
Kevin Estrada
Milan Gajic
Gary Gladue
Ash Goldie
Wes Goldie
Derek Krestanovich
Jordan Krestanovich
Brady Leavold
Darryl Lloyd
Kiel McLeod
Chris St. Jacques
Billy Thompson
Ryan Wade
Brad Zanon


WHEELING NAILERS
Sean Berkstresser
Julien Brouillette
Chad Brownlee
Matt Byrnes
Justin Chwedoruk
Aaron Clarke
Sean Collins
Curtis Darling
Matt Dias
Kevin Du
Mike Gooch
Joe Guenther
A.J. Jensen
Tyson Marsh

Steve McJannet
Curtiss Patrick
Ryan Scott
Chris Snavely
Todd Spencer
Jeff State
Seamus Young


ECHL
Celebrating its 20th Anniversary in 2007-08, the ECHL is the Premier 'AA' Hockey League and the third-longest tenured professional hockey league behind only the National Hockey League and the American Hockey League.


ECHL began in 1988-89 with five teams in four states and has grown to be a coast-to-coast league that will play with 24 teams in 16 states and British Columbia in 2008-09.


The league officially changed its name to ECHL on May 19, 2003.


The ECHL has affiliations with 26 of the 30 teams in the NHL in 2007-08, marking the 11th consecutive season that the league has had affiliations with at least 20 teams in the NHL.


There have been 355 former ECHL players who have gone on to play in the NHL after playing in the ECHL, including 99 in the last three seasons. There have been 210 former ECHL players who have played their first game in the NHL in the past seven seasons.


There are 15 coaches in the NHL who have ECHL experience including former Wheeling coach Peter Laviolette, who is head coach of the Carolina Hurricanes, and former Mississippi coach Bruce Boudreau, who is head coach of the Washington Capitals.


The ECHL is represented for the eighth consecutive year on the National Hockey League championship team in 2008 with Detroit Red Wings forward Aaron Downey.


The ECHL has affiliations with 26 of the 29 teams in the American Hockey League in 2007-08 and for the past 19 years there has been an ECHL player on the Calder Cup champion.


In each of the last two seasons there have been more than 225 players who have played in both the ECHL and the AHL and there were over 800 call-ups involving more than 500 players. In the last five seasons the ECHL has had more call-ups to the AHL than all other professional leagues combined with over 2,000 call-ups involving more than 1,000 players since 2002-03.


Further information on the ECHL is available from its website at ECHL.com.


• Discuss this story on the ECHL message board...


ECHL Stories from June 16, 2008
The opinions expressed in this release are those of the organization issuing it, and do not necessarily reflect the thoughts or opinions of OurSports Central or its staff.