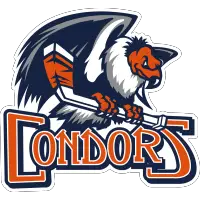 Condors in second place with Lucky 7's in weekend wins
March 30, 2009 - ECHL (ECHL) - Bakersfield Condors News Release



BAKERSFIELD, Calif. - The Bakersfield Condors moved into a three-team tie for 2nd place in the Pacific Division by means of a pair of victories on Friday and Saturday night - both of which saw the high-flying Condors put up seven goals. Bakersfield is now 18-5-1 in their last 24 games.
The Playoff Picture:
The Condors magic number is one for officially clinching a playoff spot. The Phoenix RoadRunners, currently in 9th in the National Conference, must win all four of their remaining games in Idaho to stay alive. The clinch can also come if the Condors earn just one point over their two remaining games.
Due to schedule readjustments when Fresno folded, Las Vegas will play 73 games this season. Therefore, Stockton, Vegas and Bakersfield all have two games remaining and all three are tied with a .507 win %. The first tie-breaker is head-to-head points, and the Condors own the tie-breaker against the Thunder, but not the Wranglers. They also do not own the tie-breaker against Phoenix, which is why Stockton and Vegas have clinched a playoff spot with identical win pct., while the Condors have not.
THIS WEEK (ALL TIMES PACIFIC):
Friday, April 3 vs. Ontario (7 p.m.)
Saturday, April 4 vs. Ontario (7:30 p.m.)
WEEK IN REVIEW (Home team in CAPS):
Wednesday, March 18
Victoria 5 vs. CONDORS 3
Attn: 3,861
Victoria's three-goal second period cemented a 5-3 victory over the Condors on Wednesday, snapping a three-game winning streak for Bakersfield. F Brett Pilkington (left), C Bruce Graham and C Dave Bonk all lit the lamp for the Condors in the loss. Salmon Kings G Julien Ellis was solid, stopping 52 Bakersfield shots on goal, as the Condors had a season-high 55 in the game.
Friday, March 27
CONDORS 7 vs. Victoria 3
Attn: 6,000
F Brett Pilkington (2g-1a) and F Andrew Ianiero (0g-3a) both had three-point nights to help carry the team to a 7-3 win over the Victoria Salmon Kings in the season series finale. Five other players had multi-point nights for Bakersfield, who overcame a 2-0 deficit in the first period and scored seven of the final eight goals of the game.
Saturday, March 28
CONDORS 7 vs. Las Vegas 4
Attn: 6,324
After falling behind 2-1 in the first period, the Condors rattled off six goals over the final two frames to cruise to a 7-4 win over the Wranglers. C's Dave Bonk and Bruce Graham (right) both added their second tallies of the night in the opening 1:21 of the third period, part of a four-goal outburst in the final frame, to turn a one-goal game into a barn-burner. Six players had multi-point games for the Condors, while G Yutaka Fukufuji made 36 saves for the victory - his 13th out of his last 16 decisions.
PLAYER AND TEAM NOTES:
The Condors are 5th in the league in average attendance at 5,480 fans per game. Saturday's game featured the 12th Condors crowd this season of 6,000 or more.
C Dave Bonk, who has 81 points on the year, is the highest scorer the Condors have had since Paul Willett had 85 points (and won the WCHL scoring title) in 2002-03.
Bonk and LW Mark Derlago both reached the 30-goal plateau last week, joining F Matt Pope in the 30-goal club. The Condors have had three 30-goal scorers in the same season only once, in 2000-01 (Paul Willett, Jamie Cooke (right), and Jeff Petruic). However, that year Petruic scored only three goals as a Condor, putting home 27 goals as a San Diego Gull prior to being acquired by Bakersfield late in the season. This is, therefore, the first time that three players have scored 30 goals all for the Condors in a single season.
Derlago joined Paul Willett as the only Condor to record back-to-back 30-goal seasons.
Bonk (4th - 81pts) and Derlago (t-5th - 78pts) both remain among the league's leading scorers.
Derlago has extended his point streak now to 13 games, the 4th longest scoring streak in Condors history. He has 10g-14a-24pts during the stretch. The record is 17 games, set by Paul Willett in 1999-00.
F Brett Pilkington has a point in every game since returning from the 30-IR earlier this month. He has 4g-9a-13pts in eight games during the streak.
Other Condors with scoring streaks right now include Bonk at 8 games (8g-6a), RW Mike Wirll at 8 games (2g-9a), and C Bruce Graham at 6 games (6g-3a).
The Condors are 5th in the ECHL in goals per game, at 3.43. They are the highest scoring team in the National Conference.
The Condors 55 shots on Wednesday night was a season-high, and came just five shots shy of matching the team record of 60, set on April 1, 2005 against Fresno.
G Jerad Kaufmann (7-IR), F Ryan Gervais (3-IR) and LW Bobby Bolt (30-IR) all remain on the Injured Reserve, though all three are eligible to be activated.
CONDORS ALL-TIME SINGLE SEASON POINT TOTALS:
# Pts Player Season League
1 107 Paul Willett 1999-00 WCHL
2 98 Paul Willett 2000-01 WCHL
3 88 Steve Dowhy 1998-99 WCHL
4 85 Paul Willett 2002-03 WCHL
5 84 Jamie Cooke 1999-00 WCHL
6 83 Dan Currie 1999-00 WCHL
7 81 Dave Bonk 2008-09 ECHL
8 80 Christian Skoryna 2002-03 WCHL
9 78 Mark Derlago 2008-09 ECHL
10 75 Jamie Cooke 2000-01 WCHL
75 Jason Firth 2001-02 WCHL
FINAL REGULAR SEASON GAMES THIS WEEKEND:
The Condors close out the regular season with a pair of games against the Ontario Reign Friday and Saturday on Mercy & Memorial Hospitals Home Ice.
On Friday, the Condors host the Reign for Fans Choice Night, sponsored by ABC 23 and American Business Machines. This unique promotion gives Condors fans the opportunity to vote on promotions and activities throughout the night, including which jersey the team will wear, which players will man the Autograph Table after the game and grace the cover of the Nightly Notes, which promotional time-out contests will be held and even the unprecedented chance to select the Condors starting lineup!
The regular season finale is Saturday night, and the Condors welcome SpongeBob Squarepants, sponsored by Bright House Networks and 101.5 KGFM. Enjoy nautical nonsense with SpongeBob, who will greet fans and pose for pictures in the Condors Photo Booth. Doors open at 6:30 p.m., the puck drops at 7:30 p.m.
POTENTIAL PLAYOFF DATES
The post-season hasn't been clinched just yet, but home playoff dates have been secured for the Condors! Regardless of which place the Condors finish in, should the playoffs be secured, Bakersfield will host Games 3, 4 and 5 (if necessary) on April 15, 17 and 18. Should the Condors finish as the #2 seed in the Pacific Division, they would also host a decisive Game 7 on April 22.
GET TICKETS
Individual game tickets are on sale and may be purchased through the Rabobank Arena Box Office, which is open from 10 a.m. - 6 p.m. Monday through Friday and 10 a.m. - 4 p.m. on Saturday with extended hours on game days. Tickets may also be purchased by phone at 322-2525, online at Bakersfieldcondors.com, or at any Ticketmaster location. Season tickets, mini-plans and group outings are available at the Condors office located at 1001 Truxtun Avenue or by calling 324-PUCK (7825).
LEAGUE LEADERS:
Average Attendance - 5,480 (5th)
F Dave Bonk (right) - 81 points (4th)
F Dave Bonk - 50 assists (3rd)
F Dave Bonk - 31 goals (t-8th)
LW Mark Derlago - 71 points (t-5th)
LW Mark Derlago - 31 goals (t-8th)
RW Chad Painchaud - 64 points (17)
F Matt Pope - 63 points (18)
F Matt Pope - 13 power play goals (t-4th)
Condors Power Play - 20.5% (1st National Conference, 5th overall)
Condors offense - 3.43 goals per game (1st National Conference, 5th overall)
CONDORS LEADERS:
Points- C Dave Bonk (81)
Goals- C Dave Bonk, LW Mark Derlago (31)
Assists- C Dave Bonk (50)
PIM- RW Liam Huculak (163)
Plus/Minus- D Donny Grover (+7)
GAA- G Yutaka Fukufuji (3.31)
Save Percentage- G Yutaka Fukufuji (.901)
• Discuss this story on the ECHL message board...


ECHL Stories from March 30, 2009
The opinions expressed in this release are those of the organization issuing it, and do not necessarily reflect the thoughts or opinions of OurSports Central or its staff.