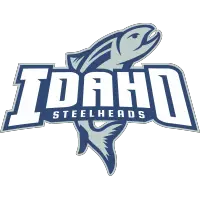 Off The Hook: Steelheads Update
March 30, 2009 - ECHL (ECHL) - Idaho Steelheads News Release



BOISE, Idaho - The ECHL's 72-game season is nearing completion with the final games to be played this week. The Steelheads have four to go, and all will be played against the visiting Phoenix RoadRunners who are fighting for their playoff lives. The Steelheads won the last meeting and are 1-1-0 at home and 2-2-0 overall in the season series with Phoenix.
Idaho enters the week in second place, with a possibility- albeit a long shot, to surpass Alaska for top seed in the West Division. Victoria has completed its season and sits in third place.
Phoenix could conceivably push past Utah for fourth seed in the West Division, but Utah would need to lose its final two games and the RoadRunners would have to sweep the Steelheads. The other scenario is that Phoenix could slip into the playoffs as the fifth-place finisher from the West Division if it has a better winning percentage than the fourth-place team in the Pacific. The seeding is being done by winning percentage rather than points because Las Vegas and Ontario are each playing one more game than the other seven teams following Fresno ceasing operations. Bakersfield and Utah need only one point to secure their spot while Phoenix must win its remaining four games to remain in contention.
PLAYOFF TICKETS
The Steelheads will host Games 1 and 2 of the 2009 RC Willey Kelly Cup Playoffs on Saturday, Apr. 11 and Sunday, Apr. 12. If needed, Games 6 and 7 would also be played at Qwest Arena on Tuesday, Apr. 21 and Wednesday, Apr. 22. Individual game tickets go on sale on Wednesday, Apr. 1 at 10 am. The Steelheads are offering a new "Pay as we Play' ticket plan for the upcoming playoffs. Fans can catch all of the Steelheads playoff action - and save up to 35% off the walk up ticket price. Call 383-0080 for more information.
MEET THE TEAM
Fans will have a chance to meet the entire Steelheads team by visiting RC Willey on Saturday, Apr. 4 from 10:30 - 11:45 am. Stop by and get an autograph or just to say hi and wish the team well as they begin their quest for a third Kelly Cup Championship!
TEAM AWARDS
Get to the game early on Saturday as this season's team awards, as voted on by the players, will be handed out during a pregame ceremony. Also, the results from the fan awards will be announced. Awards begin at 7:00 pm.
NOT EVEN ONCE
The Steelheads will present a check to The Idaho Meth Project's, Not Even Once, campaign during Saturday's game. $1,000 is donated to the campaign by the Steelheads for every shutout the Steelheads earned at home this season.
PINK IN THE RINK RESULTS
The Steelheads and St. Luke's would like to thank Steelheads fans for generously supporting another great community cause. Approximately $11,000 was raised from last week's Pink in the Rink jersey auction. The auction was held by the Idaho Steelheads and St. Luke's Mountain States Tumor Institute (MSTI) who teamed up to raise money to help women who can't afford life-saving mammograms or other testing procedures. $171,650 has been raised over the past several years with similar jersey auctions, benefiting various causes at the hospital.
BOOSTER CLUB JERSEY AUCTION
The Steelheads Booster Club will auction the 2008-09 team-worn blue jerseys immediately following Saturday's game. Announcements will be made at the game for fans interested in purchasing a jersey.
IDAHO STEELHEADS AT-A-GLANCE
86 Points; 2nd West Division, 2nd National Conference, 3rd Overall
Overall: 41-23-2-2 (86 points)
Home: 21-10-0-1 (home)
Away: 20-13-2-1 (road)
Streak: 1-0-0-0
Past 10: 5-5-0-0
ECHL NATIONAL CONFERENCE, DIVISION STANDINGS
West GP W L OTL PTS PCT
Alaska Aces 70 44 23 3 91 0.650
Idaho Steelheads 68 41 23 4 86 0.632
Victoria Salmon Kings 72 38 27 7 83 0.576
Utah Grizzlies 70 27 27 16 70 0.500
Phoenix RoadRunners 68 29 34 5 63 0.463
Pacific GP W L OTL PTS PCT
Ontario Reign 71 37 29 5 79 0.556
Bakersfield Condors 70 32 31 7 71 0.507
Stockton Thunder 70 32 31 7 71 0.507
Las Vegas Wranglers 71 32 31 8 72 0.507
STEELHEADS BITES
* Bryan McGregor had four assists in Saturday's 6-0 W vs ONT to tie a Steelheads season high and reach the four-point mark in a game for the second time this season
* Trevor Ludwig scored twice in Saturday's 6-0 W vs ONT, which included his first professional goal
* Matt Climie has two consecutive shutouts after Saturday's 6-0 W vs ONT; Climie has now won his last six home starts
ROSTER TRANSACTIONS (3/24/09 - 3/30/09)
3/29/09 Delete Brendan Milnamow, D placed on waivers
3/27 Add Marty Flichel, F activated off IR
3/27 Delete Kris Sparre, F placed on the 3-day IR
3/24 Add Blake Friesen, D signed contract
3/24 Add Kory Scoran, D activated off IR
3/24 Delete Marty Flichel, F placed on the 3-day IR
3/24 Delete Matt Sorteberg, D placed on the 30-day IR
STEELHEADS SCHEDULE THIS WEEK
Tuesday, Mar. 31: Practice at Qwest Arena 10-11am; GAME NIGHT vs PHOENIX; 7:10 PM MT
Wednesday, Apr. 1: Practice at Qwest Arena 10-11am; GAME NIGHT vs PHOENIX; 7:10 PM MT
Thursday, Apr. 2: Practice at Qwest Arena 11am - TBD
Friday, Apr. 3: Practice at Qwest Arena 10-11am; GAME NIGHT vs Practice; 7:10 PM MT
Saturday, Apr. 4: RC Willey appearance 10:30-11:45 am; GAME NIGHT vs Practice; 7:10 PM MT
Sunday, Apr. 5: End of Regular Season - Off Day
BROADCAST INFO
Listen to all 72 games with Doug Plagens calling the action. Doug is joined in the booth this season by Steelheads players who will provide color commentary. Tune in to ESPN Radio 1350 KTIK the Ticket on games nights. All home and road games can be watched through a link on the Steelheads website provided by B2 Networks for $6 a game.
The Bud Light Idaho Steelheads Hockey Show airs on ESPN Radio 1350 KTIK the Ticket each week night from 6-7pm as Doug and Will Hoenike talk all things Steelheads.
TONIGHT'S SHOW LIVE AT HOOTERS: Doug's guest will be Steelheads head coach Derek Laxdal and Defenseman Trevor Ludwig.
Doug's other guests this week include:
o Tue. - NHL.com writer Brian Compton
o Wed. - Nashville Predators Beat Reporter from The Tennessean, John Glennon.
o Thu. - Former Steelheads defenseman Matt Stephenson, currently with the AHL's Providence Bruins
TICKET INFO
The Idaho Steelheads offer a variety of ticket plans to fit any schedule or pocket book. Call (208) 383-0080 to find out more. For day of game tickets, visit idahosteelheads.com and use the print at home feature, or call (208) 331-TIXS or visit the box office at Qwest Arena.
STEELHEADS GAME SCHEDULE
The following is a schedule of games left to be played in the 2008-09 season:
OPPONENT DAY DATE
69 Phoenix Tue 3/31/2009
70 Phoenix Wed 4/1/2009
71 Phoenix Fri 4/3/2009
72 Phoenix Sat 4/4/2009
• Discuss this story on the ECHL message board...


ECHL Stories from March 30, 2009
The opinions expressed in this release are those of the organization issuing it, and do not necessarily reflect the thoughts or opinions of OurSports Central or its staff.
Other Recent Idaho Steelheads Stories